You know when you wonder "did I just hear right?" – well, I asked myself that question just a few minutes into the production of The Kite Runner, at Hull New Theatre on Tuesday evening.
It was certainly a night of shock and awe. The first shock coming when the vile "c" word was spoken on stage (hence me questioning my hearing, above); the awe came at the absolutely amazing acting of everyone taking part.
Getting us into the Afghan mood before curtain up was musician Hanif Khan on a drum-like instrument called a tabla. The scene was set.
The story begins in 1975 Kabul, Afghanistan, and centres around two childhood friends, Amir (Raj Ghatak) and Hassan (Jo Ben Ayed). Hassan's father, Ali (Rez Kabir) is a long-standing servant in Amir's family home. In fact, Amir's father, Baba (Gary Pillai), seems to think more of his servants than he does his own son (and with good reason, as it happens).
The boys are particularly fond of kite flying and during a local tournament, Amir flies his kite, skillfully cutting down any that fly near him, until only his and another are left. He manages to cut that one down and faithful pal, Hassan, runs to retrieve the fallen kite, to give to Amir as a trophy.
This is when things take a darker turn and form the storyline behind the whole drama.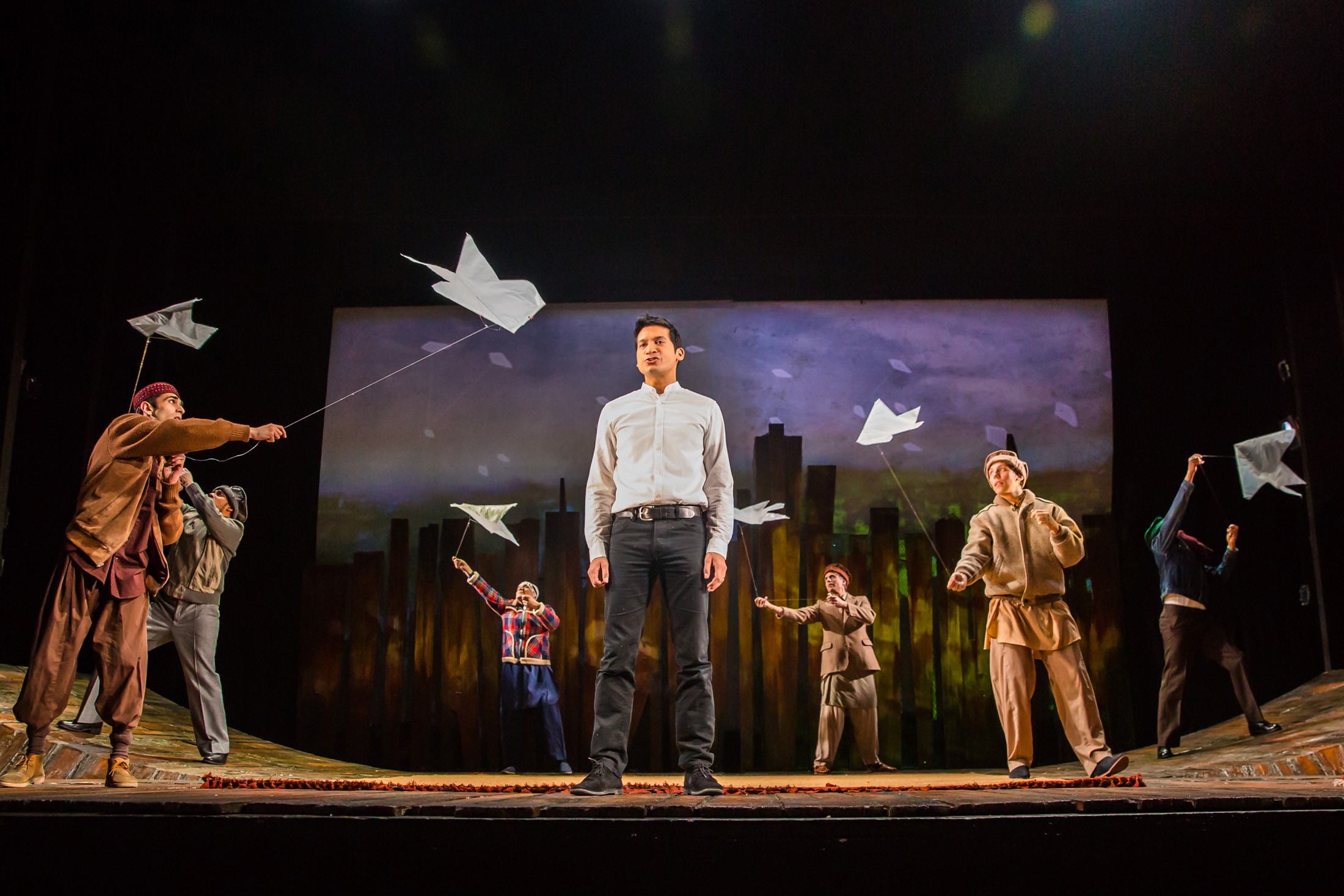 Poor Hassan is confronted by local thug, Assef (a very convincing Soroosh Lavasini), who demands he hands over the kite. Loyal to his friend, Hassan declines and Assef exacts unspeakable revenge on the unfortunate boy.
Amir witnesses the attack and, instead of rushing in to save his friend, cowardly slinks away to bask in the warmth of his father's pride - a father who, up to that point hadn't shown any pride at all in his son.
Hassan survives but Amir, riddled with self-hate and guilt, cannot bear to see him, and does his best to see him banished from his home.
What he does to ensure Ali and Hassan are disgraced, just adds to his guilt.
We in the audience were engrossed; the tension was palpable and you could hear a pin drop. I bet I wasn't the only one disgusted by Amir's cowardly actions. Poor Hassan!
The atmospheric, dimly lit stage added to the drama, as did the hypnotic music played live on-stage. Sometimes I struggled to hear clearly a word or two above the music, but it didn't detract from my enjoyment as, jumping to 1978 and the Russian invasion of Afghanistan, the tension mounted.
We held our breaths as Amir and his father tried to escape to Pakistan, only to be apprehended en route by a depraved Russian soldier.
At last, the pair find safety in San Francisco, where the once wealthy Baba finds work in a gas station, while Amir thrives, loving the American way of life while he attends college.
He finds love with Soraya (Amiera Darwish), but his past comes a-calling when he gets a message from a relative in Pakistan who implores him to return to Afghanistan to rescue Hassan's young son, who has been left in an orphanage – Hassan having been murdered by the dreaded Taliban.
Can Amir overcome his cowardly, selfish ways, or will he redeem himself by travelling into Taliban territory to save his old pal's son?
Many shocks later, we have our answer.
This harrowing tale, brilliantly narrated by Raj Ghatak as Amir, follows his path from innocent schoolboy through the horrors of war, to safety in a far-off land. But he leaves us in no doubt that, whatever continent he lives on and how hard he tries to forge a new life, how he let Hassan down will haunt him forever.
His redemption begins by walking – make that running – in Hassan's shoes, by becoming a kite runner himself. Gripping stuff, but not recommended for anyone under the age of 14.
Reviewer: Jackie Foottit
Reviewed: 3rd April 2018
North West End Rating: ★★★★