Sometimes taking a play into the community can fall flat in its backside drowning in a sea of worthiness, but when you put the story of Brian Clough's ill-fated spell at Elland Road into a Leeds working men's club you are inevitably going to get a very different energy to a conventional theatre.
This performance is part of West Yorkshire Playhouse's commitment to take theatre out of their monolithic base, and you know this is not a conventional audience for this Red Ladder production when three blokes on the front row rest their pints on one of the tables that make up Nina Dunn's sparse set nestling on Gipton WMC's dancefloor.
Make no mistake, this is fly by the seat of your pants acting where the three actors are at times literally in your face screaming at a cowering football team, and there is no place or much tech to hide behind. If a performance goes south the audience will see it and that makes it all the more thrilling for everyone in the room.
It might not be a conventional audience but it is rapt one as Anders Lustgarten's economic and witty script reworks David Peace best-selling The Damned United telling the story of one of British football's greatest managers – he would have said the greatest – and a working class man made good. Clough is a man beset by demons as he tries to reinvent his nemesis Don Revie's all-conquering Leeds United in his own image sparking a bitter internal war at the club.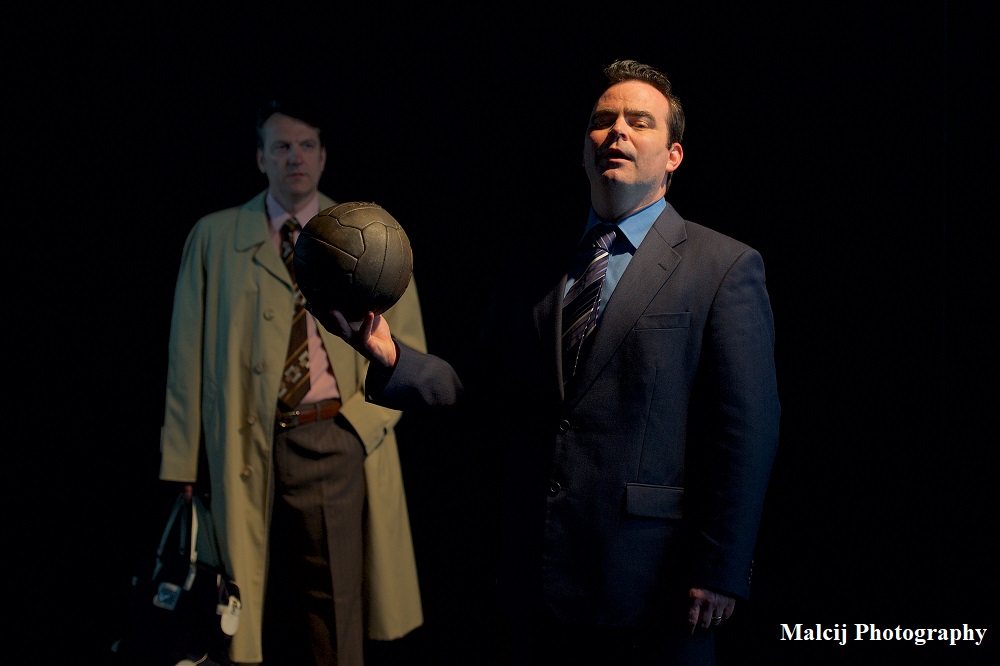 Unlike the risible film this focuses on Clough as a flawed genius who carries the wounds of a playing career cut tragically short and who sees in the driven and strange Revie too many of his own flaws. Luke Dickson as Clough rightly resists the temptation to do an impression Ol' Big Head instead deploying subtle nods to Clough's strutting and nasal tones.
In doing so Dickson gives himself the space to capture a man in the midst of a nervous breakdown after the death of his beloved mother. He brilliantly portrays Clough's agony as his life spirals out of control after hearing that news, but critically he also lost his right hand man Peter Taylor who was at his side when Derby County won the league, which is cleverly remembered by Dunn's projections onto the set.
This version of The Damned United is as much about Clough and Taylor's bromance as their footballing greatness. These are two men trapped in co-dependent relationship, but one where Taylor and his gift for spotting players is essential to their success.
In many ways David Chafer has the tougher task bring Taylor to life as an equally complex man, who was a natural number two, but understood how to handle an angry genius, and he does it with real subtly particularly when the pair finally split after one insult too many
Jamie Smelt, who was so good in Red Ladder's The Shed Crew, pops up in a number of different supporting role bringing depth to some slightly caricatured versions of football club chairmen and trainers.
This mature audience is full of people who lived through Clough's disastrous 44 days at nearby Elland Road, and the way they laughed at the jokes, and their warm applause at the end, meant director Rod Dixon's team had hit the spot in retelling the story of a man who still angers people in this football mad city to this very day.
The Damned United is profound, profane and proud, just like the greatest man never to manage England, but more than that it is a honest, visceral piece which works in an unconventional setting because the cast are smart enough to make it human and tragic even for non-football fans.
The Damned United is at Thursday 19th April 7.30pm – HOPS, Friday 20th April 7.30pm – Chapel FM, Saturday 21st April 7.30pm – Parochial Hall, Middleton and then touring. http://www.redladder.co.uk/whatson/the-damned-united/
Reviewer: Paul Clarke
Reviewed: 17th April 2018
North West End Rating: ★★★★★