With the Windrush Generation scandal raging around us this is a timely examination of what borders actually mean in a liberal society and what it costs the people who try to migrate across them.
On one level Daniel Bye is sat onstage playing a simple game of Jenga, but as various audience members flit across his narrative playing different roles, he uses the game to ask we if would have what it takes to give up our lives to make a new one.
The narrative centres a teenage British girl who has given up her citizenship heading off to Europe before trying try make it 'home', and along the way we are introduced to the philosophy of mysterious social activist Edward Shorter, who is urging us to smash the whole sorry border system.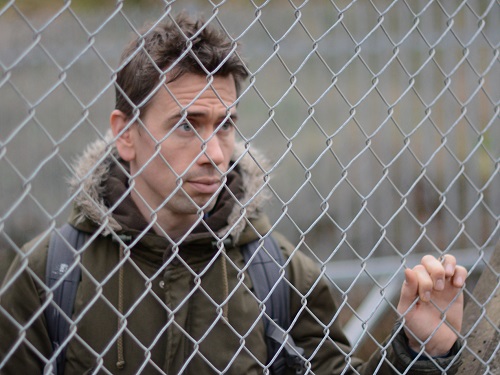 That's an interesting, if relatively conventional, set up but Bye is a clever performer using audience members to weave in the girl's story and Shorter's radical teachings. Bye invites them up to play Jenga and have a chat about their personal qualities. Or, put it another way, have they got what it takes get across a border.
The show stands and falls on the quality of the volunteers, and here they are all game to open themselves up, as the rest of us join in chanting Shorter's instructions beamed onto the set's blank backdrop. Bye smartly mixes up those roles, so in one moment the audience are migrants, and the next an authority figure mixing up our sense of what is right or wrong.
The fascinating things about this work is a skilled performer like Bye has to flex with the volunteer performers, and at least of two of them react in unexpected ways which adds to sense of controlled chaos.
Although the subject is hardcore, Bye is a relaxed performer who manages to combine humour and pertinent questions about the need for borders, and if we need them how should they be policed?
Like all good theatre it does make you think about something that is way outside most people's experience, but more than it asks are you a Shorter or a follower?
Instructions For Border Crossing is on tour and find how to book at www.danielbye.co.uk
Reviewer: Paul Clarke
Reviewed: 19th April 2018
North West End Rating: ★★★★