It was inevitable that this classic eighties movie with such an iconic ending would make it onstage, and first time round it had an original score when it premiered in Australia, but only lasted six weeks.
This reworked version is now packed full of eighties pop classics that would have playing on the radio in 1982 where this often gritty blue collar musical is set. Douglas Day Stewart was Oscar nominated for his screenplay and he's been on hand to tinker with the words, but he keeps very, very close to his original story.
Zack Mayo rides onto the stage astride his motorbike to join the US Navy's demanding pilot cadet programme, and wouldn't you just know it this moody loner is a troubled soul. He meets feisty factory worker Paula Pokrifki who unlike most of her contemporaries isn't just interested in snaring a man in uniform to get out of her dead end life. It's not a spoiler to say that they might just be attracted to each other.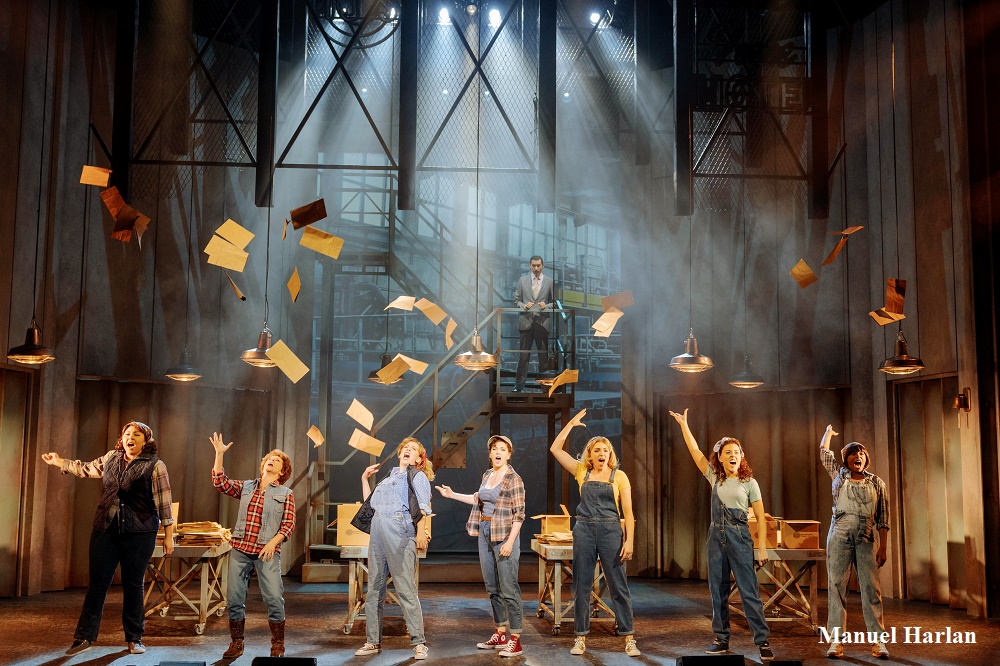 Day Stewart has updated Paula to be a wannabe nurse rather than just looking for a meal ticket, but her best mate Lynette is determined to snare a flyer sets her sights on the vulnerable Sid who is helping Zack with his exams. Throw into tough talking drill sergeant Emil Foley, who has a soft heart underneath the hazing of this students, and there is plenty of firepower onstage, but at some length.
Somehow the show seems to lack the fizz it needs which might be due to the needless inclusion of mediocre period songs like St Elmo's Fire, which add little to the drama in the way a punchy It's a Man's Man's World sung by the factory women does. Michael Taylor's muted set does help keep the audience engaged smartly switching from a local bar or the factory back to the assault course where Foley really puts the cast members through their paces as he tries to break Zack.
Four time Olivier nominee Emma Williams is a smart actor who makes the determined but brittle Paula real with an impeccable accent offering a sense of her vulnerability beneath the tough exterior. She's not known as a belter but her voice soars on all her big tunes like Heart's emotionally charged Alone.
The personable Jonny Fines as Zack lacks the animal magnetism that Richard Gere brought to the movie, and doesn't totally convince as Paula's equal, although he sings well.
Ian Mcintosh and Jessica Daley are the pick of a big, hard-working cast offering quality support as doomed lovers Sid and Lynette, while West End veteran Ray Shell struts and bellows as Foley in the role made famous by Oscar winner Louis Gossett Jr.
Inevitably, like that another eighties classic Dirty Dancing, all roads in this musical led to one of the all-time great endings where Paula is taken up where she belongs, and the reaction to that scene means everyone goes home happy, but it has taken us a good while to get there.
With a bit of a pruning, and dropping surplus numbers, this show could become a regular fixture on the touring circuit because at times this version felt like being on the assault course that Zack and the cadets have to get round to win their wings.
An Officer and a Gentleman is Leeds Grand Theatre until Saturday 28th April and touring. To book www.leedsgrantheatre.com or 0844 8482700
Reviewer: Paul Clarke
Reviewed: 24th April 2018
North West End Rating: ★★★