Here's a question for any parent reading this – when you had your children were you asked 462 questions testing anything from what meals can you cook or whether you can change a fuse?
Well, if you happen to a prospective parent with a learning disability you might be asked to answer those questions and your responses could determine whether you get to keep your child.
Bradford based Mind The Gap are our best learning disability theatre company and have cast four of their most experienced actors to really interrogate the idea of people with learning disabilities and parenting.
Director Joyce Nga Yu Lee has devised and work shopped an ambitious multi-media show packed with high tech, interpretive dance and monologues that would challenge any actor, but it is carried off with wit, intelligence and great timing.
The cast have great fun recreating some of the highly sexualised videos that bombard our culture, but it is a sad fact that there is snowball in hell's chance you will ever see someone with a learning disability twerking away in those promos.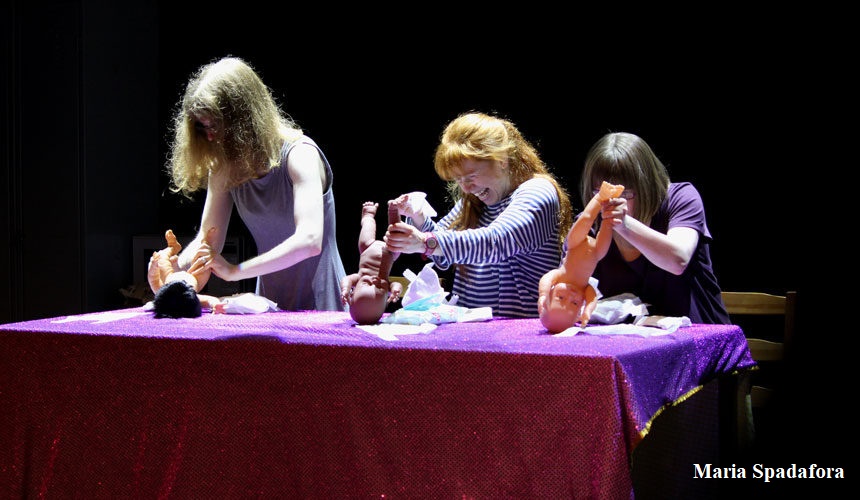 This is neither a gloom fest, nor a cheap knocking job on the system, but a genuine attempt to make us think about people with learning disabilities having the same needs and aspirations as any other citizen. There is a genuine touching moment when the impressive Joanne Haines underlines the absurdity of the parenting questionnaire when she wonders if her inquisitor can answer the questions herself?
Equally disturbing is when Anna Gray says that advocacy groups estimate that parents with a learning disability have a 90% chance of having their child removed from them. Great theatre can be both a learning experience and entertaining, but a statistic like that really does stop you dead in your tracks.
There is a lot of fun in this show as audience members were dragged up onstage to take part in a riotous quiz presided over by the lively Alan Clay playing a sleazy game show host testing our knowledge of the rights and experiences of parents with a learning disability.
The actors even create a mash up based on what the audience thinks good parents need, but there is something desolate listening to recordings of personal testimonies they have collected from people who had their children removed. Most moving was Alison Colborne's personal testimony on what she hopes her and her husband will bring to being parents.
Some of the interpretive dance was superfluous but then it so often is. Live Art Bistro is a safe space for the company to work in, and it is to West Yorkshire Playhouse's credit that they backing a piece like this that shines a harsh light onto a topic that most of us are blissfully unaware of.
Mia doesn't offer any solutions to how we change what is happening to people with learning disabilities who aspire to have the same challenges, heartache, moments of sheer panic and joy that parenting offers. It also doesn't duck the tricky duty of care issues but as a piece of theatre it does make you question whether we are doing enough to address them.
Reviewer: Paul Clarke
Reviewed: 27th April 2018
North West End Rating: ★★★★