You may need to 'Brush up your Shakespeare' if you are unfamiliar with the Bard's 'The Taming of the Shrew', as Cole Porter's 'Kiss me, Kate' is a classical musical comedy, based on this tale. A musical play within a musical play, the show is set in a theatre in Baltimore, USA as the cast and crew attempt to stage a musical version of the Shakespearean play.
The story primarily revolves around the love affair of Fred Graham played by Quirjin de Lang and his ex-wife Lilli Vanessi played by Stephanie Corley. The brooding couple are subsequently thrown back together to play the leading roles of Petricho and Kate in their 'The Taming of the Shrew' and real life escalates and quickly mirrors the raucous on goings on the stage, as we observe what's happening both on and backstage. Add to this volatile mix, Fred's current dalliance Lois Lane/Bianca played by Zoe Rainey and her gambler boyfriend Bill Calhoun/Lucentio played by Alan Burkitt and then throw in, for good measure of course, two rookie gangsters played by Joseph Shovelton and John Savournin - the result is a farcical homage to a time when 'taming your woman' was the 'expected' thing. 'Kiss me, Kate' also wittingly highlights the highs and lows of working in a theatre and through Shakespeare's wit this talented cast of Opera and West End stars and the huge Orchestra of Opera North recreate the magical era of MGM musicals and the distinctive sounds of old Broadway are brought back to life on the stage of today.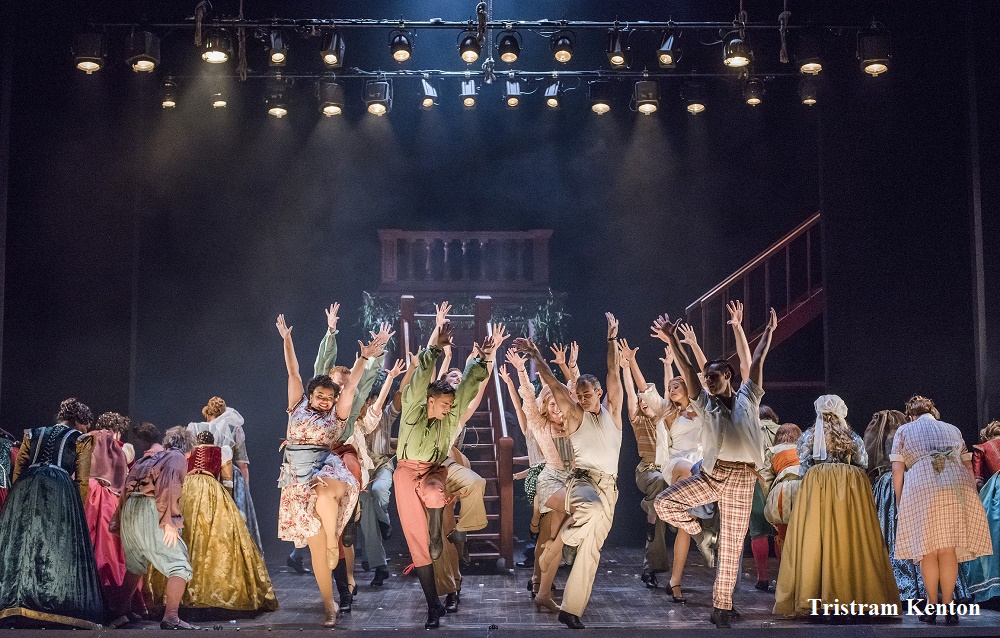 'Kiss Me, Kate' has a large, lavish and highly effective moveable set with sumptuous period costumes both designed by Colin Richmond. The large ensemble of Opera North singers sounded beautiful. De Lang, as Fred/Petruchio has a strong rich vocal tone and plays the multifaceted role well however, I do feel his lack of physical stature, makes the love pairing slightly mismatched. His fiery female counterpart Stephanie Corley (Lilli/Kate) has the forceful stage presence required for this role, she sang with great venom and gusto and her acting skill and comedic timing are perfect. 'I hate men' was thoroughly convincing and I was rather glad I was female at that moment! The well-known song 'Always True to you in my Fashion' was portrayed with great comedic effect, if a little drawn out, by Zoe Rainey and her highly characterised performance was naively beguiling. My standout performer of the show has to be Alan Burkitt, his portrayal of Bill/Lucentio was exquisite from pathetic gambler to comedic sidekick and his tap solo 'Bianca' was the show stealer, faultless, awe inspiring!,
Adding further comedy (if any was needed) Shovelton and Savournin milk every ounce out of their roles and 'Brush up your Shakespeare' is a comedy masterclass and rehearsed to absolute perfection. The audience loved it, however, I don't think the conductor did after they pulled their guns on him to stop his continual codas!
The genius of this show is Cole Porter's 1940's lyrical wit, double and triple rhymes and unforgettable jazz melodies and this music is in safe hands with James Holmes as conductor and the enormous orchestra giving the authentic and soaring rendition. Sam and Bella Spewack's script is full off one-liners and relentless comedic energy but, amongst the dizzying pace there are also moments of tenderness and longing that gives their juxtaposition real heart. This production under the direction of Jo Davies does not fail to capture that heart. The Choreography by Will Tuckett in the two large ensemble numbers, the aptly entitled 'Another opening, Another show' and the Second Act opener 'Too Darn Hot', crackle with energy and authenticity. These two full cast numbers move the storytelling along and never became just dance for dance's sake. I must mention Stephane Anelli as Paul, yet another superb Tap routine (Too Darn Hot), full of stylisation, ease and flair, glorious to witness.
This fast paced show is a celebration filled with joy and laughter. It is an acute homage to more than one golden era and is oozing with talent in the cast, from every pore. The strength of the music is in its diversity and the real drama at its core. What I witnessed tonight at the Premier was not just 'Another Opening of Another Show' it was 'Another Opening of a Very Polished and Successful Show'. I would urge people to catch it while they can and I wish the cast and crew a successful run, you deserve it... Bravo!
Reviewer: Tracey Bell
Reviewed: 23rd May 2018
North West End Rating: ★★★★