Based on Sebastian Faulks' novel of the same name, the play chronicles the experiences of several characters during the First World War, their lives in and out of the trenches, the gruesome realities of war and the sacrifices made to maintain one's sanity in an insane environment. It is also a love story, but a tragic one.
Birdsong is at once challenging and familiar. It is challenging because it portrays the horrors of war in extraordinary detail. It is familiar because its subject of the trenches and tunnels of the First World War are not, thankfully, as forgotten as they once were. The characters are also a mixture of those with whom we feel immediate sympathy and those who seem altogether less likeable.
Having not read the novel, I could appreciate the stage production on its own terms. Seen through this lens, the production was visceral and engrossing, with several engaging performances. Tim Treloar's depiction of Jack is warm and enigmatic.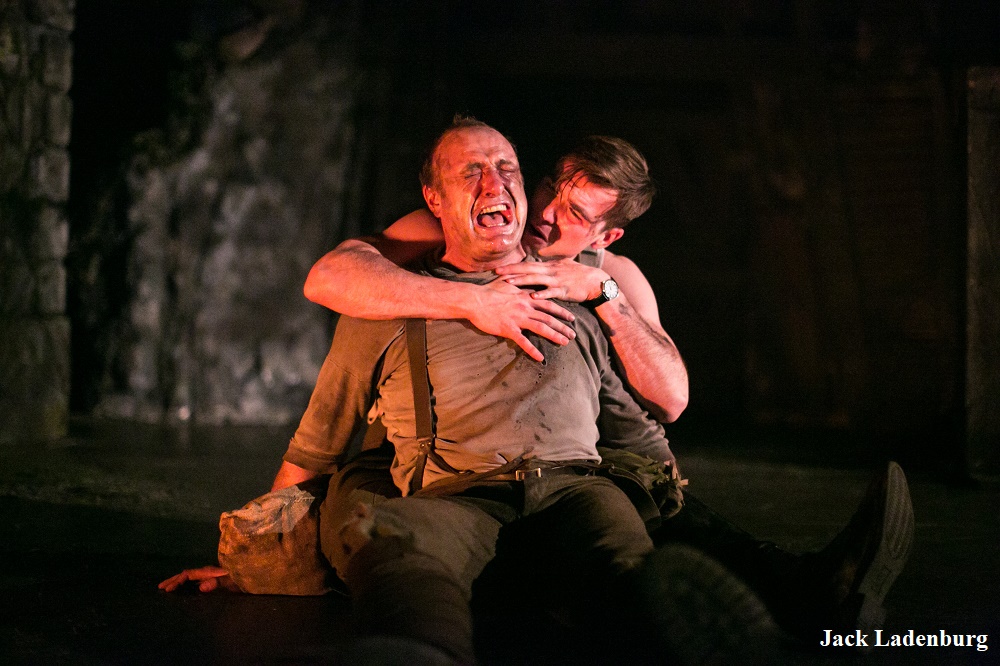 It is through his relationship with Stephen that we find likability for this second character, who Tom Kay skilfully plays on the edge of likability; his actions are not always reasonable, but through their relationship we see his softening side, and gruelling effects of the war.
Creating the world of the trenches a challenging task, but the set created by Victoria Spearing was horrifyingly beautiful. Clear sections were created from offices, to tunnels, battle lines, and homes, and this was enhanced by the use of varied lighting, from burnt oranges, to pinky hues, capturing the range of moods felt within the piece. This intricate and vivid set was deployed judiciously to compliment the story and character development. Similarly the use of music complimented the action well, rather than becoming overly sentimental.
Where the play was let down was in the momentum that was perhaps lost by interweaving several characters, stories and timeframes. The frequent flashbacks mean that the narrative does not proceed in a linear fashion, and while this teases the audience with details of the characters' story yet to be revealed, it also slackens the pace at which the story proceeds and for several moments left the audience unsure of the time and place. There was an imbalance between characters, and the play could have been better served focusing on either one character, or an ensemble. This is no doubt due to the nature of the play as a literary adaptation, as these narrative threads could have been handled more seamlessly in a novel.
That being said, Birdsong remains an engrossing, moving, and provocative treatment of a story that should be told and retold for every generation.
Reviewer: Amanda Hodgson
Reviewed: 5th June 2018
North West End Rating: ★★★★