You're in for a roaring time at Dinosaur World Live! Taking you all the way back to the Mesozoic era, children and adults can delight at seeing an array of dinosaurs come alive on stage. Aimed at an audience of young children and families, the premise of the show is that many years ago, our host Miranda and her parents found themselves washed up on an island inhabited by prehistoric creatures.
Now, she's back to tell the world about her lizard friends, with whom she shares the stage. We are gradually introduced to each of her dinosaur friends, with their own distinct personalities and special reasons to be loved and learned from.
The dinosaurs are visually stunning. No matter what the size, big or small (and there is a great selection of both), they are brought to life by their handlers in a style reminiscent of the stage production of Michael Morpurgo's War Horse. The cast do extremely well to create individual sounds for every creature and this, alongside the skilled use of light and the physicality of the dinosaurs, transports the audience to another time.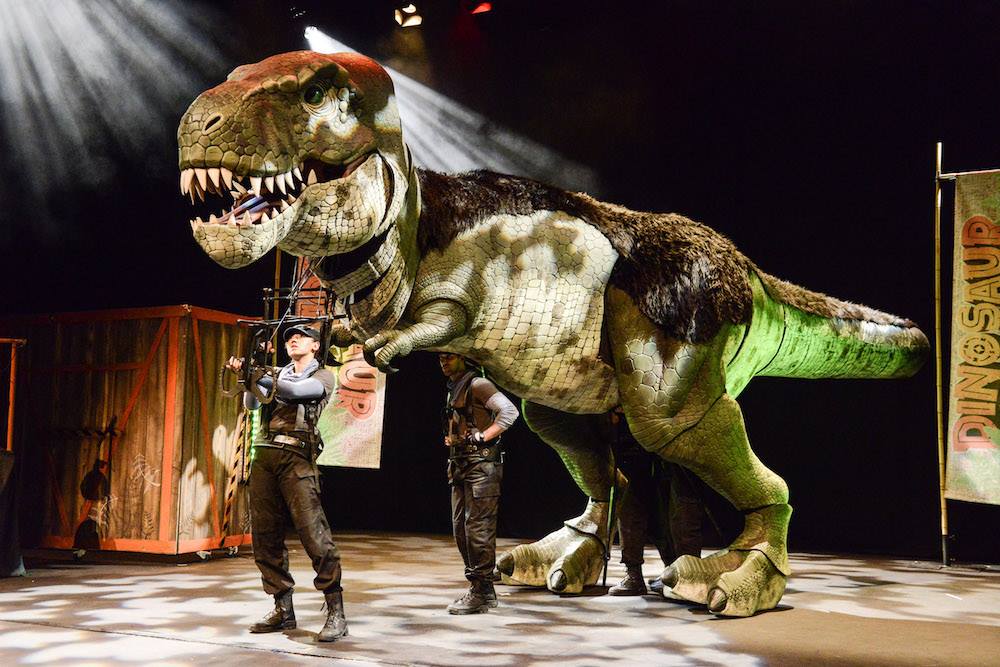 The actress playing Miranda is full of energy and does well to entertain and keep the children's attention.
The show strikes the right balance between entertainment and education, as we are told some interesting facts about each dinosaur when they are introduced. (Though, for my taste, more background information would have been welcome). Nevertheless, the children in the audience were suitably enthralled and enchanted by the performances. The show is also highly interactive, with several younger audience members invited to go on stage to pet the dinosaurs and even take them for walks (with several older audience members clearly envious). If you stick around after the show, there is the chance to meet a selection of the dinosaurs too, so every child can have their curiosity satisfied.
Overall the show was fun, informative, and fantastically funny, delighting dino-enthusiasts young and old. So bring your fury dinosaur friends and enjoy the enchantment of Dinosaur World Live.
Reviewer: Amanda Hodgson
Reviewed: 13th June 2018
North West End Rating: ★★★★