Does a story about a pathetic blowhard conning a nation with a bunch of lies and turning his citizens against minorities, aided by a venal press secretary, sound in any way familiar?
It's four years since this reworking of the Wizard of Oz legend told from the perspective of the witches was at Leeds Grand, and the subtext of this all conquering musical juggernaut is more pertinent that is ever was.
That said if you are not interested in subtext this is still a massive Broadway show that fills the Grand's deep stage with Eugene Lee's iconic set, and a well drilled chorus in Susan Hilferty's stylised OTT costumes,
We are certainly not in Kansas here as aspiring witches Elphaba and Glinda arrive at Shiz University to begin their studies. Elphaba has green skin thanks to her mother's infidelity, and Glinda is the popular one, but a vacuous narcissist.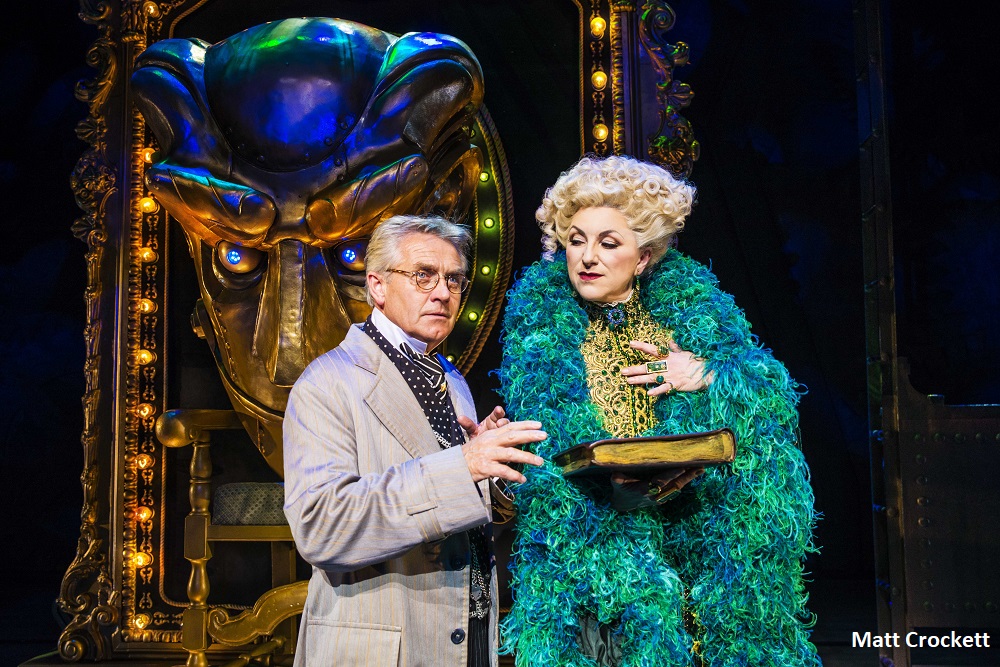 The big band in the pit make the most of triple Oscar winner Stephen Schwartz's huge orchestrations that rattle the very foundations of this venerable theatre. This is a show packed with show stoppers as the impressive Helen Woolf belts out Glinda's anthem, Popular, as Winnie Holzman's witty book fleshes out how the witches became friends.
As well as questioning the nature of difference through the student's revulsion at Elphana's skin colour there is a subplot as the talking animals in Oz are being silenced as the green witch and Brookside veteran Steven Pinder, as the haunted animal lecturer Dr Dillamond, duet on what is means in the ominous Something Bad.
A long first half closes with an all-time classic showstopper, Defying Gravity, as Elphaba dramatically soars up to the rafters unleashing her powers. Nikki Bentley resists the obvious temptation to go over the top offering a well-controlled take that certainly pleases the numerous die-hard fans in the audience.
Unlike the movie the Wizard is a key character with Pinder doubling up as a weak man who will do anything to survive using the supposed good witch Glinda as the demonised and hunted Wicked Witch of the West launches attacks on his dictatorship. In these days of fake news Wicked plays with ideas of perception and a reminder that it's the winners who write history.
The half second feels a little underpowered at times because it gets darker, but is peppered with references to the Technicolor genius of the movie, so it's worth rewatching the antics of Judy and her mates before delving into this version of Oz.
It's rare to see two singers fill this huge space so Bentley and Woolf's final duet, For Good, showcasing their range and power as the witches reconcile and then part is worth the admission price alone
If you like your musicals with a bit of meat on the bones then Wicked works but in the same way it is brash and fun for those content just to wallow in a relentless assault on the senses.
Wicked is at Leeds Grand Theatre until Saturday 7th July. To book 0844 8482700 or www.leedsgrandtheatre.com
Reviewer: Paul Clarke
Reviewed: 14th June 2018
North West End Rating: ★★★★