The Cast at Airedale Academy gathered to present their bi-annual Kabaret of Dreams at the Castleford Phoenix Theatre. For the year 13 students this was their last public performance before leaving the college and making their way off to performing arts establishments across the country and into the big wide world in general.
I am not quite sure where to start after seeing this performance, suffice to say that the future of musical theatre on the basis of tonight's performances is in very safe hands indeed.
It seems only right to name check each featured performer tonight, something I don't normally do, however Meghan Smith, Paige Moorby, Rachel Kiernan, Connor Cox, Jodie Jones, Olivia Tomlinson, Demi Hughes, Sheldon Harling, Alex Webster, Oliver Kemplay, Ellis Kirk, Liberty Wilcox, Emily Barraclough, Charlotte Embling, Chelsea Ballard, Charley Pickerill, Jason Burton, Shannon Burton Courtney Walker, Eve Waddington, Jodie Lear and Georgia Daskalaki shone as brightly as each other.
Opening with a selection from the show of the moment, The Greatest Showman it was clear the evening was going to be one of spectacle and show stopping performances. Using the entire cast it was nothing short of powerful.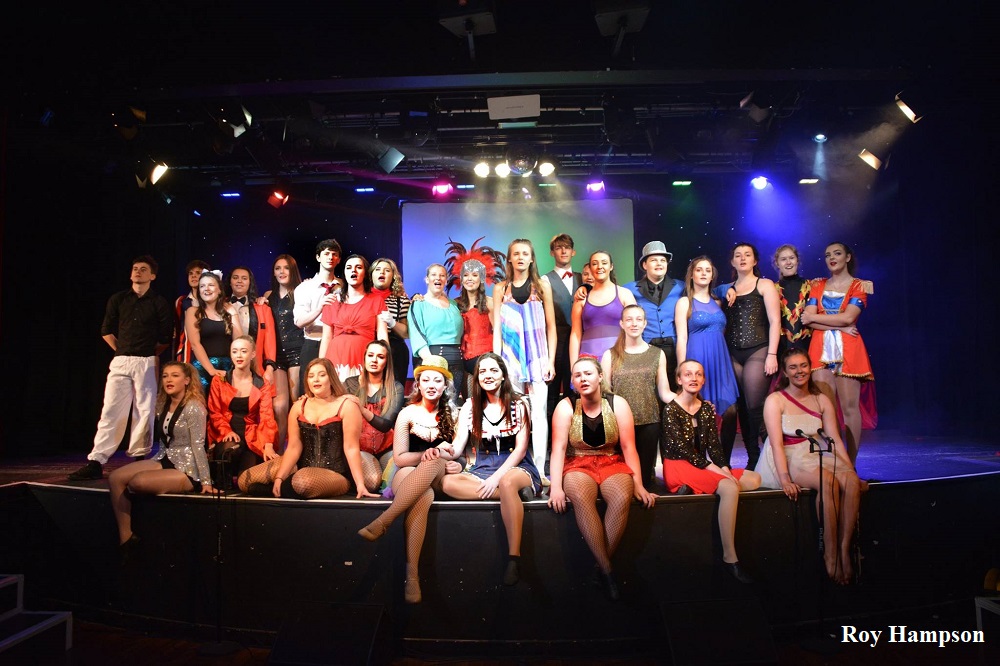 Whilst I would love to list every one of the 32 numbers performed tonight (96 in total over the three night run) I will centre on the pieces that stood out for me personally. The first was a Burlesque Medley featuring Kiernan and Barraclough which we were told by host and director Tracey Bell the cast choreographed themselves.
"I'm Telling You" from recent Broadway transfer Dreamgirls was performed faultlessly by Embling, someone who can quite easily walk onto a West End stage tomorrow and who I am certain will be a leading lady within a very short space of time.
Chelsea Ballard who is leaving the college this Summer after 3 years was introduced onto the stage to tell us of her journey through Airedale. Her performance of "Don't Rain On My Parade" from Funny Girl was heartfelt and controlled. Half way through Ballard introduced Charley Pickerill who starts in year 12 this September. Pickerill continued the piece, and wow! This young lady almost stole the show and is somebody I can't wait to watch more over her next two years with The Cast.
Fresh from playing Sam Wheat in Airedale's recent production of Ghost, Connor Cox performed "Defying Gravity" from Wicked to open the second half. This gentleman CAN sing and his performance drew a standing ovation from the packed auditorium and was totally deserved.
Two years ago Airedale performed Miss Saigon and this was revisited tonight as Barraclough and Waddington performed "Movie In My Mind" faultlessly. Paige Moorby also impressed emotionally singing "Over The Rainbow".
My personal highlight of the night with a stunning show stopping performance was Meghan Smith performing "The Girl In 14G" which was originally written for Broadway legend Kristin Chenoweth. Smith's control and execution of this incredibly difficult song to perform was on a par with any Chenoweth performance I have seen, vocal gymnastics at their very, very best!
Traditionally at this last Kabaret of the academic year the shows for the next year are announced, and tonight was no different. In December The Cast will be taking on Singin' In The Rain complete with real rain on stage. April sees Hairspray The Musical on the Phoenix stage supported by someone very special, more details of which North West End will bring you later in the year.
On behalf of myself and everyone at North West End I'd like to wish each and every student leaving tonight all the very best for the future. Your talents are incredible and your futures bright. I look forward to making multiple trips down to the West End in the coming years to watch you shine on the biggest of stages.
Reviewer: Paul Downham
Reviewed: 22nd June 2018
North West End Rating: ★★★★★