As the Hull New Theatre filled up on Thursday night, mainly with children, the excited chatter got louder and louder in my ear. The main culprit? My sister, who has read every David Walliams book on the pretext of entertaining her grand-children - a likely story.
We were all here for the stage adaptation of Gangsta Granny, a book written by Walliams and adapted for the stage by Neal Foster.
And as the lights dimmed, children squealed and the fun began.
The story centres around 12-year-old Ben (Tom Cawte), who is forced to endure Friday nights with his "boring" granny, while his ballroom-dancing parents (Jenny Gayner and Jason Furnival) live out their Strictly Come Dancing dreams at their local dance hall.
By his own admission, Ben hates everything about his visits – from the cabbagey foods his gran insists on feeding him, to the cabbagey smell of his bedding and the Scrabble games his granny makes him play EVERY WEEK. BORING, BORING, BORING.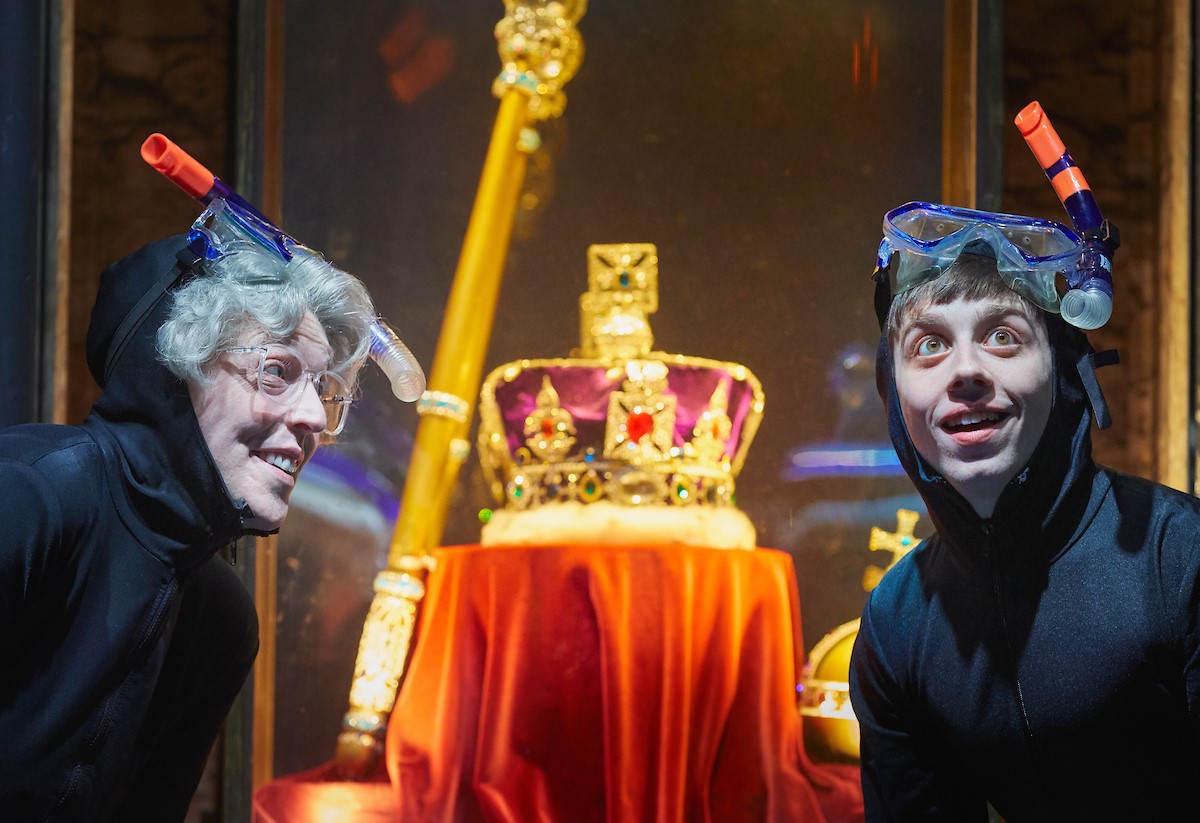 One Friday, after suffering nightmares in which his parents hilariously appeared as huge dancing cabbages, Ben decides enough is enough. Sneaking downstairs to his gran's telephone, he rings his parents, begging them to come and pick him up.
He has to shout so they can hear him above the dancing music, and, unbeknown to Ben, his granny has overheard his pleas. She hears that Ben "hates" being there, "hates" everything she feeds him and that he is "bored" out of his mind.
Granny (Louise Bailey) is, understandably, heartbroken. By the "aws" emanating from the audience, many felt her pain.
As if his Friday night torture wasn't enough, Ben's pushy parents want him to become a world-class ballroom dancer while he dreams of being a plumber.
The approaching weekend looms over Ben like a big, black cloud, but little does he know his wily granny has an ace up her sleeve, and his weekends will never be the same again.
Looking at the shelves in his granny's kitchen, he espies a biscuit tin. Hoping there's non-cabbage food inside, Ben opens it and can't believe his eyes –it's jam-packed full of magnificent jewels of every description.
With dollar signs in his young eyeballs, he quickly puts the tin back on the shelf, as he hears his granny approaching. Him, seeing the jewels is all part of granny's plan to make her grandson's visits less boring for him. And this is where the adventure really takes off. She pretends she is an international jewel thief, called the Black Cat, and that the tin contains all the booty she "only stole for the thrill of it".
As Ben holds up each beautiful gem, granny has a mind-blowing tale of how she stole it. Together they plan the heist to end all heists - to steal the Crown Jewels from the Tower of London. Or rather, Ben plans it, because granny has been taken ill and lies in a hospital bed.
Will she recover enough to "swim across the Thames and up a sewage pipe" to steal the jewels?
Will Ben have to ballroom dance for a living, or mend toilets? Is granny really the Black Cat?
The clever stage setting and atmospheric lighting seamlessly took us to granny's house, Ben's home, both of his bedrooms, a motorway, the River Thames, the Tower of London, Ben's local shop and a hospital to name but a few.
All the ingredients were there to make kids giggle – granny regularly breaking wind was a real winner.
With every word crystal clear, everyone on stage played their part in keeping us amused throughout, and we didn't need much coaxing to get on our feet to dance along with them at the end.
Less amusing is the thought that this lovely old granny had to resort to such shenanigans to gain affection from her only grandson. But hey, this is fiction. It can't possible happen in real life, can it?
Reviewer: Jackie Foottit
Reviewed: 5th July 2018
North West End Rating: ★★★★★