In a UK first the team behind Calendar Girls decided to invite critics to review the dress rehearsal and in fairness producer David Pugh warned us the show might be stopped if things went badly wrong.
In reality it was a calculated risk as if a show isn't pretty much ready by this point it never will be, but aside from a few sound gremlins, and the odd cast wobble, this was a slick reinvention of the West End hit as a touring production.
Unhelpfully the set has been scaled back for the road, and although there has been some tinkering with the words and music this version remains the core strengths that makes it one of the most heart-warming and moving shows around.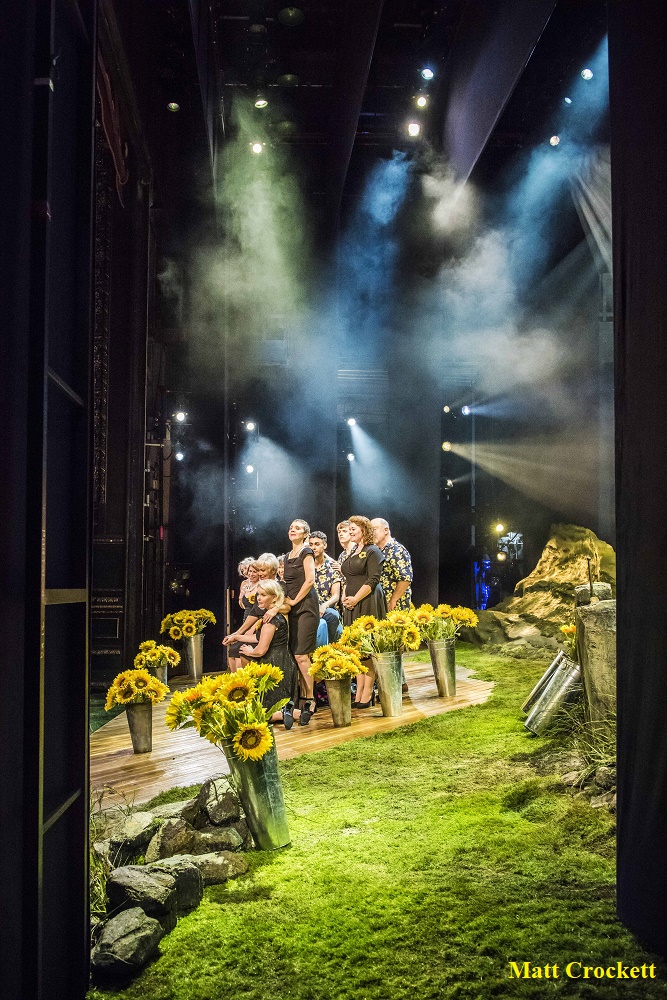 Unless you don't read newspapers, or watch TV, you will be familiar with this semi-fictionalised tale of a bunch of North Yorkshire Women's Institute members who stripped off to do a calendar so they could buy a sofa for relatives on a cancer ward that had treated John, the late husband of one of their members. The story revolves around their reluctance to pose nude, bumps and all, while persuading the WI to sanction such a bold move, but these determined ladies won the day, and have raised over five million quid for cancer charity Bloodwise.
The real glory of this show is that it places older women at the centre of the action and it is refreshing to see performers of a certain age leading a major show for a change. West End veteran Anna-Jane Casey is a force of nature as the widowed Annie, and her portrayal of a despairing spouse in Scarborough rings true, but she really lets rip on Kilimanjaro bringing all her experience as a powerhouse cabaret singer into play.
She is matched note for note by another veteran Rebecca Storm as her scatter-brained best mate Chris who comes up the idea of the calendar as she faces down the doubts of other WI members.
What a treat it is see 75-year-old Ruth Madoc playing retired schoolteacher Jessie using her decades on the board to beautifully time the gags in Tim Firth's witty book to perfection. She also nails What Age Expects as Jessie rages against the dying of the light.
Comedian Karen Dunbar is hilarious as feisty single mum Cora, while Corrie star Denise Welch gets plenty of laughs during her big number I've Had A Little Work Done, and may have had some vocal tips from her son who sings in Brit winning rock act the 1975.
Somehow in this version the male characters seem diminished and less rounded, but Phil Corbitt makes the most of John who faces his end with dignity and humour. This might be an older cast, but the younger actors playing the WI member's children embarrassed by the impending nudity bring some welcome comic relief, especially Isabel Caswell making her musical theatre debut as troubled teenager Jenny.
Firth is a top quality writer who cleverly weaves pathos and plenty of fun, and he isn't afraid to tackle some tough issues like the devastating impact of this awful condition, aging, domestic abuse, the importance of community and the price of tackling the status quo to bare all. Gary Barlow is the undoubted master of the three minute song but his melodic score shows he can have a theatrical career once he hangs up his pop spurs.
All roads in this show lead to the evening in the WI when the women finally strip off posing behind strategically placed props, but as one of the characters demands there are no 'front bottoms.' It's worth remembering that original calendar was quite demure as is this scene, but the cast have great fun hiding most of their modesty, and there is plenty of camaraderie onstage as they go for it in front of hundreds of people.
To be honest this is such an amazing story it is pretty much bomb proof critically and tonight the rest of the audience was made up of people living with cancer, professionals treating them or families who have lost loved ones. Their instinctive standing ovation tells you all you need to know about a show that is full of love and fun, but never flinches from the human cost of a cruel condition that impacts on every household in this country.
Calendar Girls is at Leeds Grand Theatre until Saturday 1st September and then touring. To book go to www.leedsgrandtheatre.com or 0844 8482700.
Reviewer: Paul Clarke
Reviewed: 15th August 2018
North West End Rating: ★★★★