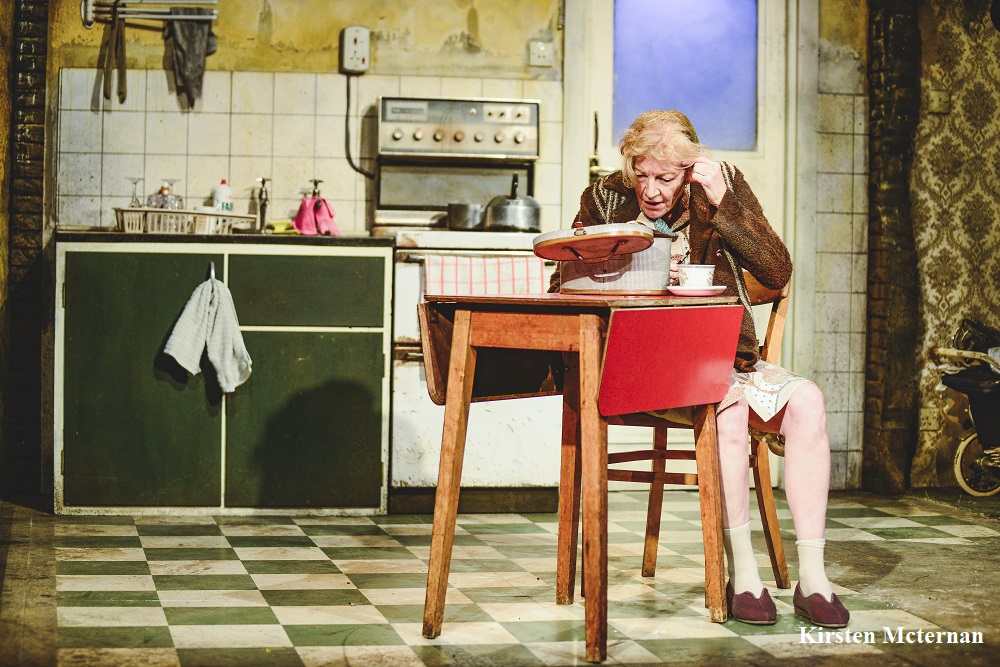 It's ironic that the newly renamed Playhouse decided to test out its recently formed acting ensemble by opening their pop-up theatre with a piece first performed in 1986.
It is a labour of love for associate director Amy Leach who studied it at GCSE, but her nine strong cast pull no punches on a grim rollercoaster journey through one raucous Friday night on what could be any rundown Northern street. The big question is does a play about the antics of a group of disenfranchised and damaged folk in Thatcher's Britain still hold up?
The answer is yes and no. It is odd to watch a play with no mobile phones, which these people would be glued to today, and them seeking oblivion in booze rather than necking a few cheap pills. That said Cartwright's often funny, but unsparing, take on a feral underclass created by Thatcher sadly has real resonance in today's foodbank Britain.
Our host is Scullery who takes us on a harrowing trip down 'his' road, but Joe Alessi doesn't really find the cheeky charisma needed to fully drive the interlocking action as he wanders from house to house.
This is a first trip out for the Playhouse ensemble who will be growing together over the next year in this converted former storage area so new it reeks of paint. Given the instinctive way they already work as a group there is huge potential in this rep approach that has in the past played such a key role in developing the careers of some of our greatest thespians.
The vastly experienced Susan Twist is sensational as confused older woman Molly dolling herself up and remembering her long dead mum combing her hair 100 times before bed. It is that sort of devastating and deeply human detail in the maelstrom of lager fueled mayhem that makes Cartwright such a clear sighted champion of damaged outsiders. As Marion her foul mouthed street row with Robert Pickavance as her sozzled seedy lover, egged on by other characters dotted round the seats, is pure comedy gold.
Local lad Lladel Bryant has great fun with potty mouthed DJ Bisto and is glorious as a drunken soldier blissfully unaware he is being seduced by drunke older woman Helen. Darren Kuppan, who was so good in Nick Ahad's Partition, is both a convincing Skin Lad always spoiling for a fight to quell his demons, and the sharp suited Brink who might just have a way out of the poverty trap.
One of the flaws in this sort of play is there is an unspoken assumption there is no way out of poverty, but people do make it, and Cartwright hardly touches on this as the cast rampage around Hayley Grindle's versatile set which acts as an extra character.
When Cartwright does briefly touch on how escape can be tough it works as the recently redundant Joey and Clare stage an impromptu hunger strike after their dreams of a better life are thrashed. Dan Parr and Tessa Parr, who were the leads in Leach's production of Romeo and Juliet, reprise their turn as star crossed lovers leaving this middle-class audience squirming with their gut-wrenching despair and poetry as they slip way.
If nothing else Road proves that the ensemble idea is a goer in a tricky play full of gear changes and sudden of tone lurching from brutalised young mum Valerie to four hammered youngsters grooving to Otis Redding's Try a Little Tenderness glimpsing a better world. It would be easy to make the characters caricatures, but Leach gives the collective enough space to show them as our fellow human beings albeit damaged ones.
The real tragedy of Road is the emerging underclass it shone a light on are still here, still trapped and in ever greater numbers as politicians flounder around arguing about deal or no deal.
Road at Leeds Playhouse plays in the Pop-Up theatre from now until Saturday 29th September. Road, Box office 0113 213 7700 or book online www.leedsplayhouse.org.uk
Reviewer: Paul Clarke
Reviewed: 7th September 2018
North West End Rating: ★★★★