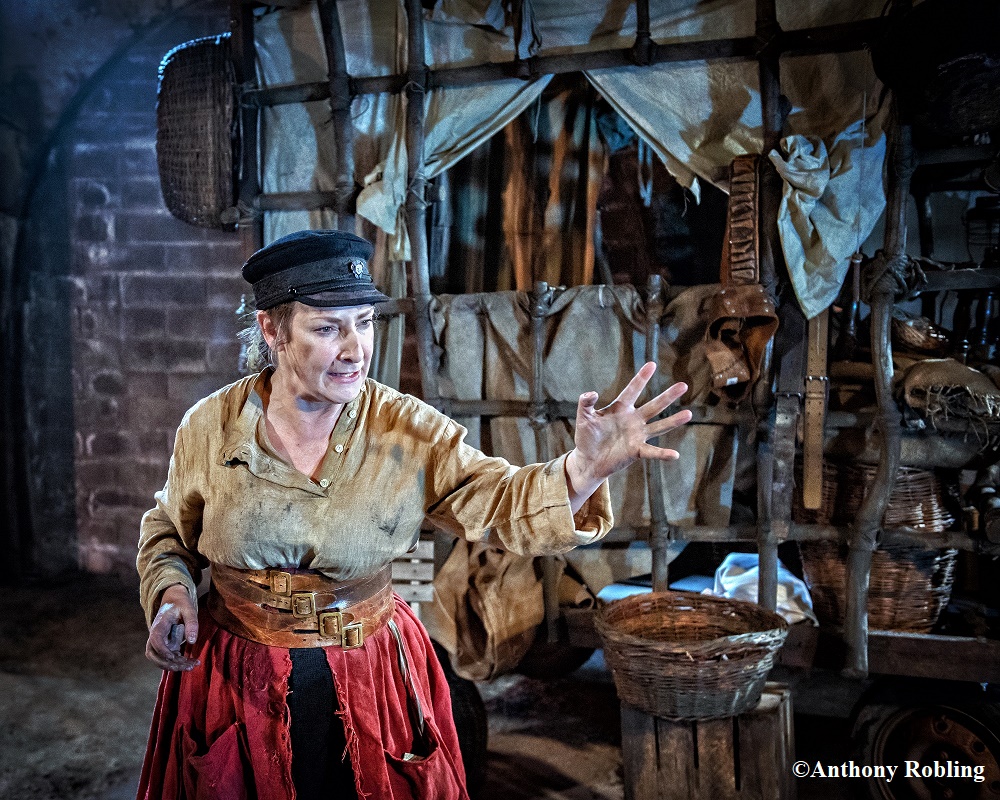 One of the many smart touches in this imaginative version of Bertolt Brecht's classic anti-war text is sending the audience down into the cold, dusty bowels of a Leeds warehouse to promenade with Mother Courage as she drags her cart on an endless journey round the cauldron of conflict.
It would all too easy for Britain's sole remaining radical theatre company to indulge in tired agit-prop, but instead director Rod Dixon and his team craft a vibrant, dark piece that is utterly relevant in a world that seems determined not to learn the lessons of our violent history.
Dixon is helped by an absolutely towering performance by Pauline McLynn who makes Mother Courage a fully rounded human albeit in a ruined and amoral way as she tries to stay alive with her three children. It would be easy to play Courage as a caricature of evil, but instead McLynn offers a complex woman with a moral compass that has been smashed to pieces by decades of survival on the battlefields of the Thirty Years' War.
McLynn squeezes every ounce of malice, pain and pathos from Lee Hall's witty translation, and the moment this consummate trader with the foul mouthed gift of the gab makes a ham-fisted bargain from her son's life is a masterclass in timing as conflicted emotions rage across her face. Here McLynn joins the pantheon of the great Mother Courages.
The other unsung hero of this often darkly funny version is Sara Perks' design that moves the audience over the cellar's rubble to meet brutal solders in specially designed grotesque masks, venal generals and a motley crew of damaged survivors, including T.J. Holmes' cowardly vicar who throws aside his god to stay alive.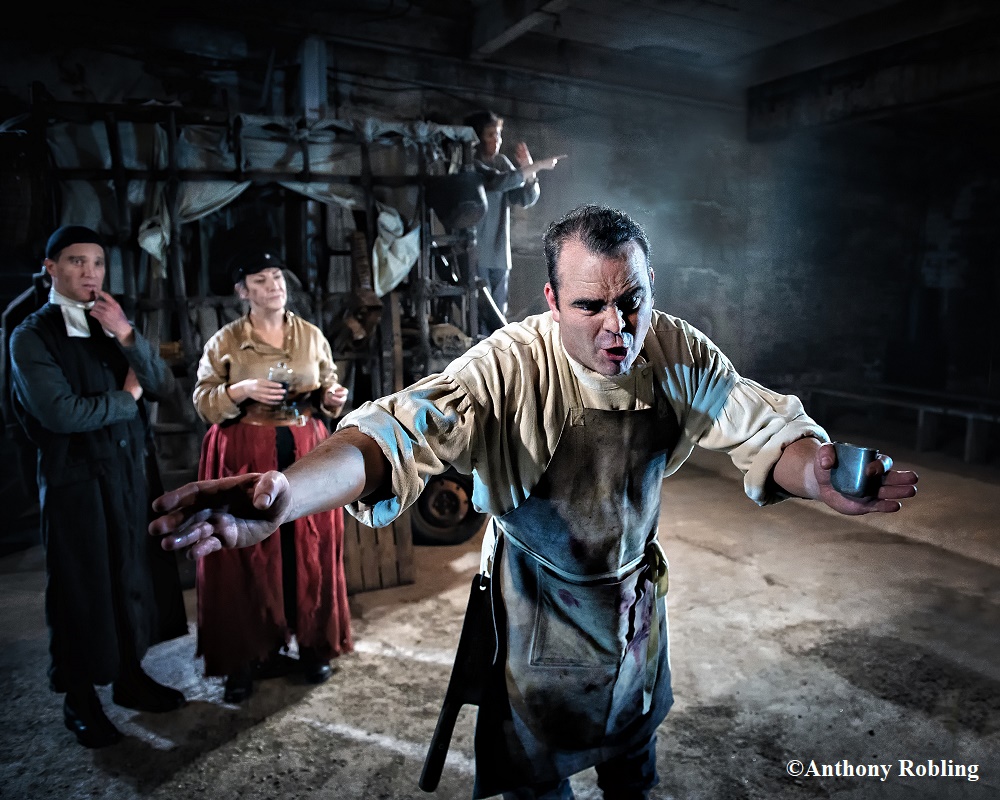 Dixon cleverly uses the promenade to show how it is very easy to lose your way – morally and physically – in a war where one minute is over, the next cannons are roaring round the space, and where Brecht never makes it clear who is in charge. It certainly made you think of people fleeing from Syria who probably didn't really know who they are running from, or why they were suddenly on a raft in the middle of the Mediterranean with their families.
Songs are central to a great Mother Courage, so Dixon wisely hired long time Red ladder collaborator Boff Whalley who uses his obsession with melody well as Luke Dickson's splendidly dodgy Cook belts out The Song of the Great Souls of the Earth in a vaudeville style. There was something deeply moving when Musical Director Beccy Owen's and the 12 strong community choir dotted round the debris burst into song drawing us deeper into Courage's moral decline.
Dixon was determined to make more of Kattrin, who Brecht described as dumb, and casting deaf actor Bea Webster worked wonderfully as her use of language brought an interesting new dimension to the role. Courage's stupid son Swiss Cheeses is well played by Matthew Lewney, and Levi Payne was suitably dashing as heroic soldier Eilif who is a victim of peace breaking out albeit briefly.
Mother Courage is the centre point of Red Ladder's 50th anniversary celebrations so while the company know they are standing on the shoulder of giants they have done those who have gone before and Brecht proud as Courage trudges off alone with her precious cart to an uncertain fate.
Book via www.redladder.co.uk or call Leeds Playhouse on 0113 213 7700.
Reviewer: Paul Clarke
Reviewed: 1st October 2018
North West End Rating: ★★★★★