Where you are raised defines you in so many ways which is especially true for Him and her who are the only two kids born in a remote North Yorkshire village.
Charley Miles' debut play based on her own experiences of growing in an insular place debuted at the Playhouse two years ago in the intimate Barber Studio, which suited it more than this much larger Pop Up theatre space.
She certainly packs a lot into an hour considering the idea of home, the tensions caused by growing up in in the middle of nowhere, gentrification and the delicate balances in close male/female friendships often full of unspoken feelings.
The bluff son for farming stock Him and the more lively Her are born two years apart but they share a lifelong bond as Miles traces their intense friendship from kids playing games as the duo bound round the empty stage to bickering adults who just can't tell each other exactly how they feel no matter the cost.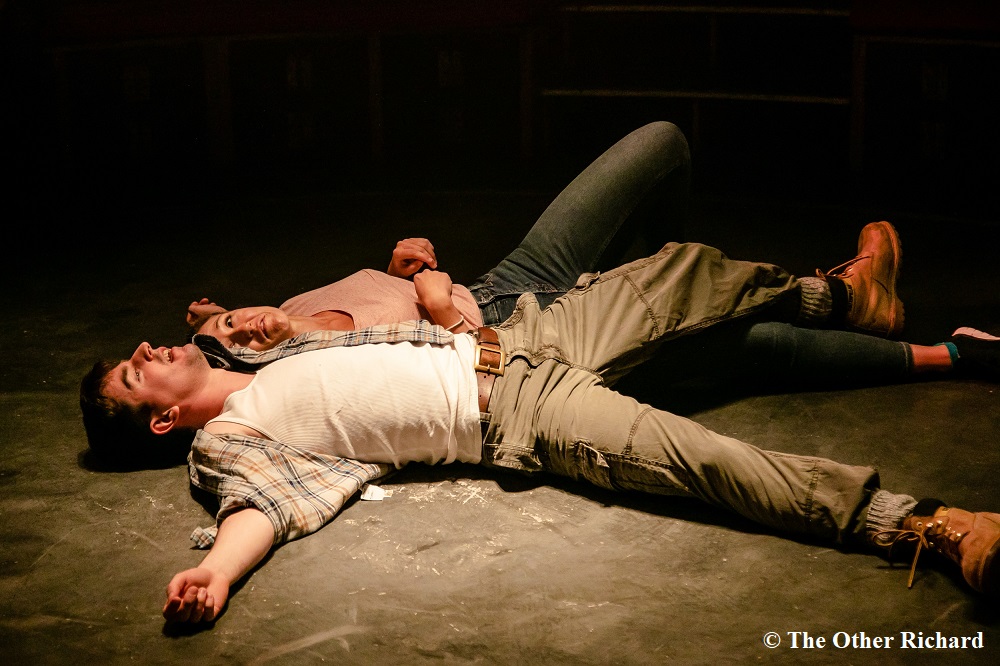 The real tension centres round that age old issue of what happen when one person decides to play safe with what they know, and the other needs to go out into the world. That is in no way a new concept, but Miles is a quality writer who cleverly shows the pain this necessary separation causes both parties.
In the hands of bad actors this could be a bit obvious, but Charlotte Bate and Harry Egan, fresh from a hit run in Edinburgh, make the words sing. Her is seemingly the less tricky role as she is the more lively, but is also highly strung young woman who want to preserve her home village in aspic even as she heads off to London. Her's description of the visceral changes you experience as you drive back home touches a nerve with any of us who were born in a small place and is beautifully expressed by Bate.
Egan has more work to do as the taciturn homebird drawing out the dilemma of a decent man struggling to articulate what he really means about anything, and especially the one thing that really needs saying. The moment he turns the tables on his life-long friend is powerfully done.
Two things come to mind watching Blackthorn. The first is we need a full scale play from Miles as soon as possible as she has a keen ear for how people really speak. The other is that this exactly the sort of work that will play well in the Bramall Rock Void studio which will open when the Playhouse finishes its refurbishment next year.
Reviewer: Paul Clarke
Reviewed: 5th October 2018
North West End Rating: ★★★★