Let me share a share a secret….I must be the only person in the UK who didn't laugh once at comedy juggernaut The Play That Goes Wrong. Not even a smile.
I admired the physical skills of that cast, but just didn't find it funny, so thankfully this comedy caper from Mischief Productions is a much more amusing affair. They could have milked the 'goes wrong' brand but wisely decided to go down the screwball comedy road instead.
The plot such as it is involves a gang of not very good, double crossing crooks trying to steal a diamond from a Minneapolis bank, but that's just an excuse for an endless deluge of sight gags, pratfalls and mistaken identities as inevitably it all goes a bit awry.
If you are a fan of the Marx Brothers, Laurel and Hardy or Basil Fawlty then this is the perfect night out. There is also a touch of the Coen Brothers in here as the writers somehow manage to tie up all the numerous loose ends.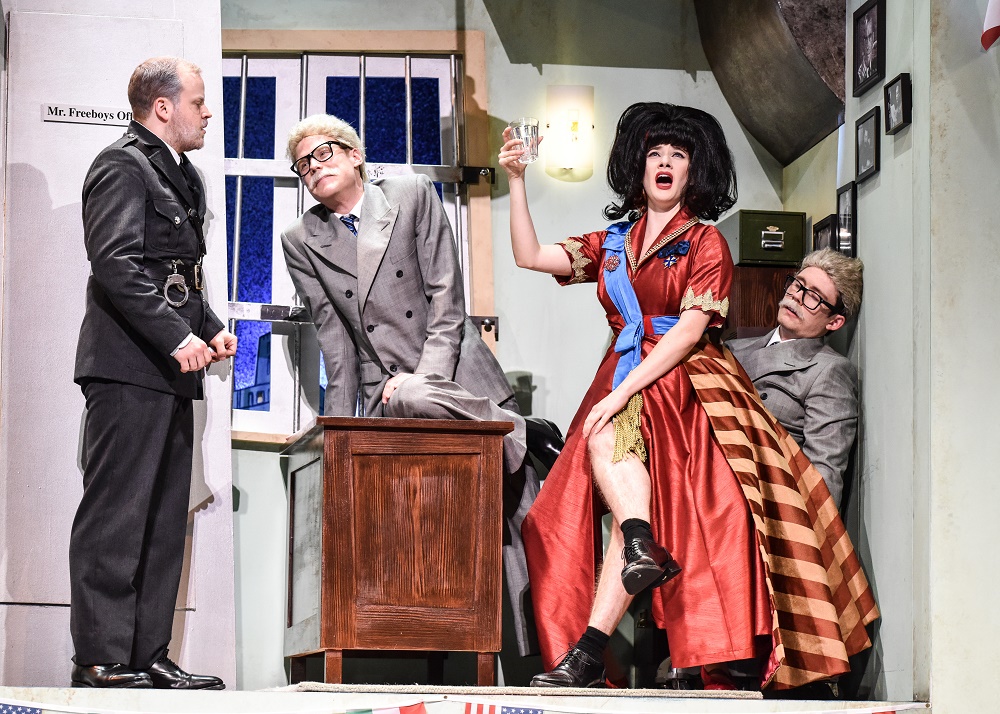 The key to this sort of comedy is to play it absolutely straight onstage, so only the audience is on the joke, and this hardworking cast do that with iron discipline despite all the chaos.
In truth the whole show could do with a bit of editing as the first half starts very sluggishly before it finally picks up some momentum in a wonderfully timed mime sequence as petty Criminal Sam Monaghan (Dave Hearn) tries to persuade thick bank robber Mitch (Eddy Westbury) that he is the father of his new girlfriend Caprice Freeboys (Julia Frith). It only makes sense if you are there, and understudy Westbury who stood in at the last minute carried off his complex role with aplomb.
The second half is also slow to get going before we finally get to the robbery, which is very funny thanks to David Farley's clever design that plays with the audience's perspective as Jon Trenchard's hilarious loveable loser Warren Slax scoots across the vertical set.
There is genuine chemistry and trust between Hearn, Westbury and Frith during the robbery as they dangle from the rafters in yet another highly physical set piece that requires a high degree of timing and balls.
If you love old school comedy then this is a must see, and the belly laughter rippling around this huge theatre is proof that double takes, corny gags and people being whacked around the head with a variety of objects are timeless.
The Comedy About a Bank Robbery runs until Saturday 27th October. To book www.leedsgrandtheatre.com or 0844 8482700.
Reviewer: Paul Clarke
Reviewed: 22nd October 2018
North West End Rating: ★★★