Performing under the name of The Cast, this group of Performing Arts college students from Airedale Academy are a wealth of talent, don't be fooled by their 16-19 ages or the 'college' title, these performers are very rare find! After seeing their last three shows (Kabaret, Ghost- The Musical and A Chorus Line) I arrived expecting a first class night of entertainment, and I was not disappointed,
The Cast for 2018/2019 are unbelievably even stronger - they blew me away! The Castleford, Phoenix Theatre is their home and is a little gem of a venue, tonight is was transformed once again from raked seating into a full cabaret licensed setting with waiter service. Candle lit circular tables added to the effect and produced the perfect environment for the show, the lighting designs were very creative, and a mention must go to the designer Jordan McMahon.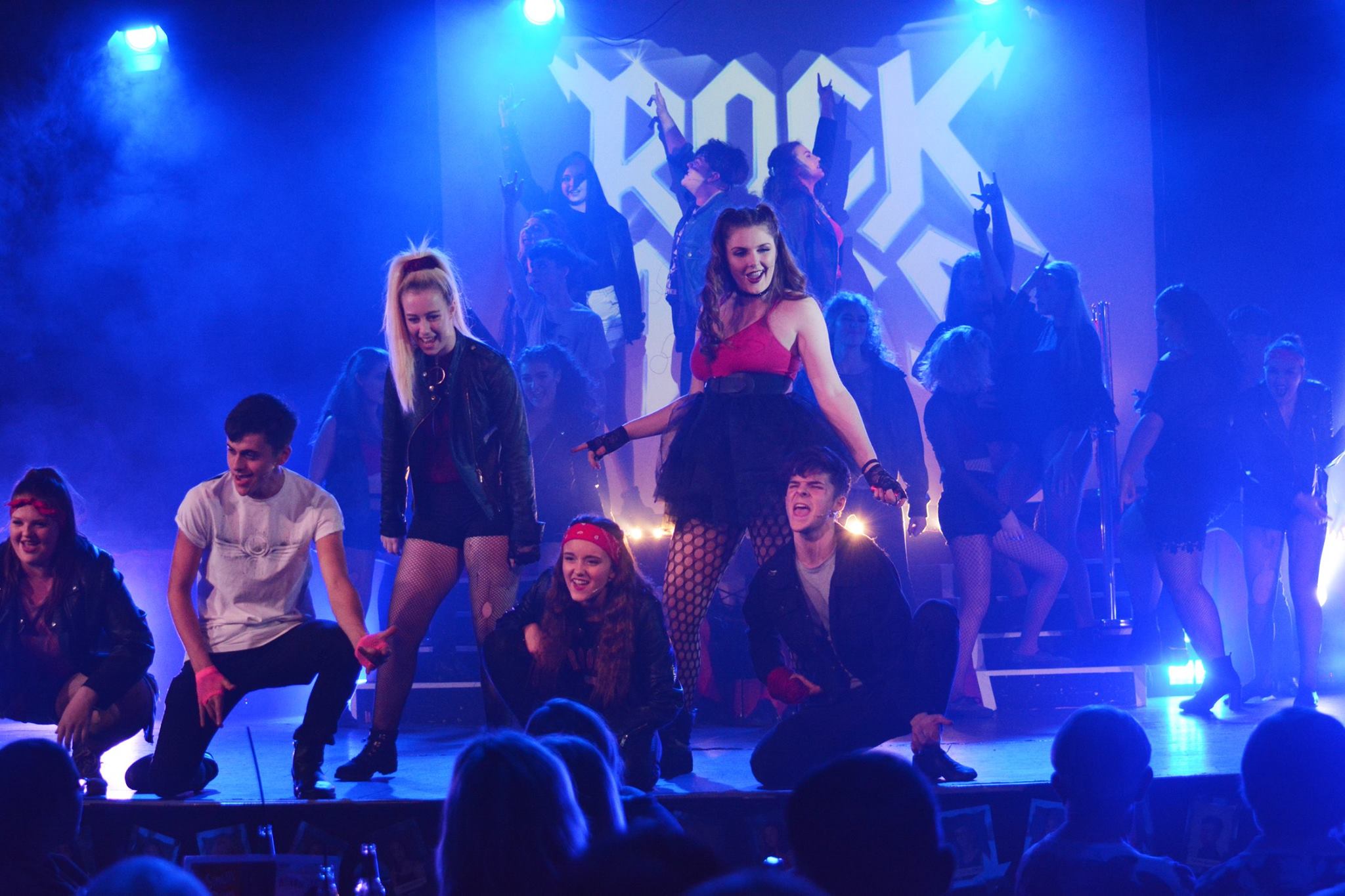 Movie Musicals is not a typical compilation show, it was more cleverly constructed. Although, it takes us through a selection of well known shows with extracts from Rock of ages, South Pacific, Mamma Mia, Dirty Dancing and the new and delightful An Officer and a Gentleman plus The Cast intersecting this with promotion performances of their up and coming shows Singing in the Rain and Hairspray. What set this apart was the personal touch, a pure gold moment was the inclusion of 'Audition pieces' that the performers were presently using for Theatre School auditions and sensitively allowing the audience to invest in the performers 'real' lives. I loved this idea and was left touchingly aware of their struggle to break into the industry - I will certainly be following their individual journeys closely as I am sure many people will. Another unique and genius idea, by someone with a very artistic eye on detail, was to invite the audience into a rehearsal for the Singing in the Rain. This was such a refreshing change, we saw the people behind the characters and the chaos of rehearsal. The Cast switched in and out of character at break neck speed and with a relaxed and caring humour between them, such embedded confidence, very impressive.
The opening section of the show set the standard very high with a mature medley from Rock of Ages that assaulted the senses. With very effect use of a scrim the story was told clearly and with great style by the full ensemble but special mention must go to the superb vocals of the soloists, Alex Webster, Olivia Tomlinson, Eve Waddington and Charley Pickerill, what voices these young ladies have, to match their acting skills. 'I can't fight this feeling anymore' was the highlight for me and the soaring vocals and cheekiness of Oliver Kemplay and Ellis Kirk showed maturity way above their years. The comedic attention to detail in this number was hilarious from 'The Titanic' and 'Pretty Woman' iconic moments to the convincing love story between Kemplay and Kirk.
South Pacific was a joy and the style was upheld throughout, it was lovely to see so many talented boys with great gymnastic ability on stage together in 'There is Nothing Like a Dame', something of a rarity. Alyssa Kerry's has a nice tone and did a good job with Bali Ha'i and the use of coloured fabric gave a very visual start. Honey Bun was a very funny and enthusiastic end to the section, delivered with great conviction and gusto.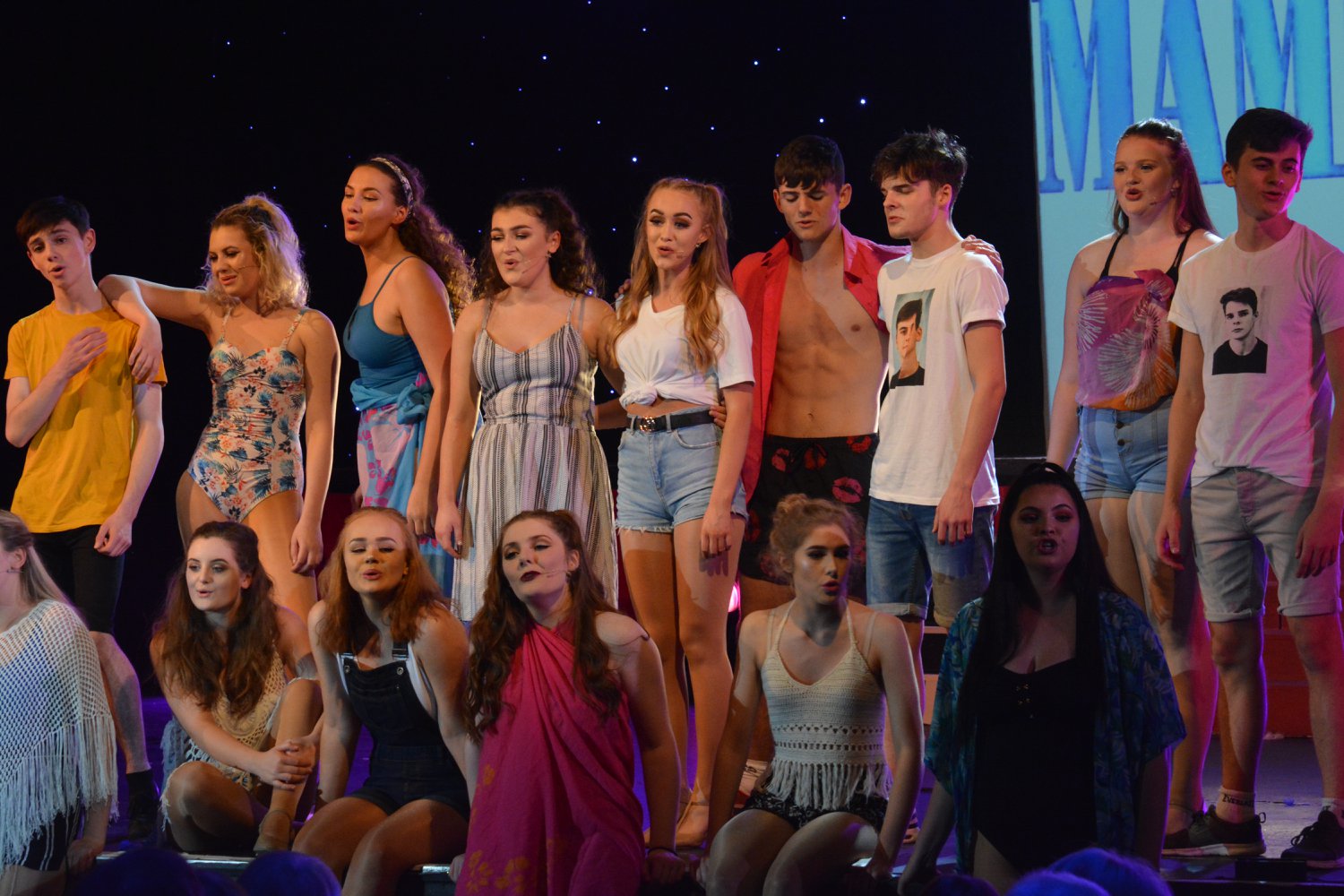 I must mention the An Officer and a Gentlemen section, this was a complete contrast, hard hitting, minimalistic and sharp, the vocals and acting did all the work here and no 'tricks' were needed. From a very physical all male opening of 'I'm in the Army now' followed by an unusual but very effective all female version of 'It's a Man's World' that left me breathless with the power of the performance. Then to be hit by Kirk's show stealing rendition of 'Family Man', this young man commands the audience and his vocals are stunning. I am convinced this young man will be a on a West End stage very soon. Finally, when I thought I had couldn't be any more invested, in comes Olivia Tomlinson and Emily Barraclough to leave me a snivelling wreck! Their dramatically sung 'Don't Cry out Loud' was gut wrenchingly beautiful and when two became four with the addition of Kayleigh Guynan and Jodie Hill they pinned the audience to their seats - these were no youth performances. Complete the picture with the iconic scene of the fully attired Officer carrying his lady into the distance, this was a real hit.
Hairspray was infectious and very well executed with a strong ensemble featuring Alex Webster at Tracy and Jordan Jex as Edna.
Mamma Mia revived the audience and 'Does your Mother Know' was convincingly performed with great vocals by Bethany Thornton and Lauren Kirby, these two young ladies have so much potential! The ensemble were infectious yet again and I really liked the use of the washing lines on 'Dancing Queen' - clever, artistic attention to detail!
The personal highlight of the show was the promotional 'rehearsal' of Singing in the Rain. The diversity of Kirk showed as he was utterly convincing as Cosmo and Kemplay gave the Don role the class it deserves. The onstage and off stage rapport between these two is evident. Eve Waddington has a fabulous look for Lina Lamont and her portrayal was very funny. Emily Barraclough played a very natural and likeable Kathy, Barraclough lights up the stage when she enters, a very talented young lady. Add to this, interjection from off stage by the Director, we are taken into the territory of lost props, cast rivalry and technical staff, purely delightful! A great tap dancing finale, I will definitely be buying tickets to see this show as this promotional extract gripped me.
The show concluded with a rip roaring homage to Dirty Dancing with very authentic choreography that was performed with great energy. Kellerman's was a humorous opening with strong ensemble characters. Webster and Kirk, Tomlinson and Kemplay, Wagstaff and Barraclough had great chemistry together on stage and were cleverly costumed as the main two characters at different times within the movie. An additional mention must go to Mason Wagstaff in 'Lover Boy', this young man has huge potential and is very watchable. I am looking forward to seeing his development in his new few performances.
There were exceptional vocal 'audition' performances by Ellis Kirk and Olivia Tomlinson. Emily Barraclough and Shannon Muscroft delivered very different but very engaging monologues. Jodie Lear's performance was highly emotional and Oliver Kemplay song was polished and secure.
The beauty of The Cast is their individuality, each one is unique, fulfilling every possible taste yet as an ensemble they are very tight and obviously love performing. The amount of performances this group undertake - 4 to 5 shows annually as well as charity and theatre in Education tours results in very professional, polished and diverse performers who can switch between styles and eras with ease. The industry is in very safe hands with such individually tailored training and performers who respond with this amount of commitment to detail. An exceptional show do not miss future performances of The Cast; this group as very 'real' talent; starting with Singing in the Rain in December, I'll definitely be there.
Reviewer: Celia Stephenson
Reviewed: 26th October 2018
North West End Rating: ★★★★★