It's second time around for Nick Adad's bittersweet drama cum radio play telling the story of the bloody partition of India through the marriage of two star-crossed lovers.
Ranjit is a Sikh and Saima is Muslim, which to most people wouldn't seem to matter, but to the communities they come it does because the bloody aftermath of Partition still echoes down the generations more than seventy years on.
As the not so happy couple anxiously wait outside Leeds Town Hall to see if their families will overcome the shackles of their history to bless their union, Ahad shrewdly weaves in two bloody tales from the separation of India and Pakistan along religious lines that pitted neighbour again neighbour to show why it still matters in those communities.
This production was originally a co-production with BBC Radio Leeds to mark the 70th anniversary of Partition, and is still performed as an on air play with script in hand, and live spot effects pulling back the curtain on the unseen world of radio production.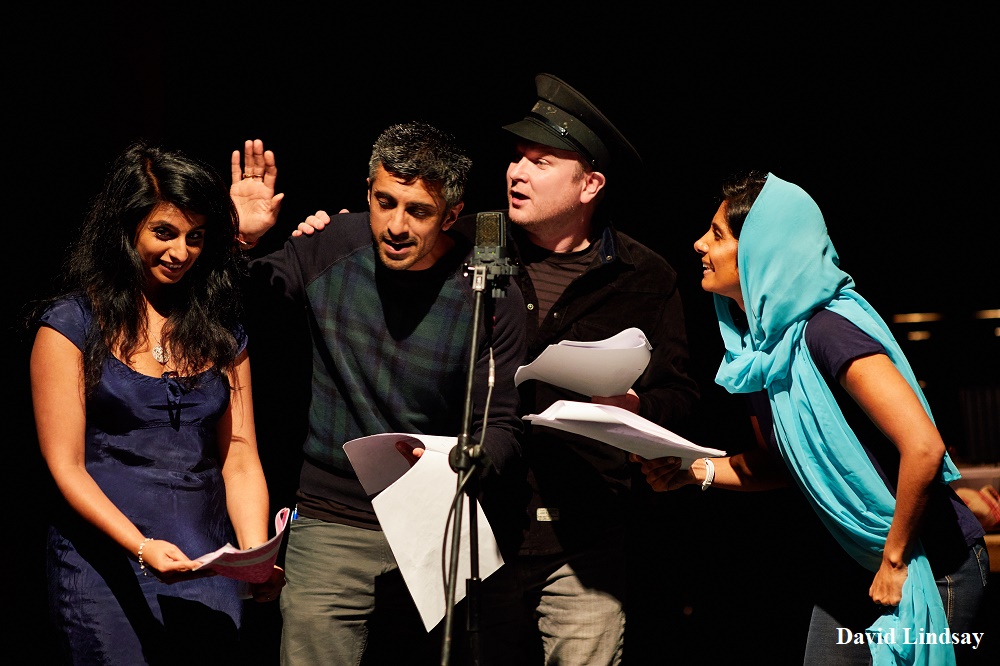 Mez Galaria makes a welcome return playing Saima desperate for her widowed mother's blessing and her barely controlled panic is skilfully done. The hugely experienced Balvinder Sopal lights the stage up in a variety of roles, and watching her jump from Saima's anguished mum to rough diamond café worker Denise is a joy.
Of the newcomers Emmerdale's Sushil Chudasama takes over from Darren Kuppan who originated the role and has graduated to the Playhouse's acting ensemble. His Ranjt is a much needed oasis of optimistic calm, and he beautifully switches body language and tone to pay the groom's grandfather Rajpal who somehow survived Partition.
The actors have to switch a number of roles, so credit to another newcomer Luck Walker, who is one minute is a plummy BBC announcer, and then is warm hearted Leeds Town Hall security guard bob who listens to Ranjit's litany of horror on a park bench.
There is an edge of naivety in Ahad's premise that love will conquer all but that might actually might be necessary in the context of communities taking leave of their senses resulting in the deaths of more than two million people.
This powerful production is now off on a school tour where shamefully the history of the greatest mass migration of the 20th century is rarely taught, despite the fact it is still recent history for some communities.
Partition is in Leeds Playhouse's Pop-Up theatre until 10th Nov. Box office 0113 213 7700. Book online www.leedsplayhouse.org.uk
The Studio, Bradford Alhambra 13th – 15th Nov (Performances only for schools on 13th Nov)
Box office 01274 432000. Book online www.bradford-theatres.co.uk
Reviewer: Paul Clarke
Reviewed: 8th November 2018
North West End Rating: ★★★★