There are special people on this planet who are born with a great advantage over us mere mortals – I'm talking about those weightless beings born with springs in their feet.
And the strange thing is, they are all Northern Ballet dancers! Weird or what?
This fantastic company brought The Nutcracker to Hull New Theatre on Wednesday night, the first stop on the tour of this favourite festive tale.
Performed to Tchaikovsky's well-known score (I'm still singing "everyone's a fruit and nut case" in my head!), the wonderful, snowy stage setting immediately catapulted us in the packed theatre into a sparkling, winter wonderland. It was simply magical; I feel Christmassy just thinking about it.
The fun starts on Christmas Eve as the Edwards family prepare for their party. There's Clara (Rachael Gillespie), her brother, Frederic (Kevin Poeung) and their older sister, Louise (Minju Kang) as well as their parents, grandparents, butlers, maids and invited guests, including several children.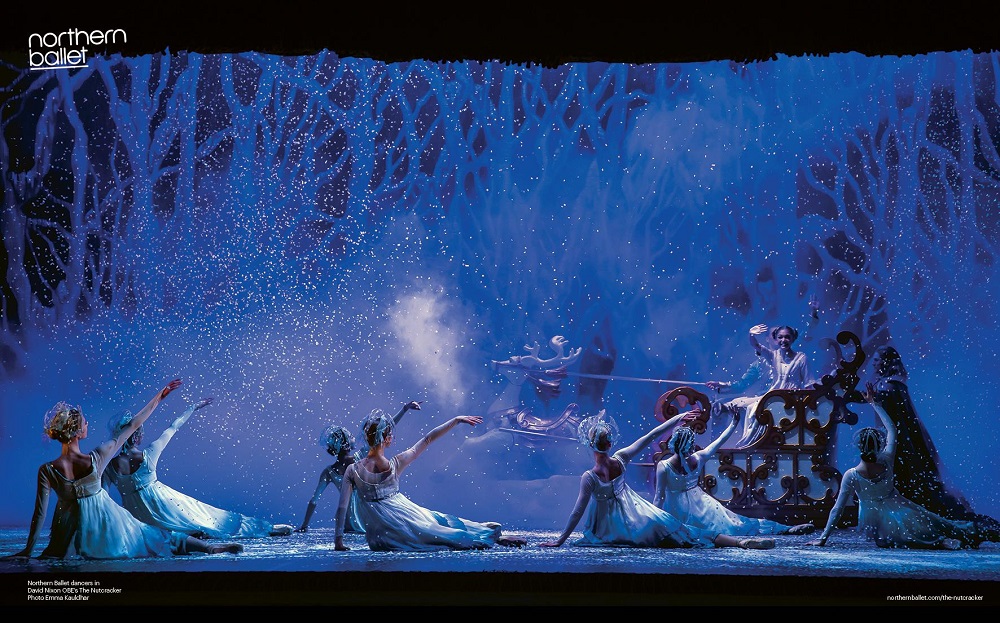 It's boisterous, colourful fun – the girls are all doll-lovers, the toy sword-wielding boys are naughty - the naughtiest being Frederic, who breaks the wooden nutcracker Uncle Drosselmeyer (Mlindi Kulashe) has given to young Clara.
Herr Drosselmeyer repairs the wooden soldier nutcracker and before going to bed, Clara leaves it by the huge Christmas tree. Her uncle, unseen in the shadows, casts a magical spell of his own – and this is when the fun starts.
Unable to sleep, Clara finds herself back in the darkened party room – faced with dancing mice (cute dancers of the RS Dance School, who also played the aforementioned child guests), toy soldiers, a Mouse King (Joseph Taylor) who, hilariously, performed the Floss and, best of all, for Clara, the wooden nutcracker soldier (Hull's very own Ashley Dixon) had come alive as the Nutcracker Prince.
The pesky Mouse King picks a fight with the Nutcracker but loses the battle, and Clara and her soldier (now magically transformed into a handsome young man) are transported into a snowy land where dancing snow maidens take their, and our, breath away.
As the snow and the curtain fell to signal the end of Act One, Act Two was delayed very slightly by a power cut (it wasn't just the theatre that was affected; my husband told me the power had gone at home, too), but picking up on the happy vibes all around me, no one was peeved about the very short delay.
And boy, was Act Two worth waiting for!
Travelling in a beautiful sleigh, almost up to the moon, Clara and her Nutcracker Prince dance their way down to a beautiful garden where they are introduced to the Sugar Plum Fairy (another role for Minju Kang) and her Cavalier (Javier Torres).
The scene is now set for some fantastic sequences involving Arabian princesses, Russian Cossacks, French ballet dancers, Chinese "acrobats", a Spanish dancer and the most beautiful dancing flowers – and, of course, the Sugar Plum Fairy and her Cavalier.
All too soon, Clara is back in her own home, disappointed that it all appeared to be a dream. Or was it?
I confess, even after years of reviewing ballets, I still don't know my arabesque from my développé or my plié from my jeté, but you don't have to be an expert to enjoy something as amazing as the Northern Ballet dancers in full flow. They were all utterly mesmerising on the night.
I really couldn't fault a thing. Fabulous costumes, the most wonderful stage setting (I do love snow) and Tchaikovksy's rousing score played by the magnificent Northern Ballet Sinfonia, conducted by Daniel Parkinson, earned the company a lengthy ovation from an audience only too happy to get up out of their seats to show their appreciation.
Running until Saturday, November 17th, 2018, 7.30pm nightly with 2.30pm matinee on Saturday, 17th. Tickets from £9. Call (01482) 300306; visit www.hulltheatres.co.uk
Reviewer: Jackie Foottit
Reviewed: 14th November 2018
North West End Rating: ★★★★★