In an increasingly crowed jukebox musical field this gritty tale of four blue collar lads from New Jersey who became the first ever boyband is miles away from Mamma Mia's childish antics.
What both musicals do share is an abundance of all time classic pop songs, but in this case you might not always associates monster hits like Sherry, Big Girls Don't Cry, Walk Like a Man or My Eyes Adored You with The Four Seasons, who used their vocal harmony talents to escape the mean streets they stalked as petty criminals.
The Four Seasons sold a hundred million records, but this is the classic theatrical trope of how it can all go horribly wrong when you reach the top, including for this band a real life brush with the Mafia.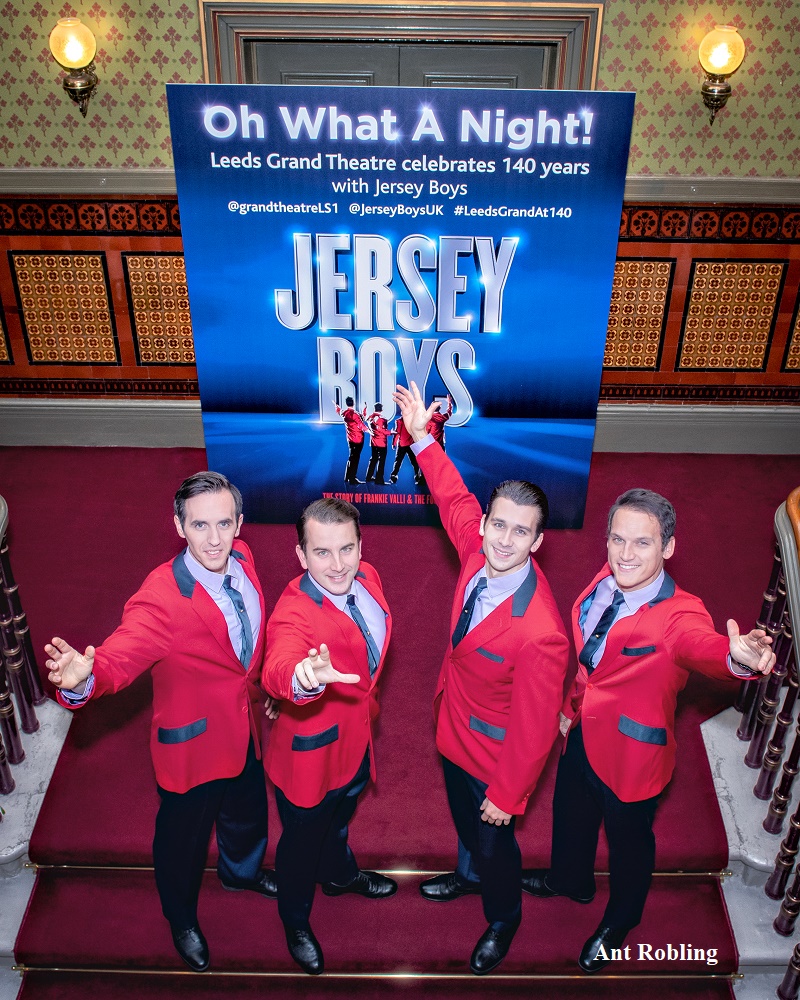 The really smart concept is Oscar winner Marshall Brickman and Rick Elice's book which allows all four members of the band to use the seasons as they tell the story in their own way. As well as pulling no punches about how messed up it all became it shows how and why rock and roll bands break up, but that everyone remembers it very differently.
That idea works perfectly as this tight knit gang of Italian Americans become superstars in an era when bands actually sold records, lost their families, had substance abuse issues, money problems as they owed a 150 large to the mob and inevitably it all implodes in an acrimonious spilt during a dark second half.
Understudy Peter Nash steps up playing local hood and wannabe musician Tommy DeVito with great charm, who lucks out by discovering teenage Frankie Valli who has a unique falsetto as strong as his normal singing voice.
They are joined by another local hood Nick Massi played by another understudy Karl James Wilson taking on the tricky role of the band's quiet man who had an ear for vocal harmony arrangements. The band's real ace in the hole is signing teen songwriter Bob Gaudio who created all the complex pop arrangements that are often as good Brian Wilson's more critically acclaimed masterpieces.
James Winter is the third understudy stepping up bringing charm and intensity to the less streetwise musical genius behind the band who then teams up with flamboyant producer and lyricist Bob Crewe - an amusing turn by Joel Elferink - to create some of the best three minute anthems every recorded.
Valli's trademark falsetto is musical marmite, and as the only original band member still left standing on the night, Michael Watson hits all the notes as his voice soars round this huge theatre, although the high pitch does take a bit of getting used to. He leads his makeshift quartet through their stylised dance routines, and the tight vocal harmonies don't suffer from the reshuffle of personnel.
Klara Zieglerova's nimble but simple set takes the band from New Jersey to their legendary Ed Sullivan Show appearance where they took on the Beatles who they were much bigger than at the time. The supporting cast all deliver, especially James Gibbs who makes the most of playing Oscar winner Joe Pesci, who came from the same hood as the band.
Sometimes it can be soul destroying sitting through a run through of a band's greatest hits bound together by a gossamer storyline, so this brutally honest tale of four Jersey boys succumbing to the pressures of fame is refreshing. The bonus ball is pin sharp recreations of some of the greatest songs ever written driven by Watson's extraordinary voice.
Jersey Boys is at Leeds Grand Theatre until Saturday 1st December. To book www.leedsgrandtheatre.com or 0844 848 2700.
Reviewer: Paul Clarke
Reviewed: 21st November 2018
North West End Rating: ★★★★