In a season full of 'he's behind you' and onstage daftness it's refreshing that in stark contrast Northern Ballet offer a chance to wallow in a different kind of festive treat with their traditional Christmas spectacular.
This year artistic director David Nixon offers a slightly reworked version of an old family friendly favourite that manages to be both epic and intimate at the same time. In the same way the cast are transported to a different world the audience sitting in this venerable venue are transported back to the grandeur of another age.
The story of a young woman Clara who inherits a mysterious Nutcracker doll from her uncle Drosselmeyer that magically turns into in a prince is pretty hallucinatory, and Nixon's witty and demanding choreography draws the audience inexorably into an off kilter world.
It's a tiresome trope that ballet is elitist when at its best like this it becomes a marriage of great technique and clear storytelling through movement. Nixon has resisted the temptation to play it safe for the festive crowd offering a tasty range of arabesques, assembles and grand jetes for the purists, but in a way that always makes sense to newcomers.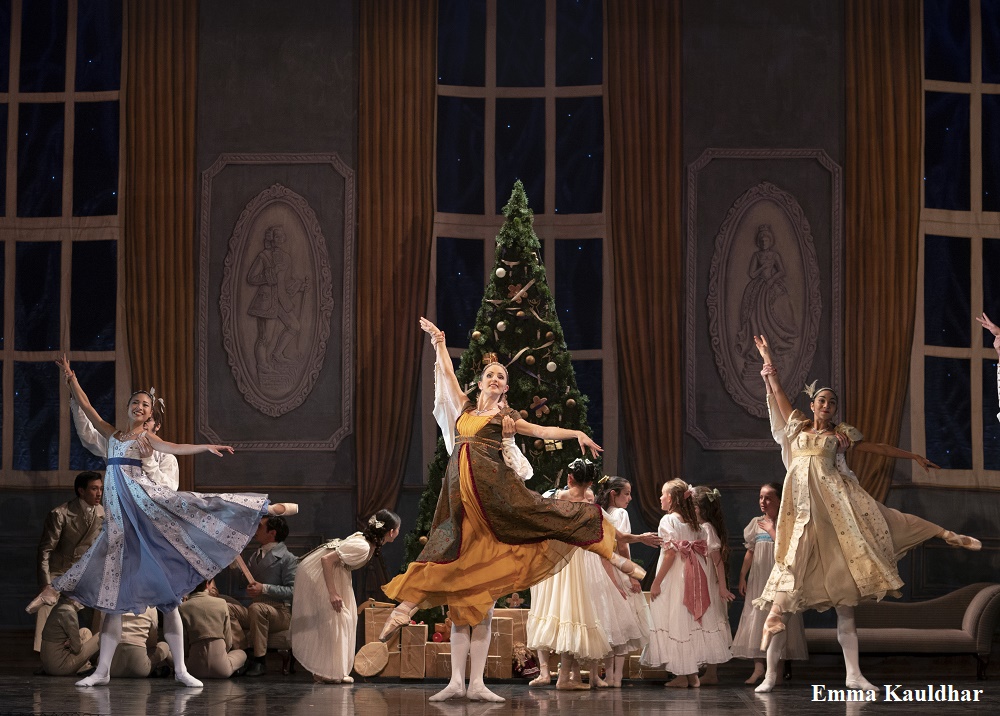 It is also at times very funny, and Nixon has even thrown in a flossing Mouse King, danced with great wit by Joseph Taylor in one of a dizzying array of wonderful costumes.
There are innumerable versions of this work, but Nixon has decided to set it in Regency England opening with a wild and visually scrumptious ballroom scene full of joy and fun. Charles Cusick Smith's huge set is packed with detail and even a wonderfully over the top carriage for Clara and the Prince. The moment when the life size dancing dolls emerge from his massive far eastern boxes is so wonderfully simple and moving in this age of video games and smartphones.
Nixon has thrown some of his big guns at this so soloist Rachel Gillespie is a winsome Clara, and leading soloist Ashley Dixon is a suitably dashing Prince. Their duet at the end of the first act is full of lifts, emotion and excitement as they explore a new world. They are utterly believable as a couple falling in love.
First soloist Mlindi Kulashe pulses with energy giving his Drosselmeyer an air of mystery, but it is never clear whether that is for good or ill. Nixon has wisely decided not to go for too dark an edge to his Nutcracker and Kulashe gets that.
Act two is a riot of colour and movement as premier dancer Javier Torres lights up the stage with his powerful jumping and animal magnetism as the Cavalier. Equally good is junior soloist Minju Kang who is clearly a rising star as her dance of the Sugar Plum Fairy is delicate and alive with joy. The pair have real chemistry earning a huge round of applause as they take their bows.
The company are uniformly strong especially during the act two divertissements as Cossacks, Spanish, Arabian and Chinese dancers cavort wildly round the stage. When the eight Flowers are in full flow you are torn between admiring their power and precision, or their artistic interpretation.
The extra member of the cast is Tchaikovsky's magnificent, complex and timeless score that soars around this vast theatre and Northern Sinfornia in the pit, under the baton of conductor Daniel Parkinson, capture every nuance and twist as they battle with the Russian master's devilishly difficult challenge.
The greatest joy of The Nutcracker is unlike some of Northern Ballet's other work you don't have to be a ballet regular to enjoy it. In fact, you could have never been to the ballet in your life and just sit back enjoying the visual feast.
Equally if you are a ballet buff there is more than enough content to keep you happy as world class dancers are pushed by an equally great choreographer still at the top of his game
The Nutcracker is on until Sunday 16th December. To book 0844 8482700 or www.leedsgrandtheatre.com
Reviewer: Paul Clarke
Reviewed: 4th December 2018
North West End Rating: ★★★★★