It is testament to the greatness of Barry Hines' tale of a brutalised working class lad who learns some big life lessons by training a kestrel that it is still on the GCSE syllabus decades after it was published.
It is probably true that most people have seen Ken Loach's iconic movie version than have read the book, but no matter if you have done neither as Robert Alan Evans' adaptation reinvents this two hander as a memory play.
Billy Casper lives in a Yorkshire mining community bullied by his brother who hates his life down the local pit and ignored by his mum more interested in her fancy men. Fleeing the brutality of home and his sink school he nicks a kestrel from a nest he names Kes, which he trains, before one fatal misjudgement brings his whole world crashing down around him.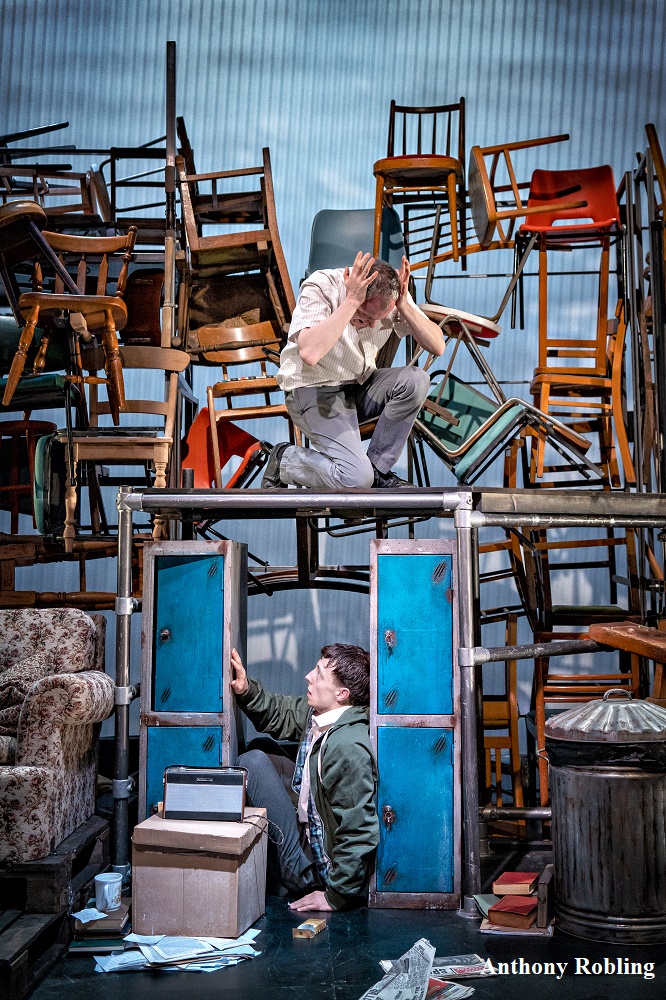 A mysterious Man comes back to the village meeting and interacting with the teenage Billy as they clamber round a set of old chairs created by designer Max Johns, and use other props to go back and forth through time.
The vastly experienced Jack Lord not only gets under the skin of the older man, who wants to forget but can't, as well deftly playing all the other characters. One minute he is Billy's hard up Mum and the next the crazed headmaster keen to thrash his charges for god knows what. Lord is hilarious as the deranged PE teacher – memorably played by Yorkshire legend Brian Glover in the movie - forcing Billy to take a lengthy cold shower for a perceived lack of effort.
Fresh off a national tour of War House the energetic Lucas Button offers a tender turn bringing a quiet dignity to a young man, with nowt in his life, who finds purpose, and sees what unconditional love should look like through his feathered friend.
It is no spoiler to say that there is no kestrel flying around the Pop Up theatre as aside from the obvious mess issues the creatives couldn't risk it swooping down to pluck an eye from one of the many schoolkids who will no doubt see this. Instead Amy Leach's direction and the actors invite you use that much underused theatrical muscle – the imagination.
And strangely enough it works as when the two Billys swing their lures to bring Kes home, the beautiful poetry in their movements means you see in your mind's eye a noble bird coming into land.
Evans took an almighty risk playing with this near scared text but he has pulled it off thanks to two actors who challenge the audience to let their imaginations soar as high and true as Kes.
Kes, is at Leeds Playhouse Pop-Up theatre until Saturday 16th February. Box office 0113 213 7700. Book online www.leedsplayhouse.org.uk
Reviewer: Paul Clarke
Reviewed: 28th January 2019
North West End Rating: ★★★★