Rule number 6 in The Witches' Code states: A witch must not change other witches into animals – or there will be trouble!
Well, that explains a lot of what happened on stage at the Hull New Theatre on Tuesday night, when The Worst Witch cast its spell over an expectant audience.
The fun started before curtain up when the witches in question came to ask us all to touch our foreheads with our fingers, instead of saying "hello" when the situation arose. We got the grey-haired, eccentric Miss Bat (Molly-Grace Cutler), who, cup and saucer in hand, had no fingers free with which to demonstrate the manoeuvre. But we got the gist of it.
As far as I could see those instructions were promptly forgotten by everyone in the, mainly young, audience, but it made no difference to our enjoyment.
The theatre was by no means full. However, noise levels remained high, adding to the excitement.
The story centres around schoolgirl, Mildred Hubble (Danielle Bird) who finds herself waiting for the wrong school bus and eventually lands at the wrong school – Miss Cackle's Academy for Witches.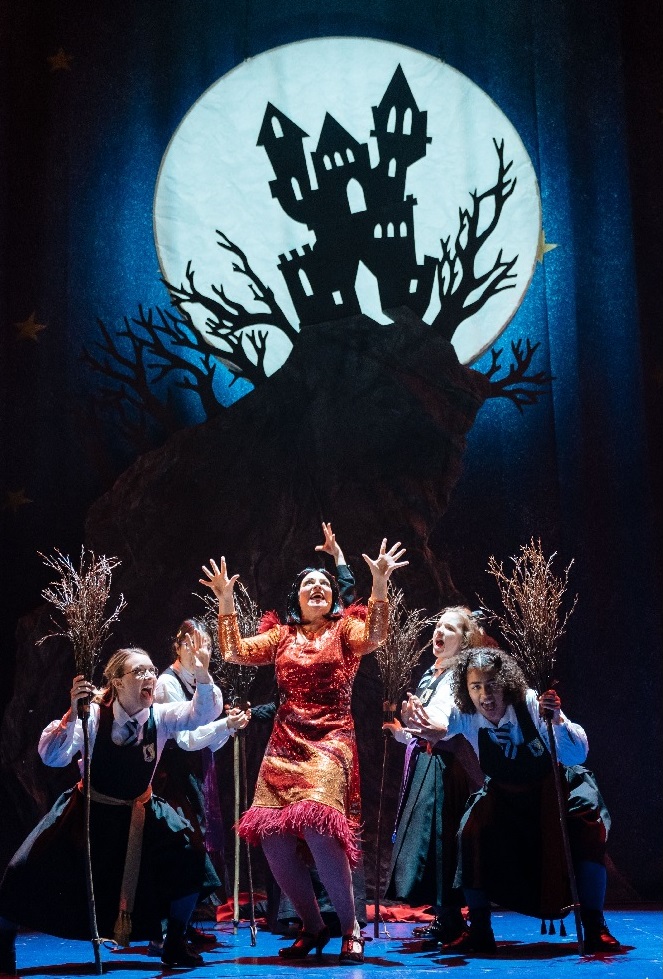 Wearing the wrong uniform and not having her familiar with her (in the form of a cat), opens her up to all sorts of ridicule, especially from the snooty Ethel (Rosie Abraham) who comes from a long line of witches.
Mildred's protestations go unheard by teachers, Miss Hardbroom (Rachel Heaton) and Miss Cackle (Polly Lister), however, just like Wonder Woman, one twizzle and she's magically wearing the correct uniform.
Everything Mildred does is clumsy – talk about Calamity Jane! And at every toss and turn, snobby Ethel tries to belittle her.
Kind schoolgirl, Maud (Rebecca Killick), goes out of her way to befriend Mildred, but their bond is threatened time and time again – usually because of Ethel's witchery.
The girls' first lesson is to make a laughter potion. Of course, Mildred and Maud get it wrong and, after stealing some of Ethel's potion, they end up making themselves invisible. Poor Ethel, meanwhile, turns herself into a pig, snorting around the stage – by the giggles coming from the audience, you'd think we'd drunk the laughter potion.
The highlight of the night comes when Mildred and Maud are chosen to show off their skills on broomsticks. Wow! This scene was absolutely amazing. High up off the stage the girls showed a breathtaking daring and athleticism worthy of a Cirque du Soleil performance. I daren't look at times.
And it was all thanks to the pesky Ethel, who had cast a spell on the broomsticks.
The attention then shifts to the quietly spoken, demure Miss Cackle, who, because she arrived into this world three minutes ahead of her twin sister, Agatha, owns and runs the school.
As Mildred, fed up of being bullied, tries to escape the school, she bumps into Agatha, who has waited years to get control of the school. That's when all hell breaks loose, but in a funny and entertaining way – my fave moment is when Ethel is turned into a huge snail, right in front of our eyes.
Polly Lister in a dual role is so funny – quiet Miss Cackle one minute, and sparkly, loud, cackly Agatha the next.
It's the age-old battle of good versus evil, but I won't give the game away as to who wins.
This small cast, with loud, clear voices – singing and speaking - brought an energy to the Hull Theatre stage that was a joy to behold.
Three musicians played discreetly in the background, their music greatly adding to the production, but never overshadowing proceedings.
This being about magic, we had flashes, bangs and wallops every toss and turn, plus panto-style audience participation.
It's no Harry Potter – we could see the strings, so to speak - but to keep young and old spellbound for more than two hours is no mean feat.
Running until Saturday, February 16th, 2019; 7pm nightly (not Wednesday) with 10.30am showing on the 13th and 2pm matinee on the 16th. Tickets from £15 https://www.hulltheatres.co.uk/events/worst-witch
Reviewer: Jackie Foottit
Reviewed: 12th February 2019
North West End Rating: ★★★★