Despite being a child of the nineties I spent a lot of my weekends as a child dressed up in my Dad's old leather jacket as Danny Zuko, letting my friends be Sandy. Tonight at the York Theatre Royal, nearly 50 years since the show first opened on Broadway, it was apparent that Grease fever is very much still a thing as the entire three rows behind me danced and sung along to every number.
York Light Opera was founded in 1953 and has long been one of the amateur theatre companies at the heart of community theatre in York. It's such a delight to see one of the city's main stages alight with local, young performers and the theatre packed full to the brim.
Grease follows the highs and lows of a group of friends in an American high school in the fifties and the 'will they, won't they' love story of Danny (James Horsman) and Sandy (Sarah Craggs). The show is filled with iconic numbers and well known quips. York Light's take on the show is a traditional one, filled with love for the original show and film.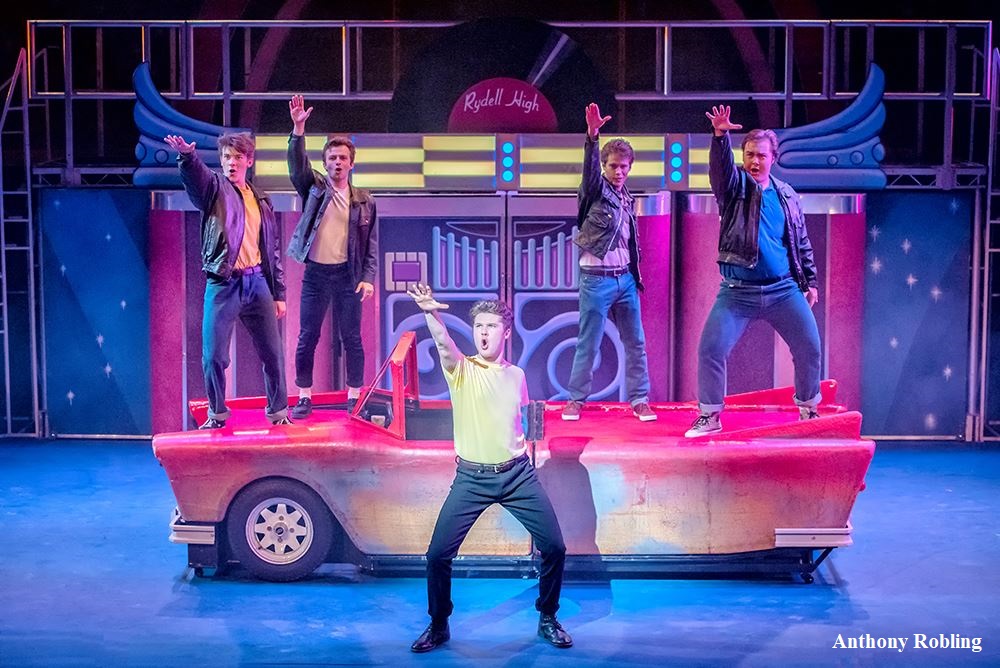 The set is simple yet effective, the band well lead by John Atkin, and the costumes and period hairstyles truly excellent. The stage is filled with colour and I was impressed by the number of costume changes throughout.
Despite first night nerves, there is an excellent rapport amongst the cast; you can tell that they are really enjoying being up there which is a delight to see. The big numbers are all performed with energy and enthusiasm and I felt that the choreography could have been made even harder and more complex for this group.
Particular highlights amongst the cast include Finn East as Roger and Fiona Baistow as Jan, both have great comic chops and are unique, vibrant performers. Their duet 'Mooning' was a real treat, well sung and confidently performed. James Horsman's voice shone as Danny and Hannah Witcomb's Frenchy was utterly charming. Richard Bayton's performance as Teen Angel left the audience wanting more, leaking glitter and dazzle in every way possible.
The star of the show for me though was Jack Armstrong as Kenickie. I have seen Jack perform several times and his prior experience and credits with York Stage Musicals and Pick Me Up Theatre were evident in his unending energy and fully rounded performance. His rendition of 'Grease Lightnin' was captivating and confident. I'm sure he has a very bright future ahead of him.
Within Grease there are many outdated social customs that raise the question of how relevant this show is in 2019: particularly the ending where Sandy changes her look and persona in order to get her man. Is this something which should be promoted in the present day? I appreciate that Grease is a well loved and popular show however I cannot help but feel that companies like York Light which clearly have such a brimming array of young people who are excited to be on the stage should be looking to more contemporary work; Shows which better represent the values of a younger generation. Shows which could excite them into pursuing a career in the theatre and to love being involved in the arts. York Light's next production will be 'Oliver' which they staged a few years ago. It would be a real shame if young performers were to be put off by the prospect of singing along at the back in a frock to "Consider Yourself", again. I'd love to see this vibrant young group tackle and be inspired by a newer and more empowering piece of musical theatre
Reviewer: Robyn Grant
Reviewed: 13th February 2019
North West End Rating: ★★★★