Well, I've seen dozens of ballets in my time, but Tuesday night was a night of firsts, as The Russian State Ballet of Siberia brought its production of Giselle to the stage of the Hull New Theatre.
The story of the beautiful, but delicate, peasant girl, who falls in love with a young man, who turns out to be an aristocrat betrothed to another, was a new one for me.
The girl, Giselle of the title (a memorable performance by Anna Fedosova) has her love reciprocated by the young man, Loys, aka Count Albrecht.
The Count (an unbelievably talented Yury Kudriavtsev) was a sight to behold – I'm not surprised Giselle fell for him.
Giselle's mother, Berthe (Galina Velcheva) unsettled by her daughter's attraction to Loys, urges Giselle to turn her attentions to Hans, a local forester (Pavel Kirchev). She is fearful that Giselle's passion for dance leads to her early demise, meaning she will join the ranks of the scary Wilis – the spirits of betrothed girls who have died before their wedding day.
Does our Giselle listen? Does she heck. And when a hunting party arrives in the village, Giselle dances for the nobles, receiving a necklace from Countess Bathilde (Anastasia Belonogova) after she reveals to the lady she is engaged to be married.
Hans, the forester, has already found evidence of Loys' real identity, so it's no surprise to him that, when Loys enters the scene, the courtiers all bow to him, giving away his status.
When Bathilde greets him as her betrothed, well, poor Giselle can't believe her eyes. Especially when Loys, now in his role as Count Albrecht, lovingly kisses Bathilde's hand.
Giselle, distraught, grabs Loys' sword and kills herself, much to the distress of her poor mother. The curtain falls on this sorry sight, leaving us to wonder if the leading lady really is dead this early on in the production.
Spoiler coming up – so look away now.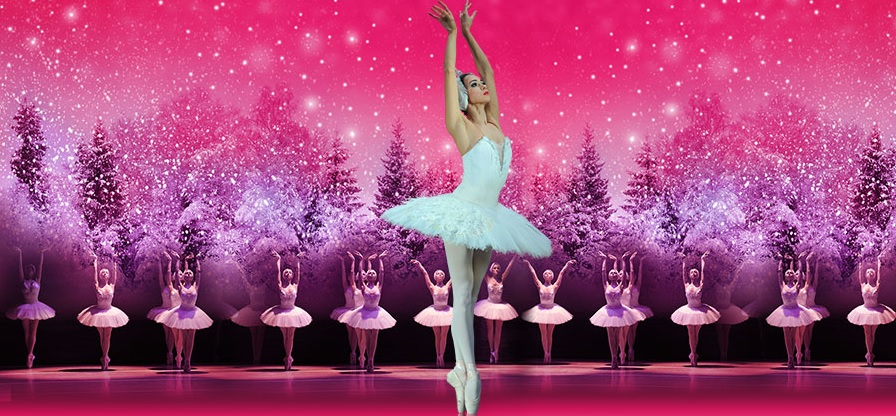 Yes, she is dead. But as we discover in the second half, her spirit lives on.
Buried deep in the forest in unconsecrated ground, Hans keeps vigil over Giselle's resting place, until midnight strikes and it's time for the dreaded Wilis to appear. Sensibly, he makes a run for it.
It's at this moment the extremely drab stage setting (the only disappointment on the night) comes alive, albeit in a graveyard. The Wilis ascend magically from their graves, on a giant video screen, and the effect is amazing.
The Corps de ballet dancers seemed to effortlessly float around the stage and a lovely – and ghostly - sight they were, too, in their white dresses.
Giselle is initiated into the ranks of the Wilis, but when Hans returns to her grave he is forced into a very energetic dance (at times, gravity defying from Pavel Kirchev) and is driven into the lake, where he dies.
Loys, meanwhile, brings flowers to Giselle's resting place, and falls under the spell of the Wilis. As he becomes weaker and weaker, near to death, Giselle manages to break the Wilis' spell over him, restoring him to health.
When dawn breaks, the Wilis fade away in another amazing video backdrop, Giselle returns to her grave, at peace.
All this is played out to very atmospheric music played live by the ballet company's orchestra, conducted by Alexander Yudasin.
Early on in this review, I mentioned a night of firsts. Well, some of the ballet steps I witnessed on Tuesday night were breathtaking to watch and to my untrained eye they were steps I've never seen before in any ballet, by any company.
We watched in awe at the strength, grace and sheer talent exhibited by every dancer on the stage. But to my mind, Yury Kudriavtsev as Loys/Count Albrech was head and shoulders above the others, on the night.
Equally talented was his leading lady Anna Fedosova, as Giselle, but a couple of mis-steps (for want of a better word) in the first half, and a full, almost flat-on-her-face tumble in the second (the first time I've ever witnessed the like), could have threatened to mar her performance.
But, you know what, she had been so brilliant, despite these mishaps, that in no way did it detract from our enjoyment. I suspect all of us just hoped she hadn't hurt herself.
And at the end, everyone involved in this unforgettable production thoroughly deserved the rapturous, and prolonged, applause, cheers, whistles and shouts of "bravo", given by the knowledgeable audience, who obviously appreciated such a fantastic spectacle. I know I did.
Dates: Tuesday, February 19th, 2019. Other productions this week include Cinderella on Wednesday, February 20th; The Nutcracker on Thursday, February 21st. Tickets for both cost from £19.50. Performances for both – 2.30pm matinees and 7.30pm evenings. Call (01482) 300306; visit www.hulltheatres.co.uk
Reviewer: Jackie Foottit
Reviewed: 19th February 2019
North West End Rating: ★★★★