Never have I ever seen so much talent on one stage before; never have I ever heard so much plot packed into one play before. Wise Children at the York Theatre Royal, adapted from the novel by Angela Carter, is an enchanting spectacle.
Dora Chance (Gareth Snook) and her sister Nora Chance (Etta Murfitt) are two former showgirls who live together in South London. An invitation to a party given in honour of their absentee father, the actor Melchior Hazard (Ankur Bahl), induces them to reminisce about their colourful and disturbed lives. Brought up in a boarding house for actors by their adopted Grandma (Katy Owen), the sisters live carefree lives until the arrival of their uncle Peregrine (Sam Archer), who provides for them in between his wild adventures. The girls grow up to hunger after a life on the stage. They are consistently disowned by their birth father, but not by his new wife, the Lady Atlanta (Patrycja Kujawska) who feels sorry for them and casts them in one of her husband's new shows. And that's when things really start to get interesting…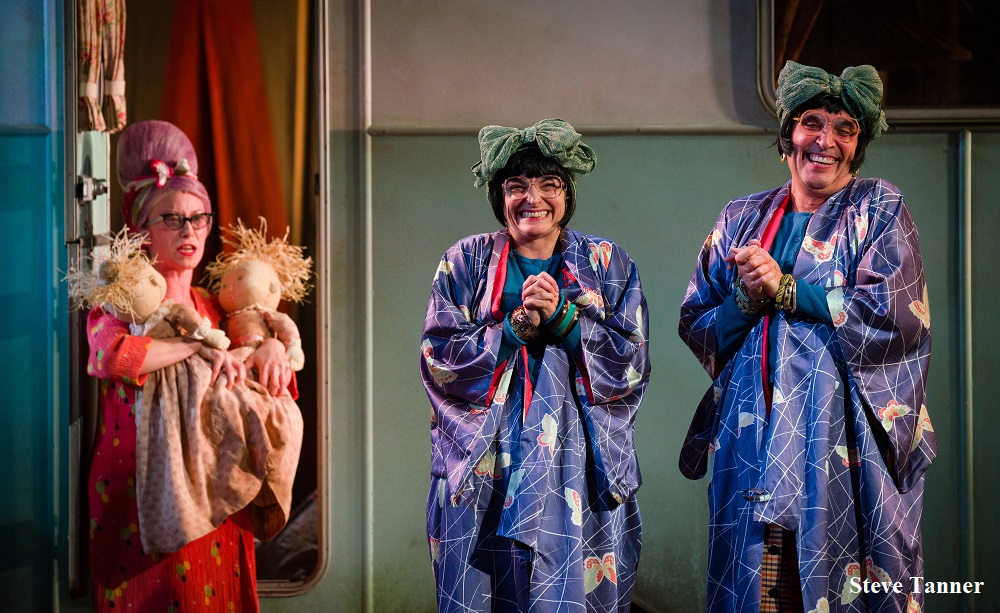 Quite simply, Wise Children is a theatrical masterpiece. It is spellbinding, engaging, clever, detailed, warm, mythical, and precise. It is a very dense theatrical experience, with words and songs spinning around the stage, while the stage itself is open-planned and yet crammed with visual treasures. It has light and shade (as well as fairy-lights), and a rather large cast of characters dealt with superbly by the actors through intricate multi-roling. It must be said, that this amazing spectacle could not exist without the imaginative and careful direction from Emma Rice. There is an assuredness and a precision to the production which is both admirable and necessary, given the vast amount of characters and narrative detail.
The story is narrated to us primarily by Gareth Snook, who provides a sympathetic Dora, and Etta Murfitt as Nora, who reveals more of her character as the story continues. It is their warm relationship which sets the tone of the play for the audience, which is continued with an intense burst of energy as more actors -- Bettrys Jones (young Dora) and Mirabelle Gremaud (young Nora), Omari Douglas (Showgirl Nora) and Melissa James (Showgirl Dora) -- take on the roles of Nora and Dora at different stages of their life.
The talents of the cast are manifold: they include singing, dancing, various musical instruments, changing accents, and even different languages. In particular, Mirabelle Gremaud has the most entrancing voice, and Katy Owen's physical transformation and comedic timing is impeccable. The whole piece has a beautiful vocal quality to it, in terms of both singing and delivery. Every word felt velvety, as if there was a purpose and a passion behind the words. Moreover, every relationship felt real and charmed the audience. While credit goes to the actors, again Emma Rice must be commended for what must be a fun, intense and imaginative rehearsal process, if the magical results are any guide.
This production is also fortunate to have magnificent set and costume design by Vicki Mortimer. Colours and glamour are abundant as we are transported from the 1940s right up to the late 80s. Similarly, the narrative is necessarily punctuated by mood setting music by Ian Ross, whether as underscoring or a full blown musical number. The production ends with an acoustic adaptation of 'Girls Just Want to Have Fun', but no doubt anyone will have fun and be enchanted by a night out with these Wise Children.
Reviewer: Amanda Hodgson
Reviewed: 5th March 2019
North West End Rating: ★★★★★