The hit TV series 'Victoria' has revived interest in one of our iconic monarchs, and Northern Ballet have chosen to tell her story from perspective of youngest daughter Beatrice who was her constant companion after the death of her beloved Prince Albert.
It's a complex tale that seemed to baffle some audience members, but if you are paying attention then Cathy Marston's typically sharp choreography is packed full of emotion that does keep the time-hopping narrative on track. Steffen Aarfing's stripped back set features a grand library, which fills and empties of Victoria's diaries according to the timeline.
Marston and dramaturg Uzma Hameed's clever conceit is the older Beatrice looks back on her mother's life a series of diaries which she edited after the Queen's death. Victoria's controversial relationship with her servant John Brown is earthily brought to life by leading soloist Antoinette Brooks-Daw as Victoria in a sensual pas de deux with Gavin McCaig's Brown, whilst Rachael Gillespie's young Beatrice darts round the stage. Gillespie brings just the right amount of sass and vim as she tries to young Beatrice as make sense of their relationship.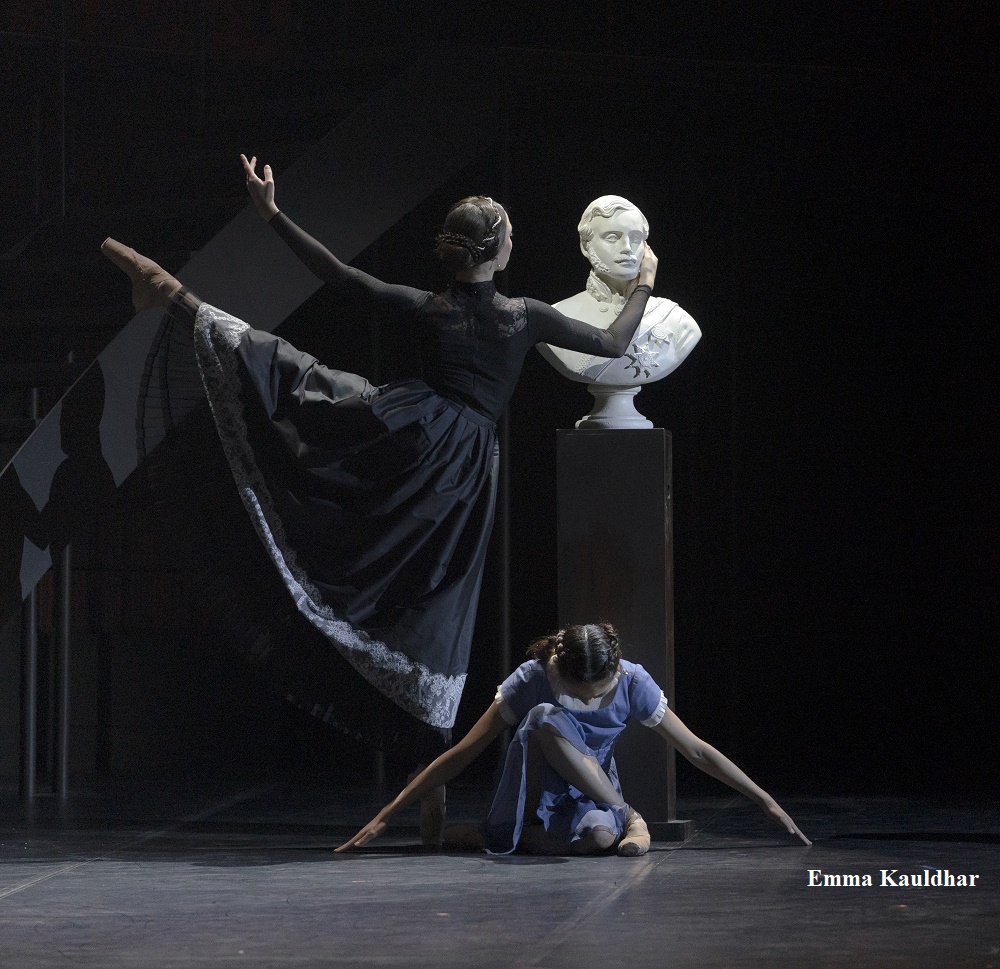 She also dances beautifully in a mesmerising duet as she falls in love with the equally impressive Jonathan Hanks playing her future husband Liko. When Marston adds Mariana Rodrigues as the older Beatrice forming a trio, it could have emotional overload, but all three dancers combine to tell a true love story, and the way Gillespie essays her grief when Liko dies is wonderfully drawn.
Rodrigues is handed a tricky task as the older Beatrice, which is a lead role, but quite a passive one as she observes Victoria's life through the ages. She brings an elegant stillness to the trapped Beatrice, her body often subtly echoing the lead character's movement, and dances with emotion when Marston calls on her.
Brooks-Daw comes into own in the second half as she traces Victoria's assent to the throne as a very young woman, much like our current monarch, and meets her future husband. There is some amusement in the way Victoria is portrayed as a regal baby machine struggling to blend motherhood with monarchy, and her duets with junior soloist Sean Bates as Albert show the couple battling for power in both their relationship and in the public world are spiky and full of subtext.
The corps de ballet support the main cast as couturiers, politicians and librarians, adding a complex set piece as they come together to form a human machine, powerfully illustrating Britain as a key player in the industrial revolution.
Philp Feeney had a real challenge to create a score for this non-linear piece but he pulls it off almost perfectly as Northern Sinfona's playing really soars when needed to match the steps onstage. His original score smartly mixes different styles and tones allowing the dancers creative space, and the use of piano motifs for Albert who was a talented pianist really works.
Influential Music Director John Pryce-Jones's is preparing to step down at the end of this season after a quarter of a century with Northern Ballet so it is fitting he takes his leave with a beautifully realised production from a company right at the top of their game.
Victoria is now on tour and to buy tickets go to https://northernballet.com/victoria Victoria will also be in local cinemas on Tuesday 25th June.
Reviewer: Paul Clarke
Reviewed: 15th March 2019
North West End Rating: ★★★★