The Hessle Theatre Company describing their members as amateurs? Well, after seeing them in action on Tuesday night on the Hull New Theatre stage, someone is telling porky pies.
The company's production of Made In Dagenham The Musical was as professional as any I've enjoyed at the theatre.
Set in Dagenham's Ford factory in 1968, the talented cast told the true story of the women machinists' fight for equal pay, sexual equality and social reform with humour, passion, energy, glamour, guts, pathos and sadness.
There wasn't one boring minute in this longish production, although the Hull New Theatre's seats can become very uncomfy after a while, prompting a bit of restlessness from some theatregoers. But I digress.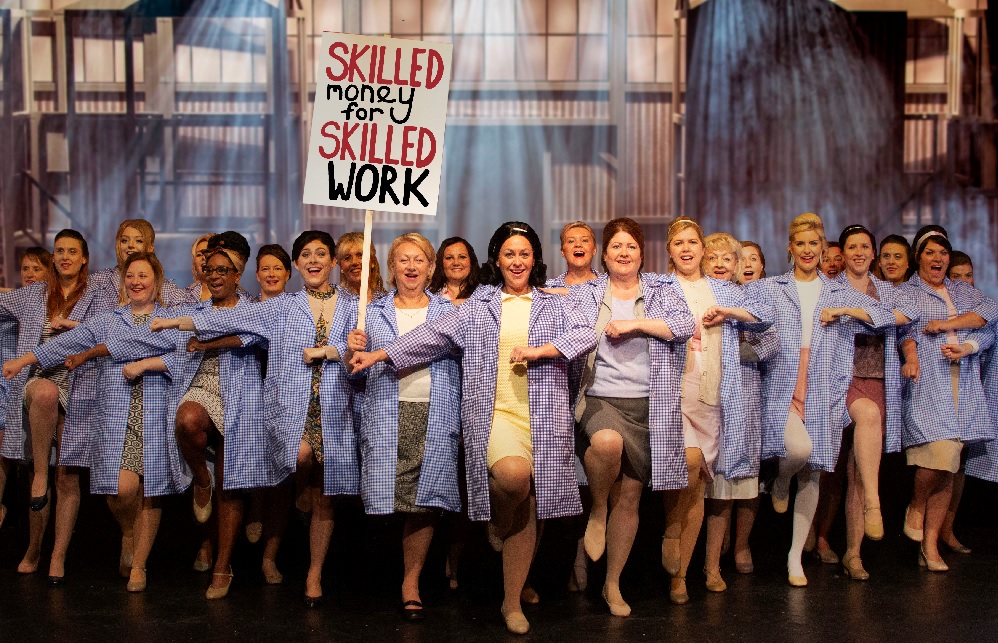 I knew we were in for a laugh early on when the cast sang Made In Dagenham. What rhymes with Dagenham? How about "you can get your cat spayed in Dagenham"? I kid you not, that's what they sang and we loved it.
The comedy continued at the factory, as each woman clocked in for the day and mouthy machinist Beryl (Katherine Fitzgerald) asked them "Are you getting any?"
She really lets rip with bad language when she finds out from Union rep, Connie (Linda Burgess) that the factory girls have been downgraded to "unskilled" workers with salaries to match. Her use of the "F" word is so cleverly done and appropriate, we couldn't be offended.
Deciding action is needed, quiet housewife and mother-of-two, Rita (Emma Burgess) is chosen to represent the women in a face-to-face meeting with the factory's directors. Shy at first, she soon comes into her own, not letting her workmates down. Who'd have thought! Mind you, the lure of a free lunch at a Berni Inn would have been hard to resist.
Warming to her theme, she takes on the Unions, Ford's top brass and the Labour Government of the day.
However, she almost loses her family along the way.
The women's strike action comes to the attention of Prime Minister Harold Wilson (a very comical Neal Edlin) who instructs MP Barbara Castle (Sarah North) to sort the problem.
With Ford's new Cortina 1600E model about to roll of the production line, big bucks are at stake. Enter Mr Tooley (Chris Holmes), a loud, brash Ford executive flown in direct from the good ole U. S. of A.
Not one to mince words, and against a fantastic, colourful backdrop of cheerleaders, soldiers and huge Stars and Stripes flags, he soon puts us Brits in our place by loudly singing "We've got Route 66, You've got the A13. We've got the Kennedys and Scooby Doo, You've got Edward Heath …." And on he went.
That scene was a definite highlight – the energetic youngsters being a joy to watch.
However, after workers at the Liverpool Ford factory down tools in sympathy, the dastardly Mr Tooley stops production at the Dagenham site – a disaster for Rita, as it means her husband Eddie (Joe Porte, one of my fave characters on the night, along with "Harold Wilson") will be out of work.
Torn between meeting the demands of her growing family and fighting for workers' rights, Rita is propelled into a nightmare scenario when Union rep, Connie, falls sick and asks Rita to read out a speech she had prepared to speak at a Trades Union Congress conference in Eastbourne.
Despite her speech being sabotaged by Mr Tooley, Rita shines at the conference and all's well that ends well. Not for everyone, though – no names mentioned.
This amateur production was a delight. The simple, often purposefully drab, stage setting changed seamlessly – from Rita's working-class home, to the sewing machine-filled factory floor; from the Prime Minister's office to an American spectacle that wouldn't have looked out of place at the Rose Bowl. And I almost put on my sunglasses at the spectacular launch of the new Ford Cortina 1600E. Here, the antics of Cortina Man (Russell Fallon) were a scream.
Laugh-out-loud moments came fast and furious, but there were serious moments and sadness, too.
Despite the (very well-played) live music sometimes drowning out some of the words on stage, and a few hiccups with microphones, the audience's enthusiastic reception endorsed the fact that everyone on stage that night was a star.
Running until Saturday, March 23rd, 2019, 7.30pm nightly; Saturday, 2pm and 7pm. Tickets from £10. Call (01482) 300306; visit www.hulltheatres.co.uk
*Contains strong language. Recommended for age 12 and over.
Reviewer: Jackie Foottit
Reviewed: 19th March 2019
North West End Rating: ★★★★