It often seems provincial audiences aren't sophisticated enough to take on Tom Stoppard's undoubted gift for wordplay as his plays usually only plays in the capital so the great man's fans were looking forward to this rarely toured piece.
Two playwrights Turai and Gal board the SS Italian Castle trying desperately to complete a play with a terrible opening, a lousy middle and no ending before they berth in New York four days. During the choppy voyage they have to contend with a randy ham leading man who has bedded his co-star behind their neurotic composer's back. Throw into the mix a waiter who knows much more than he lets on and you have all the elements of a decent farce.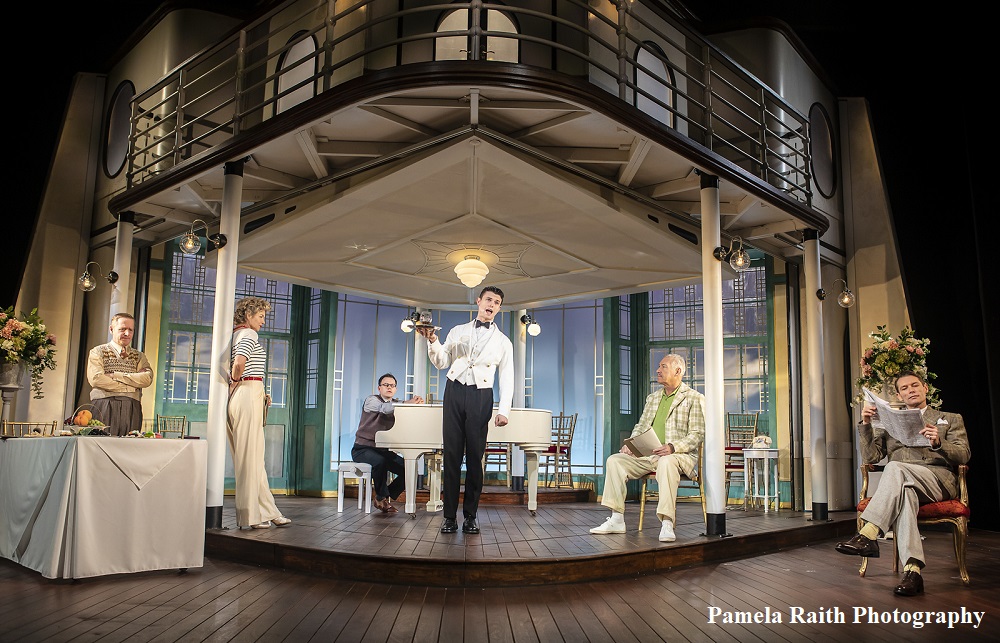 That's the real problem with Rough Crossing, freely adapted from Frenec Molnar's Play at the Castle, as it can't decide if it is a high end farce, or the knowing play within a play that Stoppard clearly intends it to be. The result is that it falls down between the two conceits, and although there some laugh along the way as the sly writing duo use the infidelity to create their play it all feels a bit leaden, especially the second act which seems to consist of long wordy explanations of plots for a play that by this point no-one really cares about.
There is some serious firepower on stage trying to inject life into the words and Colin Richmond's set is suitably grandiose. The first half is bright and breezy with musical theatre legend John Partridge working hard as Turai who is determined to clear up the mess as well as sparring with daft waiter Dvornichek in a decent running gag about never getting to drink glass of cognac he keep ordering.
Charlie Stemp enhances his reputation as a rising star with some beautifully timed physical comedy as the waiter lurching round the stage as he tries to find his sea legs. His tap duet at the end with Partridge to a song composed by the late Andre Previn is two masters of another genre finally cutting loose.
The charming RADA trained Matthew Cottle makes the most of an underwritten Gal subtly scoring plenty of laughs as he tries to concoct a play that works, but Issy Van Randwych's over the top Natasha seems to be in another play entirely.
Rough Crossing last toured nationally three decades ago and there is a reason for that as this is by no means vintage Stoppard.
Rough Crossing is at Leeds Grand Theatre until Saturday 6th April. To book 0844 8482700 or www.leedsgrandtheatre.com
Reviewer: Paul Clarke
Reviewed: 1st April 2019
North West End Rating: ★★