Most of the musicals that come through the Grand are based on smash hit movies like Dirty Dancing or Mamma Mia but this show is based on a film that pretty much flopped.
Even more bizarrely this show based on a very British movie set in Northampton first became a hit on Broadway winning six Tonys thanks to the producers wisely employing pop legend Cyndi Lauper to do the music, and occasionally trite lyrics, so the score is packed full of massive hooks as you don't sell 50 million records if you don't know what you are doing. The book is by bone fide Broadway legend Harvey Fierstein and he knows how to tell a story about the cost of being different with wit and dollops of pathos.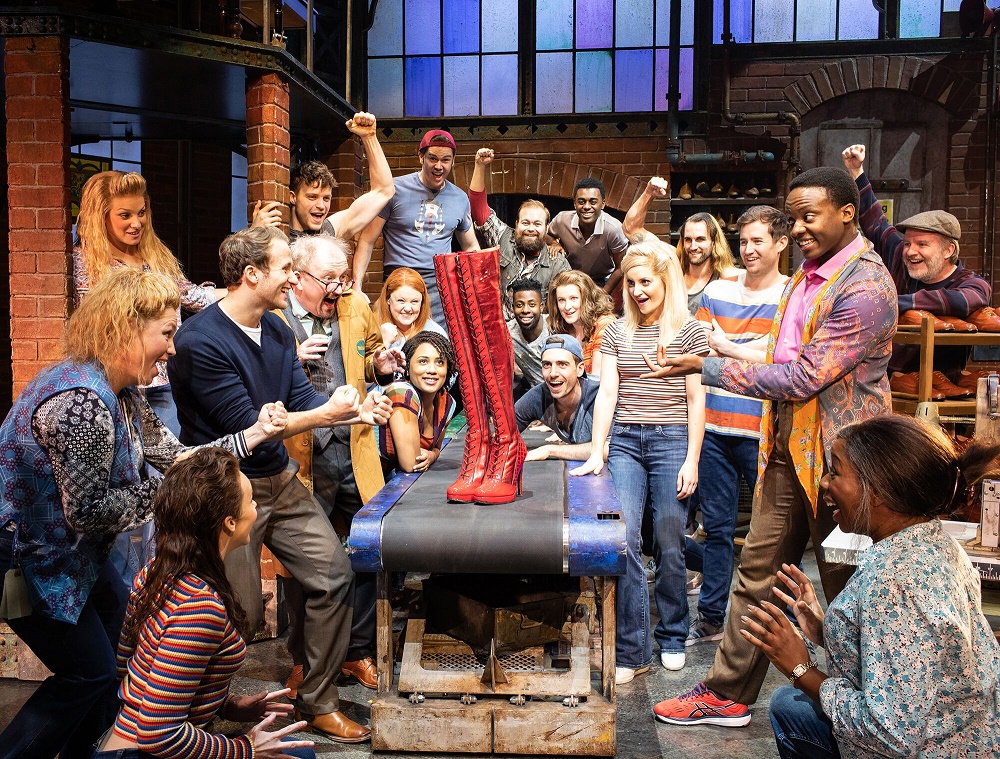 This is a tale that examines gender identity, how men deal with their father's expectations and their own often toxic masculinity. Charles Price has escaped his old man's factory in our nation's capital of shoes, but he is pulled back home after his father's death to rescue the run down factory. Unfortunately he has run out of ideas until a chance encounter with flamboyant drag act Lola gives him an idea to save his factory by producing a range of tight length kinky boots for that niche market.
This show lives and dies by who plays Lola and Kayl Ushe brings exactly the right amount of sass and attitude to every hip swivel in six inch heels and bitchy aside. A star is born on this tour as Ushe effortlessly switches from the up-tempo defiance of Land of Lola to the torch ballad Hold Me In Your Heart.
Ushe's tender duet with Charlie on Not My Father's Son is worth the ticket price alone, and West End producers must be queuing up at his door as he is the real deal.
More than holding his own is likeable Joel Harper-Jackson as the conflicted shoemaker trying to resist his destiny before finally understanding that he and Lola are under the sequins and feathers not so very different after all. He nails his big numbers with a strong rock voice and his bromance with Lola/Simon is subtly drawn out.
You wouldn't know Corrie Legend Paula Lane was in her first musical playing Lauren, and makes the most of one of the strong female characters, channelling Lauper on a spirited The History of Wrong Men that seems to strike a chord with the women in the audience.
The ensemble has no weak links, and are clearly having fun, but special mention to Lola's Angels as six drag artists bring their own sass to the stage strutting around in gloriously over the top costumes created by Gregg Barnes that are a cast member in themselves.
The big cast make the most of David Rockwell's clever set that seamlessly takes you from the gritty shop floor to a glamourous catwalk in Milan, and in our times where being different is seen by some as suspect it is life affirming when the whole cast strut their stuff in kinky boots drawing a well-deserved standing ovation….on a drab Tuesday night.
This is that rarity where the show is far superior to the source material and as it is at the Grand for a fortnight you really need to get a ticket for this warm hearted show with more than an edge of steel in its stilettos. And if you turn up in your own kinky boots no-one will give a damn.
Kinky Boots is at Leeds Grand Theatre until Saturday April 20. To book 0844 8482700 or www.leedsgrandtheatre.com
Reviewer: Paul Clarke
Reviewed: 9th April 2019
North West End Rating: ★★★★★