Many people remain unware that when millions of Britons signed up to fight Hitler the volunteer army that formed included both men and women.
At its peak there were 35000 volunteers serving in the Women's Royal Naval Service – better known as the Wrens - who played a critical role in helping the Allies win a bitter war on the high seas, and Vashti Maclachlan tells the tale of two former sea rangers, posh gal Ginger and Lily from a more humble background, who sign up to do their bit.
The duo are dispatched to sail a small boat transferring sailors to and from shore thus freeing men to join the frontline where women are not allowed to serve. The more gung ho Ginger loves fixing engines, but Lily hates it so heads off to a backroom role as a skilled signaller.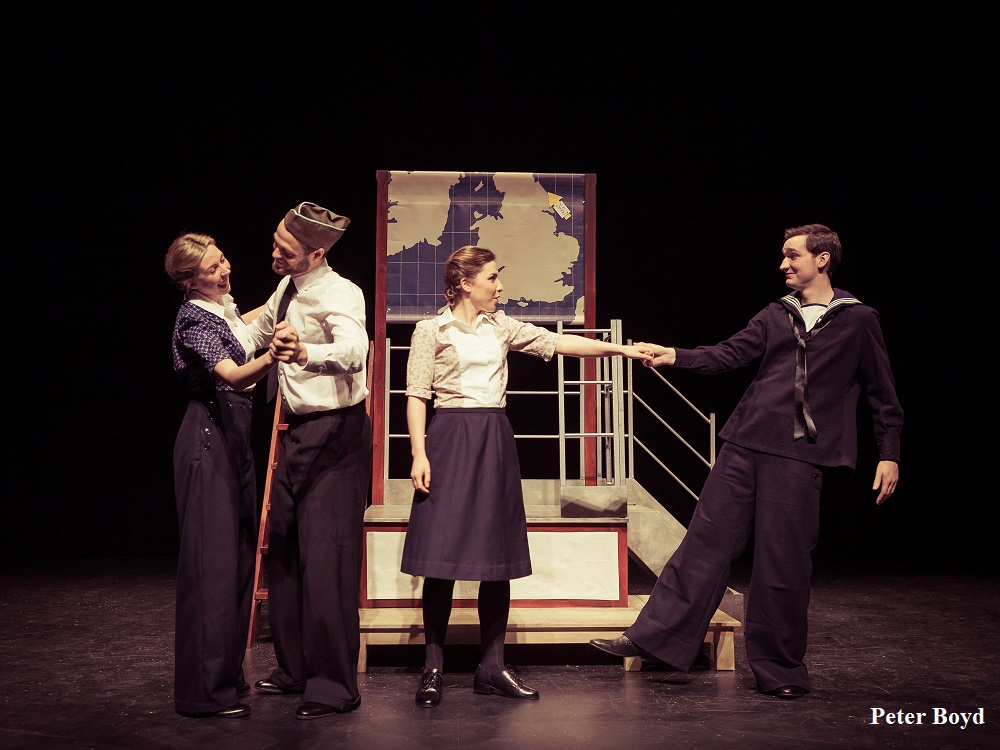 Each finds their own sea legs in different ways and Maclachlan cleverly uses their strained friendship to show the terrible cost of fighting a war on the high seas and personally.
She also weaves in the rigid class barriers in the Senior Service and how the women risking their lives were patronisingly referred to as 'Jenny Wrens' – there is even a song in the show about it – before proving their worth time and again. The Wrens trail blazed the way for women to serve in frontline roles in today's armed force, but as Maclachlan points out at great cost to themselves despite the freedoms the war offered.
In many ways this is not typical Mikron fare as the subject matter is more serious than usual, and although there are plenty of songs on the voyage, and a few laughs, it did seem to slightly confuse their regular audience. No bad things as audiences should be stretched, and this was a story that needs to be told especially as the fascism the Wrens fought once again rears its ugly head across Europe, and sadly on our own shores too.
This is a very young cast and to their credit they do navigate the task of making a vicious war where thousands of sailors drowned on the high seas thanks to the U-boats more than just a misery fest. They also take the recent vogue for actors/musicians to a new level playing fiddle, accordion, sax, guitar, penny whistle and even a mournful cello as well as belting out the songs.
Elizabeth Benson starts off as the naive gal off on a great adventure, and as she grows in confidence shows how Ginger gros up after being introduced to the real horrors of war in a dramatic rescue sequence.
Rachel Benson makes her Mikron debut drawing out why Lily's reluctance to serve is trumped by a sense of duty. It is a trickier role as Lily is a more downbeat character marooned deep in the bowels of a command centre in Liverpool, but she handles well her PTSD after realising one of the men who has been torpedoed in the cruel seas is her possible love interest Stan.
Christopher Arkeston is a relative Mikron veteran back for his second season offering an amusing 'Silly Stan, The Sailor Man' whose bluff exterior hides a trauma that would poleaxe today's digital generation. Joshua Considine is another debutant multi-tasking a variety of roles, including a cheeky chappie music hall performer belting out composer Kieran Buckeridge's with that Toothbrush Under His Nose mocking the Fuhrer to keep spirits up on the home front.
At times the basic set was a little lost on this big stage, but remember Mikron use their narrowboat Tysely to take this show on tour to non-traditional venues. You can imagine how magical it will be seeing these four young performers singing songs on an allotment or a village hall as the company slowly make their way around the ever expanding canal network.
All Hands on Deck – A Tale of Two Wrens is on tour. To book www.mikron.org.uk
Reviewer: Paul Clarke
Reviewed: 14th April 2019
North West End Rating: ★★★★