Within 30 seconds of Joe McElderry hitting the Hull New Theatre stage on Monday night, as hotel entertainments manager and club rep, Garry, my worst nightmare came true … and I loved it.
It was audience participation time (shudder) and Joe (make that Garry) only had to ask once and up we jumped en masse – even me! From then on all in the packed theatre were putty in his showman hands.
The charismatic Geordie took the lead role in Club Tropicana the Musical and he shone like the star he is. But, being the "famous name" in this production, he graciously didn't hog the limelight or try to outshine the rest of the cast, who were all very talented in their own right.
Set in the 1980s, the story centres around the Club Tropicana Hotel in the Med, where, to encourage patrons to have a good time, the first drink of the night is free – a nod to Wham!'s 1983 hit, Club Tropicana.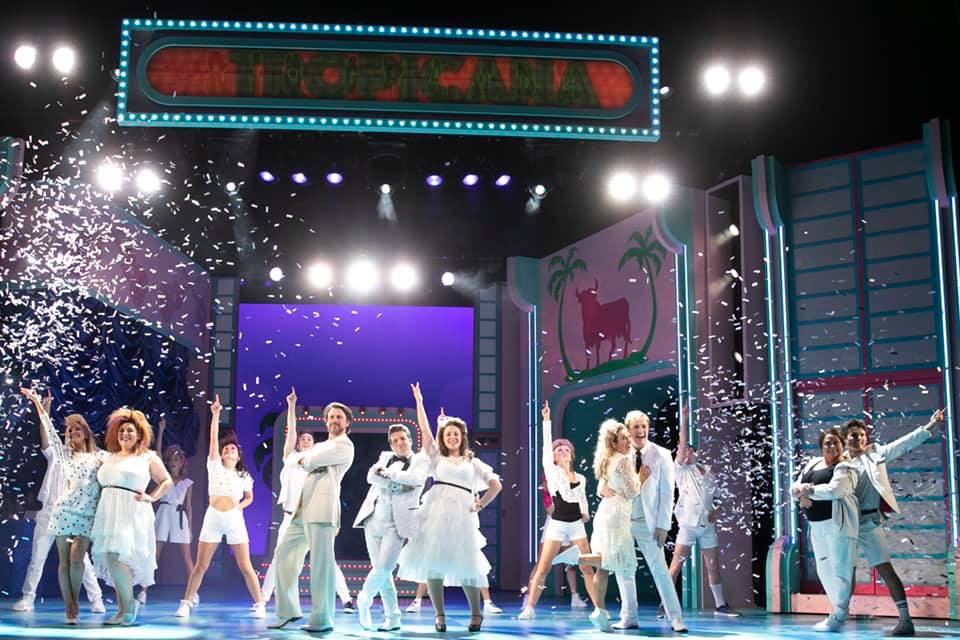 However, the establishment is threatened with closure and the staff suspect a hotel inspector will be paying them a visit very soon.
Back in Blighty, we witness Olly (Cellen Chugg Jones) being stood up at the altar by his bride not-to-be, Lorraine (Karina Hind).
At least she had the good grace to ring him to let him know, and it was here we were left in no doubt as to what decade we were in – Olly took the call on a house brick-sized mobile phone, complete with stubby aerial sticking out of the top. Did we really have the strength to lift those to our ears?
Not wanting to waste the honeymoon, at the aforementioned Club Tropicana Hotel (where else?), Lorraine and her pals Tracey (Rebecca Mendoza) and Andrea (Tara Verloop) head for the airport with the intention of fun in the sun.
Meanwhile, and unbeknownst to them, the heartbroken and bewildered Olly is persuaded by his best friends Blaine (Kane Verrall) and Drew (Rory Phelan) not to waste the honeymoon. Oh dear.
The hotel, badly run by Serena (Amelle Berrabah) and Robert (Neil McDermott), is the scene of laugh-a-minute antics. As Garry (McElderry) minces around the stage in his shocking pink shoes, tight pink jacket, neatly combed hair and dazzling white smile, cleaner Consuela (Kate Robbins) is an absolute scream, with her hilarious Spanish accent and shuffling gait.
And when "posh" guest Christine (Emily Tierney), turns up and is suspected of being the dreaded hotel inspector, the incompetent staff do everything in their power to impress her in the hope of getting a good review.
This fantastic production is a riot of colour and the energy of everyone on stage simply breath-taking. I don't think I saw anyone actually walk during the whole show.
With accompaniment from on-stage musicians, the 80s hits came thick and fast, all sung tunefully, loud and clear by McElderry and other cast members.
We gladly sang along to the likes of Girls Just Wanna Have Fun, Too Shy, Just Can't Get Enough, Take On Me, Physical, Jump (For My Love), Relax, She Drives Me Crazy and Temptation, but were laughing too much to add our voices to The Lion Sleeps Tonight sung by Rebecca Mendoza as Tracey. Her actions during that number were a comedy turn in their own right.
Talking of comical moments, Kate Robbins' Consuela could have kept us fully entertained on her own. Add the irrepressibly camp antics and fine singing voice of McElderry and Emily Tierney's performance, which verged on slapstick at times – plus the all-singing, all-dancing ensemble and onstage band - then you have the complete musical package.
What a tonic! It was a joy from start to finish.
Running until Saturday, April 20th, 2019; 7.30pm nightly with a 2.30pm matinee on Saturday. Tickets cost from £18. Call (01482) 300306; visit www.hulltheatres.co.uk
Reviewer: Jackie Foottit
Reviewed: 15th April 2019
North West End Rating: ★★★★★