Theatre is supposed to deliver the unexpected, but it was a still a shock when a bunch of Brazilian teenagers led their audience outside for an impromptu demo blocking a road in the middle of Leeds city centre.
It many ways it was the natural way to end a show based on coletivA ocupacao's personal experiences of being involved in prolonged occupations of schools earmarked for closure by the government of the fifth biggest country on earth.
The collective have been brought over for this European premiere by the Transform Festival, and they were thrown together in the white heat of the lengthy occupations creating a high energy work full of music, movement and dance based on their own experiences of speaking truth to power. It is slightly surreal to be sat on school chairs in a disused school in Leeds city centre as the performers rise up around us to tell their story eyeball to eyeball.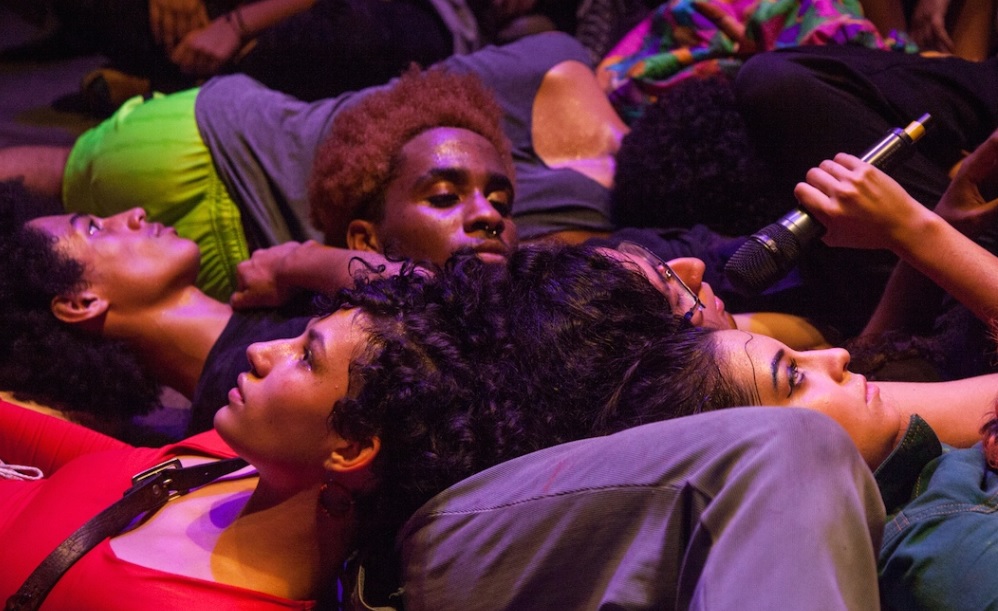 One moment they recreating climbing the walls to occupy their school, the next they are the Brazilian military police sinisterly crowding around audience members to give a very small taste of what it looks when you take on a state only too willing to crack teenage heads.
Martha Kiss Perrone's production skilfully gives these angry, untrained performers the tools and focus to tell their story with passion and brutal honesty bobbing in and out of the mainly white, middle class audience taking us to their world that is the stuff of nightmares.
Imagine if our government tried to shut 200 schools? There would a national outcry, but these kids were left on their own to fight back for schools they describe as little better than prisons, but were at least their own. The collective themselves reject the Western European idea of activism, where frankly there is little personal cost, instead saying this is just our daily life in a quasi-police state, and they want us to bear witness to it.
They tell their story in Brazilian Portuguese with subtitles on a big screen, but the piece's themes of solidarity, hope, love, despair, joy, fear and courage in the face of seemingly impossible odds are universal. And very pertinent as our nation is on the brink of tearing itself apart.
As the parent of a fourteen year in our school system, When It Breaks It Burns is a stark reminder how lucky she and I are, but I hope that if she was ever faced with the same injustices she would stand firm with her mates in the way the collective did.
Standing on the street with coletivA ocupacao chanting into the night sky, as surreally a bunch of people in Mexican fancy dress stagger past, you are struck this is exactly why Transform is such a vital part of our city's theatrical eco system as you see will nothing like this anywhere else.
When It Breaks It Burns is at Machester's Contact Theatre on May 8th and May 9th. To book www.contactmcr.com
Reviewer: Paul Clarke
Reviewed: 3rd May 2019
North West End Rating: ★★★★★