As part of Sheffield's Migration Matters Festival, Phosphoros Theatre performed Pizza Shop Heroes at the Theatre Deli. The company are currently on a major UK tour sharing this important story with people across the country.
Tewodros Aregawe, Goitom Fesshaye, Emirjon Hoxhaj and Syed Haleem Najibi perform the show alongside Kate Duffy. All of them do a great job. You could see the connection they all have between them in real life in the show and you could tell their personal stories had great influence on the piece. The piece is a very heartfelt show.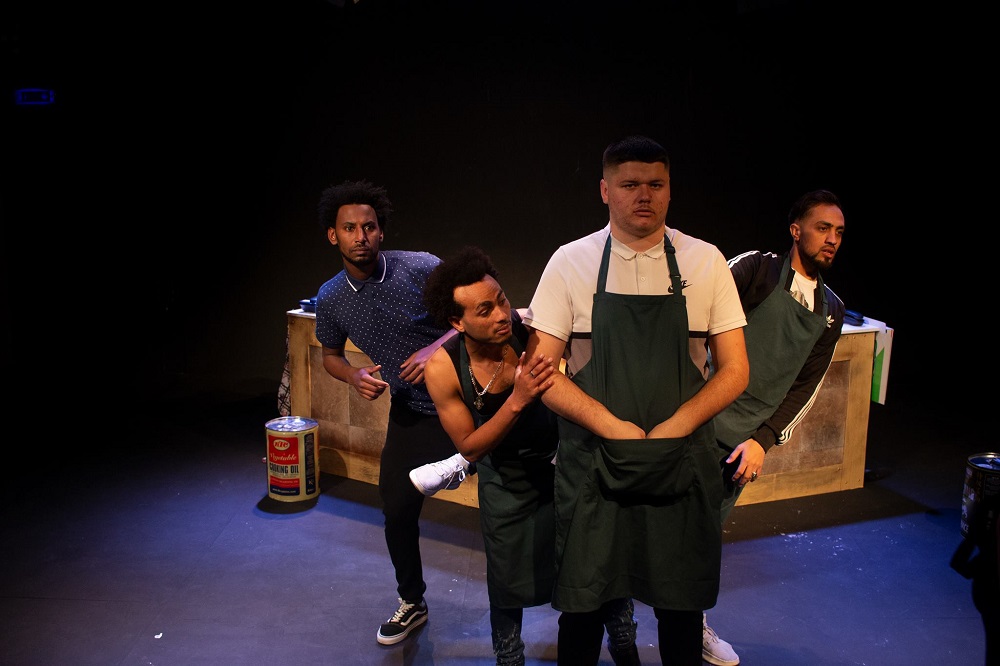 Dawn Harrison writes and directs the production. Her construction of this play is very creative, utilising numerous methods of storytelling which helps to keep the show engaging. At times, it does feel a little incohesive though due to the regular changes in style.
Caitlin Abbott's set design is simple but works very well for the piece. The setting of the pizza shop doesn't add a huge amount to the show though other than giving some opportunities to be creative in staging and prop choice. The lighting design of the show worked very well.
What this play does very well is give unheard voices a chance to be heard. It puts themes on stage that usually aren't and it successfully encourages the audience to think about the journeys of refugees from their point of view, rather than our own Western, media-influenced perspectives. It covers a range of topics to do migration and it is an interesting watch.
The show was followed by a delicious meal from the Open Kitchen Social Club. It tasted just as good as it smelt!
If Phosphoros Theatre are coming to your local theatre, please do go and support the amazing work that they are doing. Be sure to keep supporting the fantastic work that Migration Matters are doing as well.
Reviewer: Jacob Bush
Reviewed: 17th June 2019
North West End Rating: ★★★