For a few hours on Wednesday evening, we in the audience at Hull's New Theatre, were transported back to a tuneful era that has never lost its magic, when Motown The Musical lit up the stage.
The story of Motown founder Berry Gordy's dream of spreading happiness and uniting a race-torn 1960s America, and subsequently, the world, through the music of the many talented singers he discovered, was a treat from start to dazzling finish.
We learned how Gordy (a very entertaining Edward Baruwa) borrowed money from his family to set up a record label that ultimately brought Diana Ross and The Supremes, Stevie Wonder, Michael Jackson, The Temptations, Smokey Robinson and Marvin Gaye to the world stage.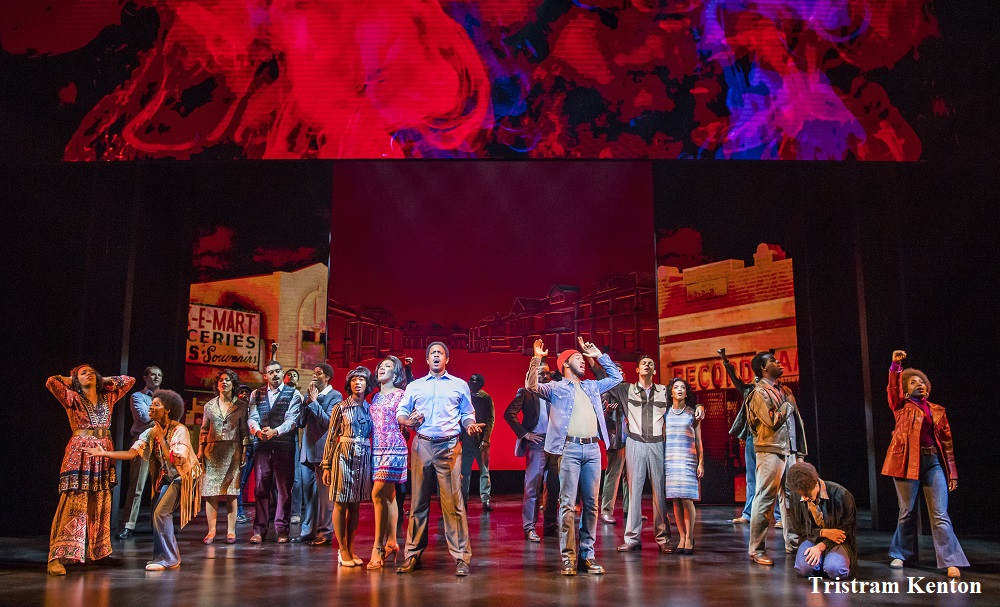 Accompanied by an 18-piece live orchestra, the famous hits came thick and fast. We sang along to The Jackson Five's ABC, Ain't No Mountain High Enough (Diana Ross – an amazing and very glamorous performance by Karis Anderson), Ball of Confusion, Please Mr Postman, The Happening, I Want You Back, War, Dancing In The Street, Happy Birthday and I Heard It Through The Grapevine to name just a few on the night.
Despite the musical buzz, there were serious moments with backdrop scenes of racial discrimination and serious political events, such as the Vietnam War and the assassinations of President Kennedy and Dr Martin Luther King.
Poignant and shocking as these historic reminders were, the production didn't dwell on them, and we were soon singing along again to the fantastic Motown sound.
Motown The Musical doesn't just dwell on the music, though. This is Berry Gordy's story and we witness his personal highs and lows as well as his professional ones.
His relationship with Diana Ross is a highlight acted out with supreme (no pun intended) talent by the two stars of the show, Baruwa and Anderson, who were delightful together.
However, Gordy's attention to Ross and her career elicited jealousy among some of his other artists, who, disillusioned, sought better-paid offers from other record labels – much to his dismay.
And when his great love herself was tempted away by a $20m offer from another label, it was Gordy's turn to be disillusioned.
Years later, reluctantly attending a 25-year Motown anniversary, Gordy was greeted like a hero by many of his discoveries, including Diana Ross. And the actual event could be seen on a giant video screen on stage – revealing how alike many of the cast were to the famous singers portrayed in the musical.
This glittery celebration of a music genius's life featured so many talents, it's impossible to name them all here. But as well as the aforementioned Baruwa and Anderson, I must mention Nathan Lewis whose portrayal of Smokey Robinson was uncanny; and Shak Gabbidon-Williams' laid-back Marvin Gaye was thoroughly entertaining – not forgetting Daniel Haswell who had Stevie Wonder's actions and voice down to a tee.
But my absolute favourite on the night was Carlo Brathwaite as young Michael Jackson (as well as a young Berry Gordy and Stevie Wonder). His dancing and singing were a joy to behold. I'm still smiling at the memory of his performance. What a little star.
It would be difficult to find fault with a production as slick, professional and well-choreographed as this. The stage setting shifted with ease from Gordy's first dingy office, to the bright lights of Vegas and beyond, with the lighting cleverly switching to suit the occasion and mood.
The costumes got more outlandish and blingy as the artists' fame grew, and, of course, the music and lyrics speak for themselves.
I was more than happy to join in with the richly deserved standing ovation.
Running until Saturday, July 6th, 2019, 7.30pm nightly with 2.30pm matinees on Thursday, June 27th and Saturday, June 29th; Thursday, July 4th and Saturday, July 6th. Tickets from £19. Call (01482) 300306 or visit www.hulltheatres.co.uk
Reviewer: Jackie Foottit
Reviewed: 26th June 2019
North West End Rating: ★★★★★