Despite being the daughter of a former Hull Kingston Rovers rugby player, the game has never interested me in the least.
Having never seen this Olivier Award-winning comedy, I wondered if it would be full of incomprehensible (to me, anyway) rugby terms and sweaty, grunting man-mountains.
I needn't have worried (although the latter would have been interesting)– neither was the case on Friday night, when Up 'N' Under graced the Hull New Theatre stage.
With just a cast of seven, on a very simple stage-setting, the scene was cleverly set for a do or die match between an unfit, couldn't-care-less rabble from the Wheatsheaf Arms pub, in Kirkella, and a super-fit squad called the Cobblers, hailing from Castleford.
The Cobblers, managed by millionaire Reg (Adrian Hood), win every game they play.
When Reg meets up with ex-professional Arthur Hoyle (Jamie Smelt), on the pitch side of a Cobblers match, tempers flare.
There is a history of bad blood between these two, with Arthur blaming Reg for his part in a ban, which ended his rugby career.
Pitch-side banter turns nasty, culminating with Arthur betting his house that he could take any team Reg suggests, and train them to beat the Cobblers, all within five weeks.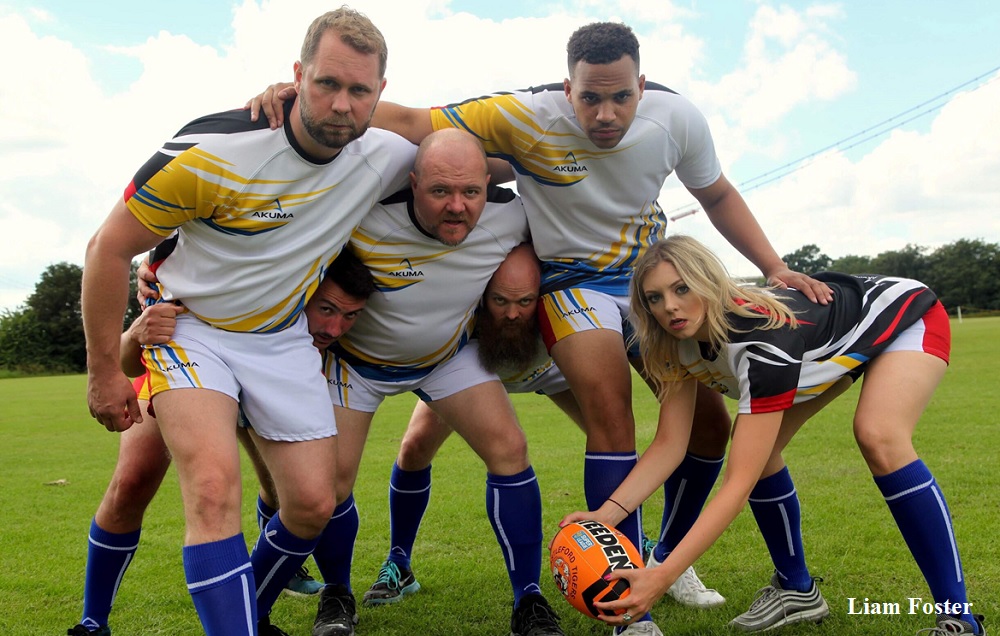 Reg takes up the challenge, choosing the very worst team Arthur could think of – the Wheatsheaf Arms.
With the arrival of two team benches on to the sparse stage, we are in the Wheatsheaf team's changing room on a match day, but the rag tag bunch who turn up are not interested in getting hurt on the pitch.
There's bearded Tony (Frazer Hammill) who has set his sights on being a male stripper; motor mechanic Steve (Lamin Touray), the youngest of the bunch at 22; melancholy butcher Frank (James Lewis), recently separated from his wife and kids; and, finally, Phil (Luke Adamson), keen as mustard to play the game he loves while tirelessly urging the others to show some interest.
Enter Arthur, pleading with them to let him train them, because he "loves the game". Steve, Phil and Frank flatly turn him down, leaving him with Tony, who accepts Arthur's £30 bribe to get the others to training the following week.
Finally, the five meet up and Arthur coerces them into doing a three-mile run.
This was a laugh-a-minute scene, mainly in slow motion (it had to be, they were so unfit), and we really felt their pain. But with the promise of a few bevvies at the Wheatsheaf, the first round on Arthur, they soon recovered and headed off.
Arthur's chance meeting with Hazel Scott (Martha Godber), herself the daughter of a rugby-playing hero, has him blurting out the reason he needs to train the Wheatsheaf lads. And Hazel, who runs the gym once owned by her late father, offers to train the bunch for free.
On to the stage roll the most props used on the night – including huge tractor tyres and inner-tubes, weighted ropes and a gigantic pink rubber ball.
All the lads turn up, but when Hazel inadvertently spills the beans about Arthur's bet, they soon skidaddle.
Phil persuades them all to come back, training starts in earnest and the five weeks fly by.
Cue match day. The aforementioned two benches are brought back on stage, sat upon by huge Cobblers' players. In the blink of an eye, they turn to reveal our likely lads and lass, in white, looking small and scared.
The game starts and, such is the tension generated on stage, it's as if the whole audience is collectively holding its breath to see if Arthur gets to keep his house.
With minimal props and lighting, accompanied by clouds of atmospheric smoke at times, this small cast of talented actors kept the New Theatre audience thoroughly entertained with their comical and energetic shenanigans.
John Godber's down-to-earth script – including several changes from the 1984 version "to keep aficionados on their toes" - was delivered in verse sometimes, and always with clarity and passion. And, thoughtfully, the whole production benefited from a young man standing on the right of the stage, who "signed" every word.
My first rugby league "match" will certainly be my last … but it's one I will remember with laughter, thanks to the likely lads and lass of the Wheatsheaf Arms.
Running until Saturday, September 14th, 2019, nightly at 7.30pm with 2.30pm matinees on Saturday, 7th; Thursday, 12th and Saturday, 14th. There will be a special Hull KR performance on Monday, September 9th and a special Hull FC performance on Wednesday, September 11th.
Tickets from £17. Call (0482) 300306 or visit www.hulltheatres.co.uk
Reviewer: Jackie Foottit
Reviewed: 6th September 2019
North West End Rating: ★★★★