We Will Rock You, the global smash hit jukebox musical by rock royalty Queen and Book by Ben Elton crashed the Sheffield party yesterday, it's third venue of the new UK and Ireland tour. WWRY has been dazzling audiences since 2002 in over 19 different countries.
Directed by Cornelius Baltus this new production is a greatly improved and much more relevant and topical than its predecessor with some very funny re scripting. Pleasantly and surprisingly, the tentative links of the 2002 story now appear to be much stronger than the original and the 24 Queen songs seem much more fluid within the storyline. With songs such as Radio Gaga, Killer Queen, and We Will Rock You the show delivers a powerful rock punch to its audience and the show boasts the scale and spectacle of the legendary live performances of Queen.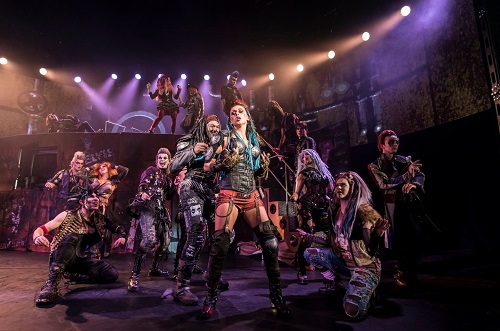 The use of extensive and very effective Video wall designed by STUFISH Entertainments Architects in this production adds to the disturbing concept of the unfortunately, not too futuristic controlling Globalsoft led by the Killer Queen and her henchman Khashoggi, as it brainwashes and brings the people into line, feeding them mass produced ideas and music. Real interaction is lost as the Online world dominates free thought. The ipads and phones are the only form of existence and friends are formed on Facebook not in reality. Rock and Roll is seen as too independent thinking and radical and is banned but 'the vibe' cannot be eradicated in some. At the GaGa university, one dreamer hears words and lyrics in his head that he doesn't understand, these lead him; with a similar independent thinking girl, whom he calls Scaramouche, in tow; to a band of musical freedom fighters -The Bohemians as they search for the legend at the living rock to once again make Rock and Roll music. The band at the Sheffield Lyceum Led by Bob Broad certainly made sure Sheffield Rocked tonight!
Olivier Award nominee, Ian Mcintosh is breathtakingly beguiling in his role of Galileo, his characterisation perfectly hinting at Freddie Mercury but never becoming a tribute act performance. His vocals were as powerful as his mannerisms were embodied. This young man is pure 24 carat class!
Elena Skye plays the nerdy, yet sassy and sarcastic Scaramouche with flair and her vocal ability and on stage chemistry with Mcintosh comes to full bloom in the stunning rendition of Only the Good Die young, the definite highlight of the show for me.
Other notable performances include Adam Strong as Khashoggi, who commands the stage in presence as much as he does with his amazing vocal delivery. Michael McKell is wonderful as Buddy and the audience warm to his hippy appeal immediately. David-Michael Johnson as Britt is about as smooth as a rocker can be, again his vocals soar. Killer Queen played by Jenny O'Leary wasn't given the luxury of technical trickery in this new production in comparison to the original, however her total dominance in Another One Bites the Dust, proved the technical wizardry wasn't needed.
WWRY; admittedly never a favourite of mine; in this new production has fully exonerated itself and I would definitely go to see the show again. The final and much called for; yet appearing to be an afterthought; number of Bohemian Rhapsody; which is of course a must and would be sacrilege to omit; left the Sheffield audience on their feet in rapturous applause. A perfect end to a perfect evening. A massive punch in the air to an awe inspiring evening of spectacle and Rock and Roll.
Reviewer: Tracey Bell
Reviewed: 30th September 2019
North West End UK Rating: ★★★★★