Did you know that 70% of the world's population does not use toilet paper? I learned this little snippet on Wednesday night, after watching Billionaire Boy at the Hull New Theatre.
Here's another from the informative programme – the average person spends three years on a toilet in their lifetime.
Toilet humour was the order of the day, but David Walliams' story has its serious moments, too.
Twelve-year-old Joe Spud (Matthew Gordon) has everything his heart desires, and much, much more, since his dad (Jason Furnival) invented Bumfresh toilet paper – moist on one side, dry on the other.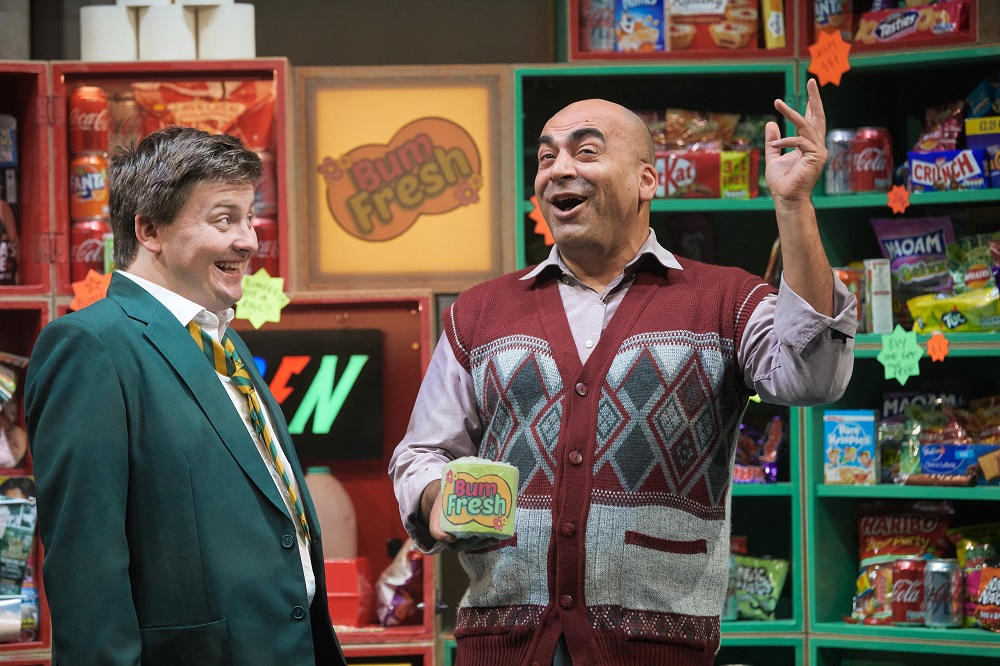 I felt sorry for the "poor" lad from the get go, when his only friend seemed to be a floss-dancing, robot butler.
His dad, oblivious to the fact his son has no friends, basks in his wealth, even giving Joe a £2million cheque for his birthday. It was obvious to us (mainly children) in the audience that Joe only wanted his dad's attention – he'd outgrown all the boy's toys money can buy.
In fact, his favourite present is a space rocket made out of the cardboard centres of toilet rolls, which his dad made him before filthy lucre changed their lives – and not always for the better, as it transpires.
Fed up of being bullied at his posh school for being the "Bumfresh heir", Joe begs his dad to let him attend the local comprehensive in the hopes of finding a friend.
Dad agrees and off Joe trots, not letting on he is a rich kid.
Joe soon meets up with another "misfit" called Bob (Davy Bell) and the two hit it off straight away.
Bob's father had died the year before and his mum cleans at Tesco on an evening – a life far removed from Joe's.
Looked upon as the two "fat boys" by the other kids, Bob, especially, is bullied relentlessly by the horrible Grubb "twins" (though not credited as such in the programme, Jason Furnival and Rosie Coles looked like the evil duo).
These two were hysterically funny in their mannerisms. Every time they "lolloped" on to the stage, I laughed out loud, which lessened the impact of their nastiness somewhat – however, we must never forget that bullying is horrendous.
Joe tries to keep his wealth a secret, but his secret is out one day when, forgetting to bring in his homework, the teacher gives him 15 minutes to get his dad to bring it to school.
Cue one of the funniest scenes – Dad piloting his helicopter into the school grounds.
By this time in proceedings Jason Furnival, as Dad, made me chuckle every time he appeared, in various guises throughout.
After helicopter-gate, Joe's secret is out and it seems everyone is asking for money from him – all except Bob.
Even the dinner lady, Mrs Trafe (Emma Matthews) gets him to part with £10,000 for a "hip replacement" op. Next time Joe sees her, her chest seems to have doubled in size, and when Joe twigs on what she has spent the 10 grand on, she cheekily asks him for another £5,000 for her hip op.
Meanwhile, Dad is on every dating website he can think of, and brings home the money-grabbing Sapphire (a dual role for Rosie Coles). Twenty-seven years younger than him, he simply cannot see that his money is the main attraction.
Joe sees it instantly, and is horrified when Dad presents Sapphire with a £10million diamond engagement ring.
One person who always has the time to talk to Joe, is shopkeeper, Raj (Aosaf Afzal). Always sympathetic to the rich schoolboy's plight, he is, comically, never short of a bargain-busting chocolate bar offer in his small newsagent shop.
When new boy, the cool Jayden (Bernard Mensah) befriends the Spud kid, Joe is mesmerised by how cool he is, leading to him having harsh words with the loyal Bob and the pair falling out big time.
But Jayden isn't all he makes out to be and Joe's world comes crashing down when he learns that his dad's wealth has been behind many recent events in his life - Jayden's unlikely friendship, a good teacher getting the sack and the headmaster zooming past on a very expensive motorbike.
When disaster strikes, Joe and his Dad learn a very valuable lesson – and are much happier for it.
This production is educational and life affirming, as well as being entertaining.
The stage set changed cleverly and seamlessly before our very eyes. Voices of all the cast were loud and clear, and singing voices tuneful, accompanied by Jak Poore's lively music.
Highlights for me were the Grubb twins, and Dad, but everyone on stage played their part in bringing David Walliams' 2010 book to life.
Running until Saturday, October 12th, 2019; 7pm each night, plus 1.30pm matinee on Thursday, 10th; 10.30am show on Friday, 11th and 11am, 2.30pm performances on Saturday, 12th.
Tickets cost from £13.50. Call (01482) 300306 or visit www.hulltheatres.co.uk
Reviewer: Jackie Foottit
Reviewed: 9th October 2019
North West End UK Rating: ★★★★