The age-old story of Cinderella, her ugly stepsisters, wicked stepmother and fairy godmother - not forgetting the pumpkin and mice - is a magical tale to be sure.
However, when the Northern Ballet dancers performed David Nixon's take on the fairy story, we in the audience at the Hull New Theatre, on Tuesday night, witnessed real magic – courtesy of a lad from Hull (I'll reveal all later).
The story, with a deliberate Russian theme, begins in the countryside outside Moscow, with a young Cinderella (Miki Akuta) celebrating her birthday with her father, Count Serbrenska (Ashley Dixon), stepmother, Countess Serbrenska (Sarah Chun) and her two stepsisters, Natasha (Heather Lehan) and Sophia (Rachael Gillespie).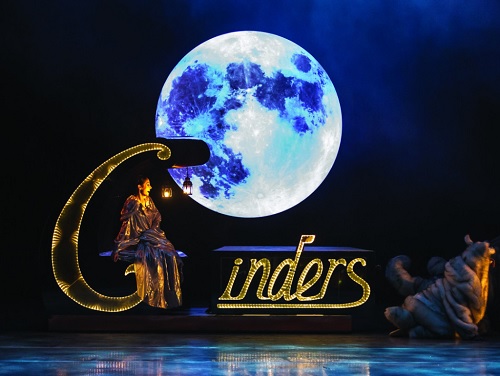 Cinderella even gets to dance with the young Prince Mikhail (Matthew Koon).
Things turn ugly when the two stepsisters throw Cinderella's new shawl into the river and her father dies trying to retrieve it.
Fast forward, and Cinderella is older (Minju Kang), in rags and skivvying for her wicked stepmother and her spoilt daughters.
On a rare trip to a market, Cinderella enjoys the spectacle of a stilt-walker, acrobats, jugglers, a dancing "bear" (I loved him) and a magician.
This amazing scene was worth the ticket money alone.
The now grown-up Prince (Javier Torres) turns up, but doesn't give Cinders (as she has become) a second look.
The heartbroken girl takes refuge beside a beautiful frozen lake and the sight of skaters gliding by is a spectacle I will remember for a long time. If I didn't know better, I would swear they were actually on ice, wearing skates.
Among the skaters is the Prince, as well as the magician from the market.
Returning home, Cinders discovers her stepsisters flaunting their invitations to a Royal Ball. Opening hers, she cruelly has it snatched out of her hand by her stepmother, who rips it into pieces.
Bedecked in their finery, mother and daughters flounce out to the ball, leaving Cinders a mountain of pans to clean. When the magician knocks at the door, she lets him in, offering him warmth, food and shelter.
And in return she gets the real magic I mentioned earlier, courtesy of Hull-born dancer, Ashley Dixon.
With a very impressive sleight of hand, as the magician (and not the traditional fairy godmother), he turns Cinder's rags into a beautiful shimmery creation. As sparks, literally, fly, all the dull, dirty pans become shiny and clean, hung in neat rows. As the flash, bangs and wallops continue, a golden sleigh appears on stage. And in a very amusing and clever scene, her stepfamily's white fur coats wriggle and shuffle, turning into Huskies to pull the sleigh.
With her sparkly slippers on her feet, off she goes to the ball and we have to wait until after the interval to find out what happens next.
Refreshed and back in our seats, the Fabergé-inspired ballroom was a feast for our eyes – just one of the many amazing stage settings.
Dressed in their finery, the dancers excelled, receiving well-deserved applause from an enraptured audience, who also appreciated Philip Feeney's music, played live by talented members of the Northern Ballet Sinfonia, conducted by Jonathan Lo.
When Cinders makes her entrance, the Prince is mesmerised by her beauty and her dancing. But as the clock strikes midnight, she makes her escape, leaving the distraught Prince to pick up one of her discarded slippers.
With such a well-known tale, it's no spoiler to reveal he and Cinders reunite and live happily ever after.
Admittedly, this interesting twist on a fairytale favourite might not appeal to those who like the traditional, pantomime-style Cinderella, with garishly made-up, ugly stepsisters and a fairy godmother.
I loved it, but I'll confess, having reviewed umpteen ballets over the years, I'm still not au fait with the types of ballet steps. All I see is the amazing grace, strength and passion of all on stage, especially the principals – always an unforgettable spectacle in my book.
Tuesday night was no exception.
Running until Saturday, October 19th, 2019; 7.30pm nightly with 2.30pm matinees on Thursday, 17th and Saturday, 19th. Tickets £9-£40. Call (01482) 300306 or visit www.hulltheatres.co.uk
Reviewer: Jackie Foottit
Reviewed: 15th October 2019
North West End UK Rating: ★★★★