Anyone who has seen men of all ages flexing their muscles into a gym mirror, or frantically rubbing products into their receding hairlines, knows that the tyranny of physical perfection is becoming gradually less gender specific.
It even has a name – Dorian Gray syndrome - as men wrestle with physical perfection as their body naturally decays. To look at this societal change Proper Job Theatre Company have cleverly replaced Oscar Wilde's original portrait of the ageless Dorian Gray with a digitally enhanced online version.
In this scenario our middle-aged Dorian also goes slowly mad as he chases this image of perfection, and tries to stop the one thing that unites every human – getting old.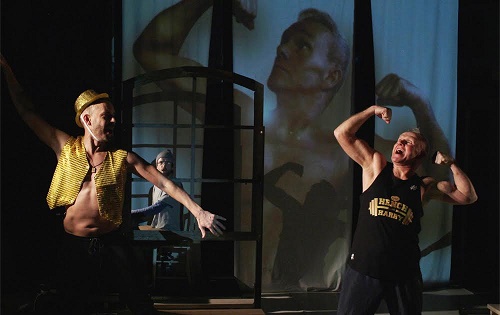 Proper Job veteran Rick Ferguson as Dorian gamely spends much of the show half naked as his crazed gym instructor Harry (Chris Casey) tries to buff him up to match a perfect image created by the soulless Sarah (Elizabeth Harborne) who manipulates electronic images for a living.
Ironically Sarah is in a band with Dorian's son Sam (Neil Balfour), who joins the quest for perfection after his partner casually mentions the need for them to both sound and look good. A theme explored by Little Mix's Jesy Nelson in a brutally honest BBC documentary.
The other smart twist in this complex and challenging work is that as characters descent into serious illness it is recorded online, via a series of webcams used live by the cast.
There is a lot going here with live music, flashing graphics, streamed webcasts on Laura Davies' flexible set, alongside a cast who really deliver Andrew McMillan's debut play, based in some part on personal experience of battling his own body image.
James Beale's clean direction manages to pull the many strands together, although one or two of the threads like the endless obsession with Instagramming our food are a bit obvious.
Trained opera singer Balfour delivers Sam's live music beautifully, Harborne sings well as she subtly peels back the pressures a young woman like Sarah feels to be perfect and the charismatic Casey essays a ruthlessly deranged personal trainer battling his own demons.
Dorian's original portrait might have been hidden in the attic, but Proper Job make a strong case that in the modern age all our narcissism, insecurities and self-loathing will be played out in the unforgiving gaze of the world wide web.
Reviewer: Paul Clarke
Reviewed: 15th October 2019
North West End UK Rating: ★★★★
The Full Tour:
Oct 16th The Brewery Arts Centre, Kendal
Oct 17th Lawrence Batley Theatre, Huddersfield
Oct 18th The Brindley Arts Centre, Runcorn
Oct 22nd CAST, Doncaster
Oct 23rd Midlands Arts Centre, Birmingham
Oct 24th The Civic, Barnsley
Oct 26th Queen's Hall Arts Centre, Hexham
Oct 29th Rose Theatre, Ormskirk
Oct 30th – 1st Nov The Lowry, Salford