One of the most exciting things for any reviewer is to attend a new theatre for the first time. Following a £15.8m redevelopment and in its new incarnation as Leeds Playhouse, this muscular space is a powerful statement by the city of its place within our regional and national theatre scene.
As part of its inaugural season, they have worked with writer Hanif Kureishi to adapt the screenplay of his ground breaking 1985 film for the stage. When first released it caused some controversy with its depiction of overt racism and homosexuality set against a backdrop of the Pakistani community in Margaret Thatcher's Britain. So, does it still have any resonance over three decades later?
There is no mistaking the fact we are firmly back in the Eighties; the set design by Grace Smart is a cornucopia of silver spray paint and neon signage, complimented by costuming of the baggy suits and shoulder padded dresses so redolent of the era.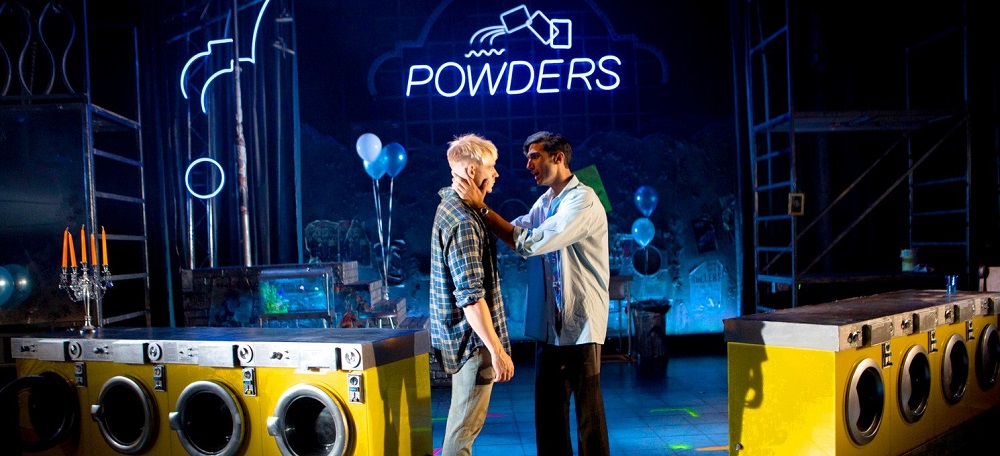 The atmosphere is capped with a specially commissioned soundtrack written by Neil Tennant and Chris Lowe, better known as Pet Shop Boys, their synth led sound combined with politically astute lyrics to compliment the aesthetic perfectly.
We meet Omar (Omar Malik) who is given the job of managing a run down Laundrette in Clapham (long before gentrification) by his Uncle Nasser (Kammy Darweish). The area is home to a gang of racist thugs led by Johnny (Jonny Fines) who resent the influx of immigrants and initially disrupt Omar's attempts to reinvigorate the business. Omar and Johnny rekindle a dormant friendship, which eventually blossoms into a loving and physical relationship, much to the chagrin of both his family and Johnny's erstwhile fascist friends.
Back in 1985, this story and setting alone had the power to viscerally shock audiences in both its use of language and taboo sexuality, it is instructive that an audience watching 35 years later had a much more relaxed reaction. Elements of the script had dated badly, with references to 'buggers' eliciting little or no response and the harsh racism being purposefully subverted by the casting of an Asian woman (Balvindar Sopal) as one of the thugs.
Where the overt themes (race and sexuality) of the original screenplay failed to catch fire, Kureishi has chosen to place equal emphasis on the secondary plot involving Tania (Nicole Jebeli) and her attempts to escape from an arranged marriage to Omar. This storyline powered the play after the interval and resonated much more strongly, asking pertinent questions about the role of women in a society dominated by family and religion, whilst co-existing in a modern western culture.
Ultimately all these themes are bound up in the idea of individual identity in our society. Omar is asked to choose between his own cultural stereotype (portrayed by his Uncle and colleague Salim) embracing dubious business ethics and married hypocrisy, or a freer emotional existence represented by Johnny and his father. Thankfully he chooses the latter, and the final scene of Omar and Johnny playfully splashing water and blowing bubbles hints at a happiness achieved.
I would highlight the casting by Kay Magson and Director Nikolai Foster as crucial to the success of the piece. Both Malik and Fines are excellent both as the individual characters and in the way they interact as a couple; Fines particularly displays the muscular brutality of the 'angelic thug' with deft humour. Excellent support is provided by Darweish as the avaricious Uncle and Jebeli as rebellious Tanya and in a beautiful subliminal nod to the 1985 film, Gordon Warnecke (the original Omar) returns to play Papa with a mischievous sprightly quality that delights.
As the screenplay no longer has the power to shock, what we are left with is an adaptation preaching tolerance and understanding to modern society from a less enlightened one. Until 26th October https://leedsplayhouse.org.uk/events/my-beautiful-laundrette/
Reviewer: Paul Wilcox
Reviewed: 16th October 2019
North West End UK Rating: ★★★