It was a night of mixed emotions for me, on Tuesday night, when Willy Russell's musical, Blood Brothers, came to the Hull New Theatre.
My elation (when I bagged a parking spot directly outside the theatre), was followed by a mixed bag of feelings throughout the performance.
Confronted with the story's dark and shocking ending from the curtain up, I was intrigued from the start.
However, things soon lightened up thanks to the wonderfully talented cast, headed by Lyn Paul as Mrs Johnstone, the worn-out mother of the blood brothers of the title.
But let me, unlike this musical, start from the beginning.
Blood Brothers, wonderfully narrated by Robbie Scotcher, tells of twin boys born in Liverpool to poverty-stricken Mrs Johnstone, who already has too many children and is pregnant again with twins.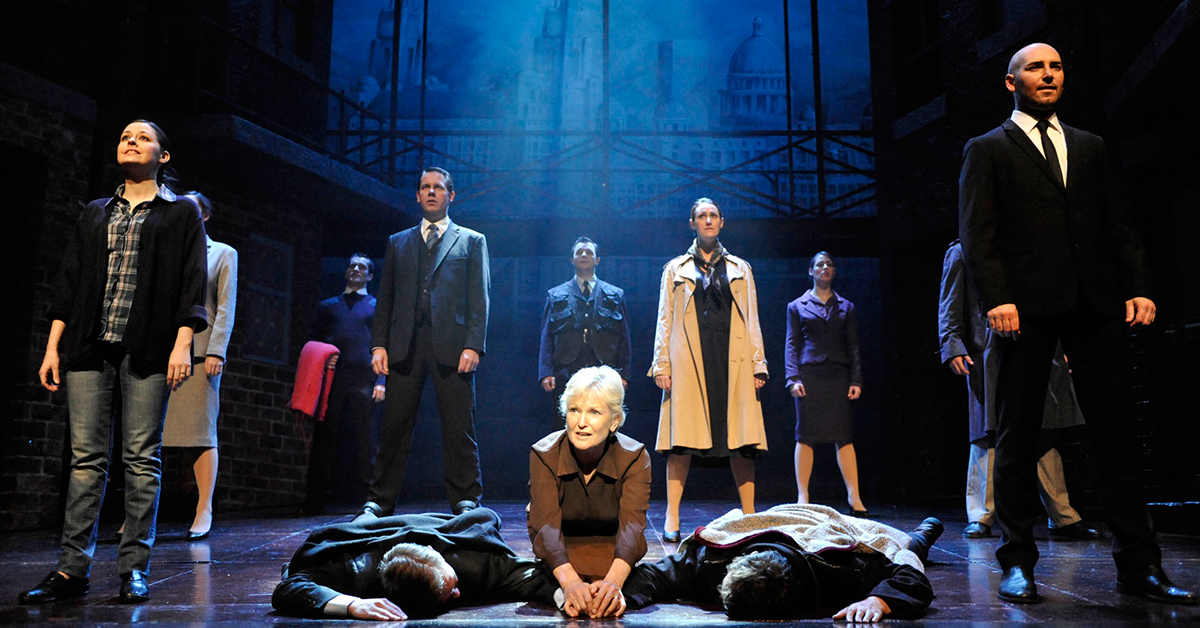 They are all to her husband, who, upon learning of this latest development, promptly makes off with a younger version of his wife – a wife he had once danced with, had fun with and whose legs he had compared to those of film-star, Marilyn Monroe.
Working as a cleaner for a household in a better part of the city, Mrs Johnstone reveals to her employer, Mrs Lyons (Chloe Taylor), that she is worried about not being able to feed and clothe another two mouths. The desperate-for-a-child woman persuades the worried mum to give her one of the twins at birth, promising that she will still be able to see her son every day.
No stranger to the bailiffs taking away anything she had bought "on the never never", Mrs Johnstone houses a secret fear that her other children will be taken into care, so she reluctantly sticks to the "deal".
Fast forward a few months and Mrs Lyons has convinced her husband (Tim Churchill) that the child is hers and, as he has been away for several months, he believes her.
Worried that her cleaner is getting too close to the boy she has named Eddie, Mrs Lyons cruelly sacks her, pressing £50 into her hand – in effect, buying the child.
But in a several twists of fate, the twin boys cross paths time and again and, different as their backgrounds are, become best friends – culminating in them cutting their hands to merge their blood.
We come across them, aged seven "nearly eight" – Mickey (Alexander Patmore) is in rags, while Eddie (Joel Benedict) is in a smart school uniform. The contrast is so amusing – thanks to the entertaining shenanigans of these two very important cast members.
However, the ever paranoid (more like guilt-ridden) Mrs Lyons, tries to sever the friendship, moving to the countryside. Meanwhile, Mrs Johnstone's old council house comes up for demolition and, lo and behold, she and her family are moved to the countryside.
A lifelong friend of both boys, Linda (Hull girl, Danielle Corlass), plays a huge role in the twins' lives and it's her desire to help one of the boys that leads to their tragic downfall, revealed at the engrossing start of the show.
I really can't find fault with a thing in this production. The atmospheric stage design changed seamlessly - from poor neighbourhood to better off, from rowdy school classroom to even rowdier bus journey; and from posh sitting room to a prison cell. One minute we're indoors, the next outside.
This being a musical, Lyn Paul's singing voice was so tuneful, loud, clear and full of emotion at times, I could have listened to her all night. Accompanied by live music from a very talented band, she really did justice to songs such as Marilyn Monroe, Easy Terms and Tell Me It's Not True to name just three.
And she portrayed every aspect of Mrs Johnstone and her life so vividly – one minute dancing with love and happiness, the next distraught, the next happy once more and then back to despairing again.
But the aforementioned Alexander Patmore and Joel Benedict as the twin boys, and Danielle Corlass as their lifelong friend, Linda, were all outstanding on the night – as was all the cast.
And at the end, it was no surprise that the delighted audience rose as one, cheering - every one of us reluctant to let such talent leave the stage.
Reviewer: Jackie Foottit
Reviewed: 22nd October 2019
North West End UK Rating: ★★★★★