Theatre at its very best not only entertains but offers a window into worlds outside your own experiences in exactly the way this lively ensemble piece does.
Inua Ellams travelled the world picking up stories from barber shops where black men traditionally gather to have their hair cut as well as taking the opportunity to banter, talk, debate and to without really knowing they are doing it be honest about how they really feel.
The 12 strong cast move the set around taking us on a journey from a South London barber shop to Lagos, Harare and Johannesburg, Kampala and Accra where cutters and customers are all following the Champions League final in different time zones. Inua subtly shows that despite the vast geographical and economic difference between the shop they are all a haven for men with the same fears and dreams.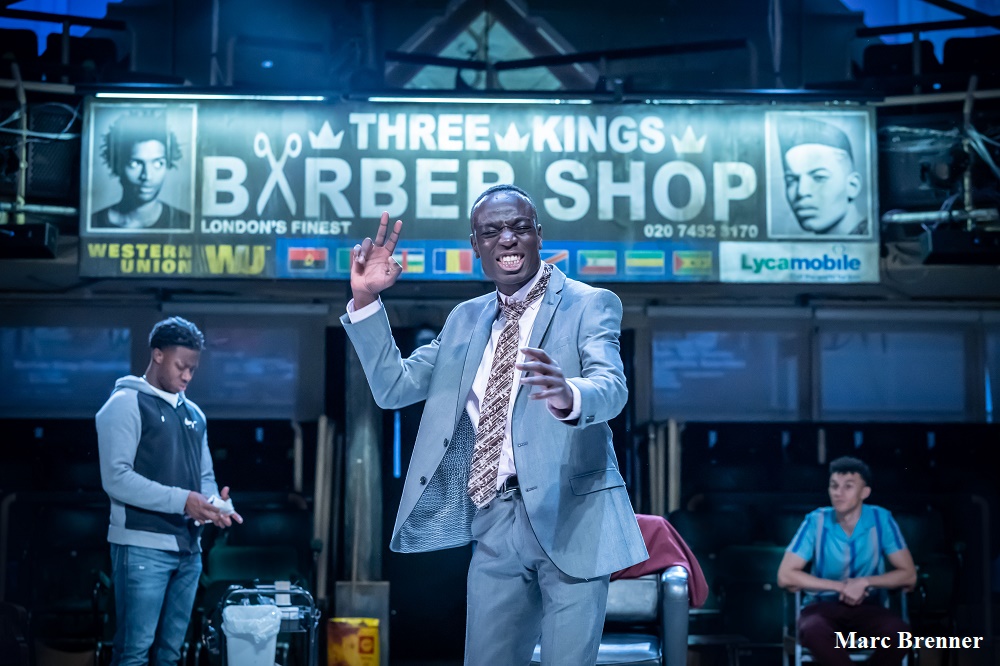 Bijan Sheibani's percussive direction links the stories of the customers who pop in for cut or a fade. So the drunken victim of Apartheid and poverty, who was paid by white South Africans so they could racially abuse him to his face, is linked to the London shop as are the Nigerians struggling to make a few bob.
The focus of the narrative is the raucous London shop where customers like larger than life 'bad boy' – a brilliant comedic performance with an edge by Demmy Ladipo – entertain the customers with tall tales, and a hard up local pensioner gets a free haircut as a mark of respect. The banter also reveals some tension between a Jamaican barber – a lovely performance from Emmerdale's Micah Balfour - and the African clientele.
The real tension is between Sam, who believes his father has been robbed of his share in the shop, and older barber Emmanuel who is hiding not one but two secrets. Mohammed Mansaray is a wonderfully tight ball of suppressed rage as Samuel and older hand Anthony Ofoegbu brings a quiet dignity to a man on the edge.
All the cast switch parts and locations effortlessly and there is a sense as the cast members sit round the stage of how deeply personal this work is. It shows in committed performances managing the big gear changes between a Nigerian customer doing a comedy runner to a proud man feeling the freedom in a shop to recall how his father beat him mercilessly.
I first saw this show when it had its world premiere here, before heading off on a global tour and a run at the National Theatre, and this time there was a chance to examine how cleverly Ellams unpicks black masculinity through the barber's chairs. Even better my fifteen-year-old daughter laughed out loud, and then gasped at some of the stories, as she entered a world she had no idea existed.
Get in early as this show starts with the cast inviting people up for some impromptu dancing to the onstage DJ. The return of this funny and moving production is really timely as our country is so fractured and fearful, we are in real danger of turning on vibrant communities like the barber shop customers and those who make them look good.
Barber Shop Chronicles is at Leeds Playhouse until Saturday November 23rd. To book www.leedsplayhoyse.org.uk or 0113 2137700
Reviewer: Paul Clarke
Reviewed: 20th November 2019
North West End UK Rating: ★★★★★