When James Brining took over at the Playhouse he totally revamped their big festive family show that isn't a panto and this joyous musical version of one the greatest films ever made is top class entertainment for all ages.
We're certainly not in Kansas anymore, but in the recently revamped Quarry Theatre, and Brining who also directs is a master at using this vast space somehow making it feel both intimate and epic. He's aided by Simon Higlett's ingenious set design that morphs and flexes as the action lurches from monochrome depression era America to the garish Munchkin City and then off to see the Wizard in the Emerald City.
Now unless you've never watched TV you don't need a synopsis, but behind all the glitz, glamour and high tech thrown at this production it's a simple story of four flawed people - and a dog - led by Dorothy, who has blown in from the Dustbowl to the magical Kingdom of Oz, becoming friends on a quest to find their true selves. They take on a bullying witch and her minions before unmasking a blowhard dictator who uses mass media to control his minions and spread lies. Sounds very familiar, except here the pathetic Wizard prefers green to orange.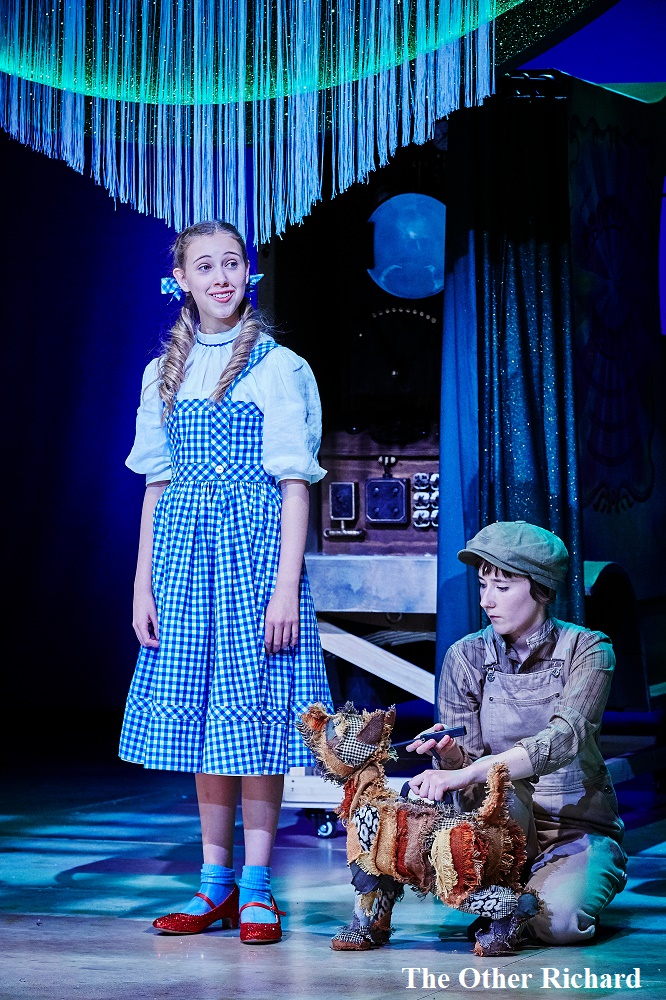 Brining certainly focuses on the positive themes for young minds with some nods to modernism like the Tinman carving his boyfriend's initials in the trees, and he gets round the tricky Munchkin question by replacing the actors who ran riot on the movie set with a lively bunch of local junior actors.
He also took the risky decision to cast a teenager in one of the toughest junior roles in theatre as the plucky heroine is onstage throughout. Lucy Sherman is one of two teenagers rotating the role following in the steps of the late, great Judy Garland, and she is absolutely sensational. Sherman's moving rendition of the iconic Somewhere Over the Rainbow belies her youth, and she is utterly believable as the brave teen who finds there is no place like home. If Sherman decides this is the career for her then the West End certainly beckons.
The big numbers from the movie are here, and Cowardly Lion Marcus Ayton fresh from a tour of Shrek is in witty voice on If I Only Had the Nerve. Despite an unwieldy costume Sam Harrison certainly gives the Tinman some heart, and Eleanor Sutton's Scarecrow is ironically very intelligently done.
Polly Lister's marvellously over the top Wicked Witch is a delight amusing the kids rather than scaring them to death. Puppeteer Ailsa Dalling masterfully manipulates Dorothy's pooch Toto after the live version has scampered offstage to huge applause. There's a big and talented ensemble who join the junior gang for Lucy Cullingford's beautifully choreographed The Merry Old Land of Oz, which brings to mind the glory days of Busby Berkeley's movie spectaculars.
There must have been a temptation to just throw in all the tech toys as they open this new space, but Tim Mitchell's typically smart lighting design clearly creates the Yellow Brick Road, and Simon Wainwright's big videos add to the narrative rather than overwhelming it. The only minor gripes are the ariel work just doesn't work adding nothing to this production, and at nearly three-hours, including an interval, this might be a big ask to maintain the attention of some kids.
For families looking for an intelligent alternative to panto that works for all ages then The Wizard of Oz is a musical with a heart, brains and courage.
The Wizard of Oz is at Leeds Playhouse until Saturday 25th January 2020. To book www.leedsplayhouse.org.uk or 0113 2137700.
Reviewer: Paul Clarke
Reviewed: 26th November 2019
North West End UK Rating: ★★★★