Just a few minutes drive from Hull, I enjoyed my first snowfall of the season – inside Beverley's atmospheric East Riding Theatre.
On Wednesday afternoon, the theatre was the venue for a production of Little Women, and the regular on-stage snowfalls were, literally, the icing on an amazing theatrical cake.
After enjoying a hot drink and a choccy biscuit in the theatre's cosy café, I, along with the rest of the theatregoers, took my seat in front of a marvellous stage setting which featured the home, inside and out, of the March family – whose lives are the focal point of the original novel, written in the late 1860s by Louisa May Alcott.
This production, adapted by writer, Laura Turner, was a joy from start to finish. The four sisters – Jo (Laura Peterson), Beth (Louise Willoughby), Meg (Laura Mould) and Amy (Evie Guttridge) – burst noisily onto the stage in a mad whirl of chatter, as they acted out a play written by wannabe writer, Jo.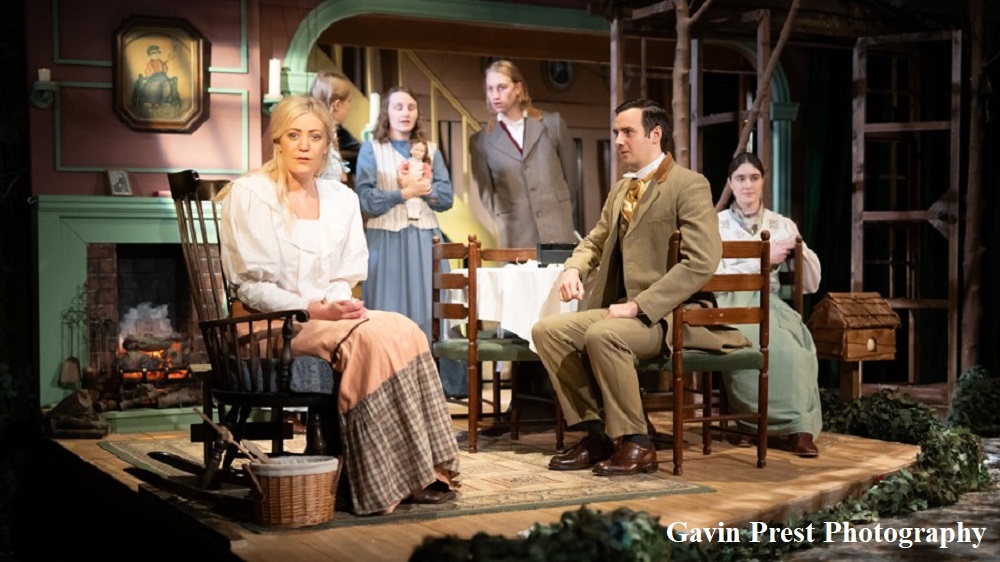 In a swirl of petticoats (I absolutely loved all the costumes), they laughed, sang, argued, hugged, fought, sighed and cried their sisterly way through the production – word perfect every one, with lovely singing voices to boot.
Their "Marmie" (Sara Beharrel), good naturedly kept them all in check – she had no choice, her husband, the girls' father, was away working as a chaplain in the American Civil War.
The females didn't have things all their own way, however – they become acquainted with a young man by the name of Laurie (Michael Kinsey) grandson of their neighbour, Mr Laurence (Richard Avery).
Laurie, a budding musician, instantly felt a kinship with Jo, who dreams of being a famous writer one day. The two connect in a fun, brotherly/sisterly way – much to Laurie's dismay. He wants more out of their relationship.
When Laurie introduces his friend, John (Harrison Rose), romance is in the air as soon as John sets eyes on the oldest March sister, Meg.
It's Christmas, hence the aforementioned snow, and Marmie tells the sisters there will be no presents this year, what with the war and all. Their reactions on hearing the news is hilarious (I'd have gone berserk), but they soon calm down and concentrate their efforts on donating foodstuffs, including walnuts from a tree in their garden, to a local, needy family.
Beth is the poor family's main visitor and she becomes really attached to their baby, George – with heart-breaking consequences.
All four sisters have dreams of how they want their lives to turn out. Meg wants to be married; Jo wants her novel to be published; young Amy, a budding artist, dreams of living in Paris, and the lovely Beth just wants to help people.
As the seasons pass, with the stage setting changing seamlessly in front of our very eyes (so cleverly did the decorated Christmas tree disappear, I didn't even see it go), Jo sends her debut novel to a publisher in "Noo York' and is thrilled to receive a letter asking her to head to the Big Apple to discuss her book.
Laurie, having plans of his own for Jo, is none too pleased, but the excited Jo isn't aware of his displeasure. Her main concern is for her poorly sister, Beth, who having visited the needy family, contracts scarlet fever off them.
Apart from her ill daughter, Marmie has to contend with her husband being hospitalised far from home.
Beth rallies and Jo heads off to meet publisher, Mr Samson (a dual role for Richard Avery), at his New York office. Dismissing her novel as "needing hard work" he leaves her in the hands of Frederick (Harrison Rose in a second role), a professor who is charged with getting the most out of Jo and her writing.
There are tantrums and arguments galore between the two, until Jo is called back home because Beth's illness worsens.
Cue a very moving sequence of events and all I can say is, why bother to see the upcoming movie, Little Women, at the cinema, when you can witness acting that, I'm sure, will be on a par with the best Hollywood has to offer, at this amazing little theatre in Beverley.
Dreams do come true for some of the sisters, but they don't always turn out to be what they really wished for. The glue that binds them all together is their love for each other – through happy times and sad.
And when tragedy strikes it affects every character on stage and each, in their own way, have to come to terms with how they deal with events.
And when the snow starts falling once again, we realise a whole year has passed – and what a year for all concerned.
I simply cannot fault this production. Set in America, accents never slipped, voices (singing and speaking) were loud and clear and the acting superb - with lighting, stage setting and music to match.
Be sure to wrap up warm, though, as the theatre is in a converted Baptist chapel and can get quite cool, although, thoughtfully, I did see warm blankets being handed out.
However, I'm sure I'm not the only one who left with the warm glow of knowing I'd seen something very special.
Running until Sunday, January 5th, 2020, nightly at 7.30pm with selected 2.30pm matinees (check website). Tickets £12-£19.50. Call (01482) 874050 or visit www.eastridingtheatre.co.uk
Reviewer: Jackie Foottit
Reviewed: 18th December 2019
North West End UK Rating: ★★★★★