Here's an interesting factoid for you. In 1952, the legendary writer Agatha Christie generously gave her play, The Mousetrap, to her nine-year-old grandson, Mathew Prichard. Wow, what a prezzie that turned out to be!
Fast forward to 2020 and, despite all the publicity surrounding this famous whodunnit, I was still in the dark about who actually did do it.
So on Monday night, when The Mousetrap opened at the Hull New Theatre, I couldn't wait to discover the play's big secret.
On a snowy winter's night, five guests separately struggle up the drive of Monkswell Manor Guest House, run by young married couple, Mollie and Giles Ralston (Edith Kirkwood and Adam Lilley).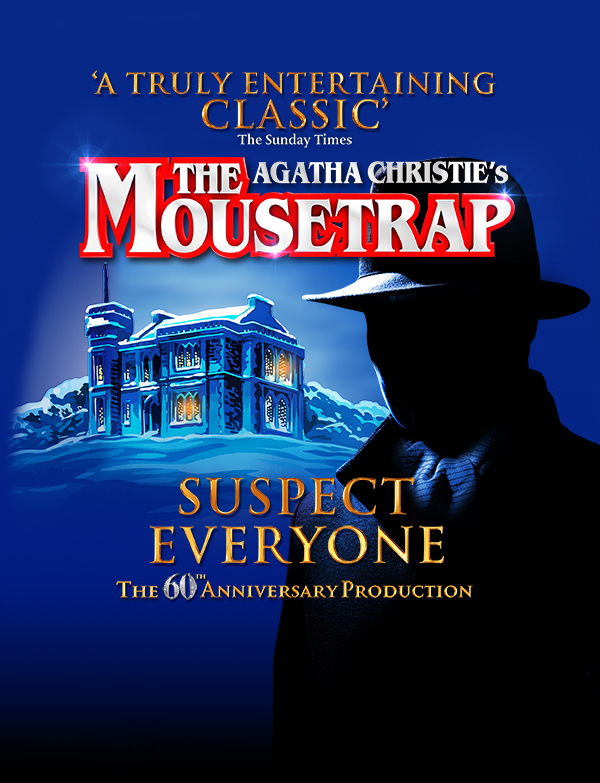 The five - Mrs Boyle (Susan Penhaligon), Miss Casewell (Laura Costello), Mr Paravicini (Steven Elliott), Major Metcalf (John Griffiths) and Christopher Wren (George Naylor) – are totally different characters.
Mrs Boyle is elderly and none-too-pleased to find the guest house doesn't have any "live-in" staff. The much younger Christopher Wren is loud, excitable but lovable. Mr Paravicini is a suave, foreign charmer. The Major seems to be a no-nonsense sort. And Miss Casewell is a young woman, who admits she looks older, and who dresses in quite a masculine way.
Mollie and Giles are new to the guest-house business. The sweet-natured Mollie loves it when each guest arrives, but we sense Giles is getting a bit fed-up of answering the doorbell each time.
As the snow builds up, blocking the roads, tensions rise inside as everyone in the group begins to feel cut off from the outside world, even though they are just a short train ride from London.
The fantastic scenery doesn't change all night and thank goodness for that – it is magnificent. The drawing room of Monkswell Manor has oak-panelled walls, huge stained-glass windows through which we could see large snowflakes falling, comfy sofas and chairs and a fabulous fireplace showing off a glowing log fire.
Wall lights added to the ambience and it was so easy for us in the packed audience to think we were actually inside the guest-house.
There were many comical touches in this age-old favourite, one stand-out is when Det Sgt Trotter (Martin Allanson) turns up on a pair of old-fashioned wooden skis (well, The Mousetrap is set in a bygone era). This is when the fun really starts.
At the house because of another murder that has taken place in London, and which may be linked to someone at the Manor, he keenly takes on the role of inquisitor.
The detective believes someone at the guest-house has links to a very sad business decades before, concerning three mistreated children at a nearby farm.
We get the impression the fate of the three youngsters is likened to that of the three blind mice of the nursery rhyme fame. I had been curious about the play's title so this information explained it somewhat.
Det Sgt Trotter does a grand job of putting the fear of God into at least three of the guests in his determination to leave no stone unturned in catching the person he thinks is there to commit another murder.
I had my suspicions about each member of the cast (my suspicion turned out to be correct) and more than once during the interval I heard the words "It was Colonel Plum in the library, with a candlestick". Wrong whodunnit, but it showed people were more than intrigued.
The eight cast members all spoke loudly and clearly – so we didn't miss a word in our quest to find the guilty person.
Aside from the policeman, all were shocked at being thought of as suspects. All denied everything. All looked as guilty as hell.
Wife suspected husband. Husband strongly suspected a male guest. Everyone had their suspicions. One worried guest decided to steal the detective's skis and get out of there, but the skis had gone missing! More drama!
By this time, to my mind, everyone on stage was a murderer – I wouldn't have trusted any of 'em.
Then it happened. The lights went out, a voice said "Oh, it's you" and then all we heard were prolonged screams, gasps and gurgles … then silence. Someone had obviously popped their clogs.
I can't even tell you who found the body, or who the murderer is, because I, along with the rest of the audience, have instructions not to blab.
At the end of this very enjoyable murder/mystery, Det Sgt Trotter addressed the audience and told us we were all "partners in crime" and, therefore, should never spill the beans about what we had just witnessed. And I never shall!
Running until Saturday, February 1st, 2020; 7.30pm nightly with 2.30pm matinees on Thursday, January 30th and Saturday, February 1st. Tickets from £15. Call (01482) 300306 or visit www.hulltheatres.co.uk
Reviewer: Jackie Foottit
Reviewed: 27th January 2020
North West End UK Rating: ★★★★