Most theatre companies fear things going wrong but not imitating the dog who actually welcome the potential for chaos as they reimagine and remix classic works onstage.
Traditionally they have reworked classic novels, where there is some creative latitude, but here they are reimagining shot by shot by shot George Romeo's classic 1968 movie Night of the Living Dead, which created the wildly popular zombie genre. That's 1076 cuts in 95 minutes, forcing the performers to scurry round the stark stage to keep up with the black and white movie being screened in real time above their heads.
The cast really have to use all their training to get on with recreating cut by cut the movie as some of them are also filming what they creating on three video cameras beaming their interpretation onto a parallel screen above the stage. The audience is invited to watch Romero's movie in real time, focus on the reimagining or just follow the action on stage. Or all three if you can multi-task.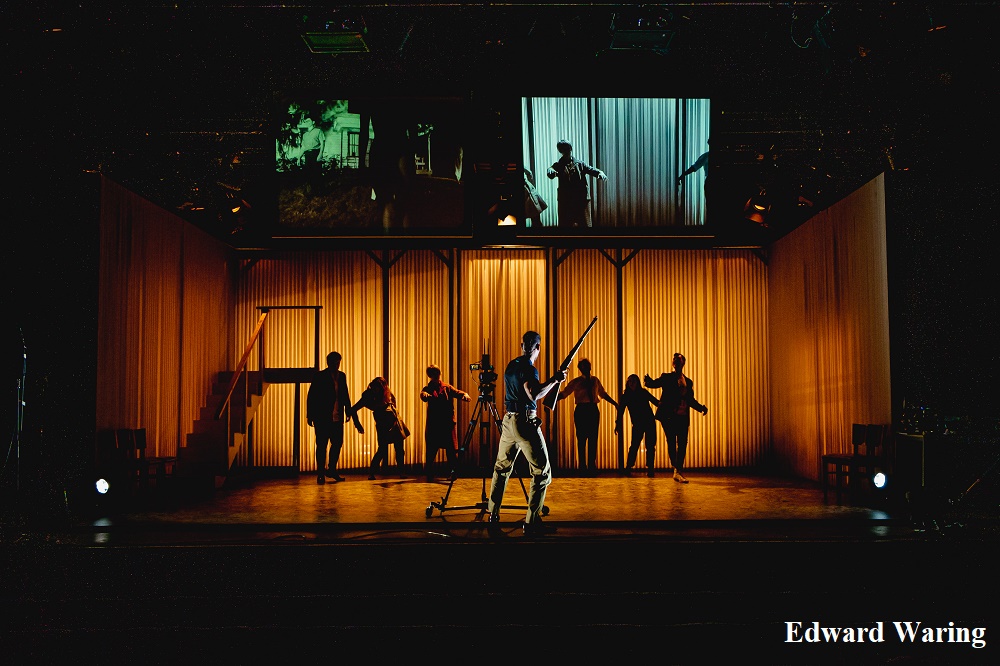 Onstage we are following a diverse group of survivors of an apocalypse led by Ben who are holed up in a remote Pennsylvania farmhouse as the living dead gather outside waiting to feast on this motley crew of cowards and idiots.
If you are expecting the relentless gore fest that is The Walking Dead you'll be disappointed as the film was made on a shoestring so there's virtually zero special effects. Instead Romero creates a claustrophobic and darkly lit atmosphere that speaks to our fear of the other, which is what co-directors Andrew Quick and Pete Brooks tap into as the cast try to keep pace.
They're helped by Simon Wainwright's smart videos and projections helping the cast recreate key scenes, including one or two that raise huge laughs as he cleverly navigates round the cast sometimes being in cars and vans.
Given the movie's miniscule budget a lot of the acting can be charitably be described as exaggerated, and with a side serving of ham at times. Quick and Brooks don't ignore that allowing their cast to be just as awful, and over the top, with Movern MacBeth occasionally challenging Kristen Wiig as repressed Republican housewife Helen.
Morgan Bailey brings a quiet dignity to Ben who is a smart black man from the new America but despite his best efforts can't save the idiots he's holed up with from their own stupidity, and Matt Prendergast is wonderfully venal as Helen's husband Harry who represents the old picket fence order that is collapsing on and off screen.
Critics now argue that the movie was a critique of an America tearing itself apart as its leaders were slaughtered, but watching it again that seems more by accident than design. The directors do side with the critics as Wainwright projects contemporary footage from the murdered Kennedys and Martin Luther King onto the blank walls. It works best when they juxtapose the vigilantes hunting the zombies with grunts walking through the jungle in Vietnam, and Bailey reciting Dr King's I Have A Dream is especially powerful.
It's really impressive that apart from the odd out of focus camera, and cast members sometimes not being in quite the right place, they do keep pace with the movie right to the end despite having to act and film.
This remix could have just have been a dazzling technical achievement, which in itself does make for a satisfying theatrical experience, but there is a wit, warmth, an obsessive attention to detail and respect for the source material that leaves you thinking about this sensory overload on the edge of disaster throughout long after the final credits have finished.
Reviewer: Paul Clarke
Reviewed: 28th January 2020
North West End UK Rating: ★★★★
TOUR DATES
24 Jan – 15 Feb, Leeds Playhouse - 0113 2137700 www.leedsplayhouse.org.uk
18 – 22 Feb Liverpool Playhouse - 0151 7094776 www.everymanplayhouse.com
25 – 26 Feb, Exeter Northcott - 01392 726363 www.exeternorthcott.co.uk
28 – 29 Feb Theatr Clwyd - 01352 344101 www.theatrclwyd.com/en
3 – 4 Mar Brewery Arts Centre - 01539 725133 www.breweryarts.co.uk
10 – 11 Mar Nottingham Playhouse 0115 9419419 www.nottinghamplayhouse.co.uk
13 – 14 Mar Dundee Repertory Theatre - 01382 223530 www.dundeerep.co.uk
18 – 21 Mar HOME, Manchester - 0161 200 1500 www.homemcr.org