As the excitement mounted in a packed Hull New Theatre on Wednesday night, for the musical, Mamma Mia!, a voice boomed out from backstage with a dire warning for those of us with a "nervous disposition".
"This show contains platform boots and white Lycra".
A tongue-in-cheek remark, but it got us laughing before curtain up.
The story centres around 20-year-old Sophie Sheridan (Emma Mullen) who is getting married on a Greek island on which her mother, Donna (Sharon Sexton), owns and runs a small guest-house.
Donna's oldest friends - Rosie (Nicky Swift) and Tanya (Helen Anker) – fly in to lend their support, as do Sophie's besties, Ali (Marie Finlayson) and Lisa (Mariella Mazzilli).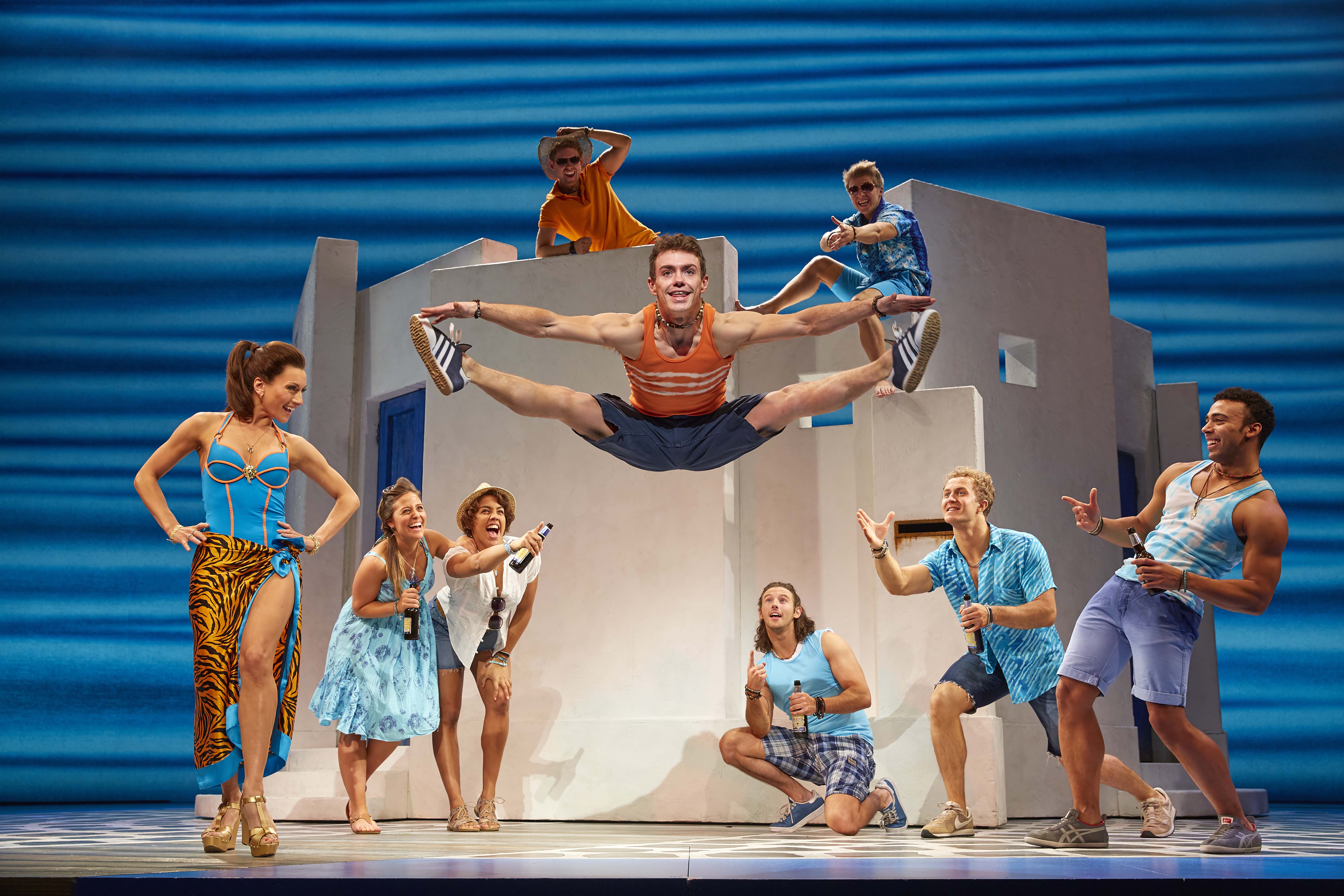 The bridegroom, Sky (Toby Miles), and three men from Donna's past – Harry Bright (Daniel Crowder), Bill Austin (Jamie Kenna) and Sam Carmichael (Rob Fowler) - also meet up on the island.
The bride-to-be has lived all of her life not knowing who her father is and, months before the wedding, after sneaking a peak at her mother's diary for the year 1974, the year of Sophie's birth, she discovers her mum has had sex with the three aforementioned men from the past, within a very short time of each other.
So who's the daddy – Harry, Bill or Sam?
When Sophie secretly mailed their wedding invitations, she had no way of knowing if any of them would show up. But they all had fond memories of their time with Donna so …
Swearing them all to secrecy about why they are on the island, they soon twig on what's going on – and each of them is happy to believe he is her dad.
Donna goes berserk when she realises that, not only have her three past loves "invaded" her island home, but one of the men is someone who broke her heart – yet she still loves him 21 years later.
A wedding does take place, but who marries whom?
Sounds quite a depressing story, doesn't it? However, thanks to Abba's uplifting songs, upon which this musical is based, it was a colourful night of music, laughter, singing and dancing.
From curtain up, everyone on stage that night gave their all – their joy at performing was infectious.
We all sang along to Abba hits, such as Dancing Queen; Honey, Honey; Lay All Your Love On Me; Money, Money, Money; Super Trouper; Thank You For The Music; I Have A Dream; S.O.S.; Take A Chance On Me; Voulez-Vous and, of course, Mamma Mia, to name but a few of the 22 songs sung on the night.
In the dramatic scene where Sharon Sexton, as Donna, confronts her true love, her emotional rendition of The Winner Takes It All brought the house down.
But every singing voice on the night did justice to all the songs, aided and abetted as they were by wonderful live music emanating from the orchestra pit.
Singing and dancing go hand in hand, and the imaginative choreography made us laugh out loud several times – the groom's friends dancing in wet suits and flippers being such a scene.
All the way through, comedy was never far away, much of the laughter being generated by the actions of a lad called Pepper (James Willoughby Moore). One of the bridegroom's entourage, his energy knew no bounds and his flirty scene with the long-legged, and older, Tanya, was the perfect moment for her to sing Abba's Does Your Mother Know.
This very talented cast did their utmost to convince us they were on an exotic Greek island, but I feel the plain and simple stage setting didn't help them in their efforts. I would have liked to have seen more elements of an old taverna – cracks up the walls, the odd "lizard" running amok and colourful flowers everywhere.
However, all plainness was forgotten with a glittery and riotous finale that had us all on our feet, singing and dancing to the music of those super troupers, Abba.
Running until Saturday, March 21st, 2020; 7.30pm nightly with 2.30pm matinees on Saturday, March 7th; Thursday, March 12th; Saturday, March 14th; Thursday, March 19th and Saturday, March 21st. Tickets from £19. Call (01482) 300306 or visit www.hulltheatres.co.uk
Reviewer: Jackie Foottit
Reviewed: 4th March 2020
North West End UK Rating: ★★★★