Leeds based theatre company LIDOS – Leeds Insurance Dramatic and Operatic Society, were formed in 1974 when a group of largely inexperienced insurance workers decided to get together after the disbanded group Insurevue in 1973, in order to keep the amateur dramatics within the insurance industry in Leeds alive. Their first production, in January 1974 was the Gershwin musical "Lady Be Good". Since then the Company has gone from strength to strength. Recent productions include The Addams Family (June 2015), Little Shop of Horrors (June 2010) and The Sound of Music (June 2012).
Their current offering is the well-known musical "Oliver!" by Lionel Bart, based on the Charles Dickens classic Oliver Twist. Tonight was my first introduction to this amateur theatre group whom I had not previously heard of; in a gem of a theatre that I had no idea even existed! The Carriageworks, tucked away in Leeds City Centre's Millennium Square is a stunning modern theatre with seating on three levels with excellent disabled access, an absolute must in modern theatres!
Oliver! as a musical itself is a fantastic choice for amateur groups as it gives the opportunity for younger performers to not only take lead roles but to be a vital part of the ensemble. This evening's performance delivered on this expectation with a variety of ages giving noteworthy performances in the ensemble and in leading roles. As the workhouse orphans entered the stage ("Food, Glorious Food") via the stall aisle, the audience who drawn in by the cuteness overload at the site of some of the younger ensemble who couldn't have been any older than five or six. This did not affect their stage confidence and they took it in their stride sucking the audience into the harsh conditions in a Victorian workhouse. Oliver, played by Gabriel Moore, gave a confident convincing performance as the rags to riches orphan. His first solo, "Where Is Love" seemed to show hints of nerves but by the end of act one he really came into his own and gave a spine tingling performance during "Who Will Buy" in Act Two. Ben Hayes was equally loveable as pickpocket The Artful Dodger, however at times his voice did not carry well leading us to believe there may have been a microphone issue.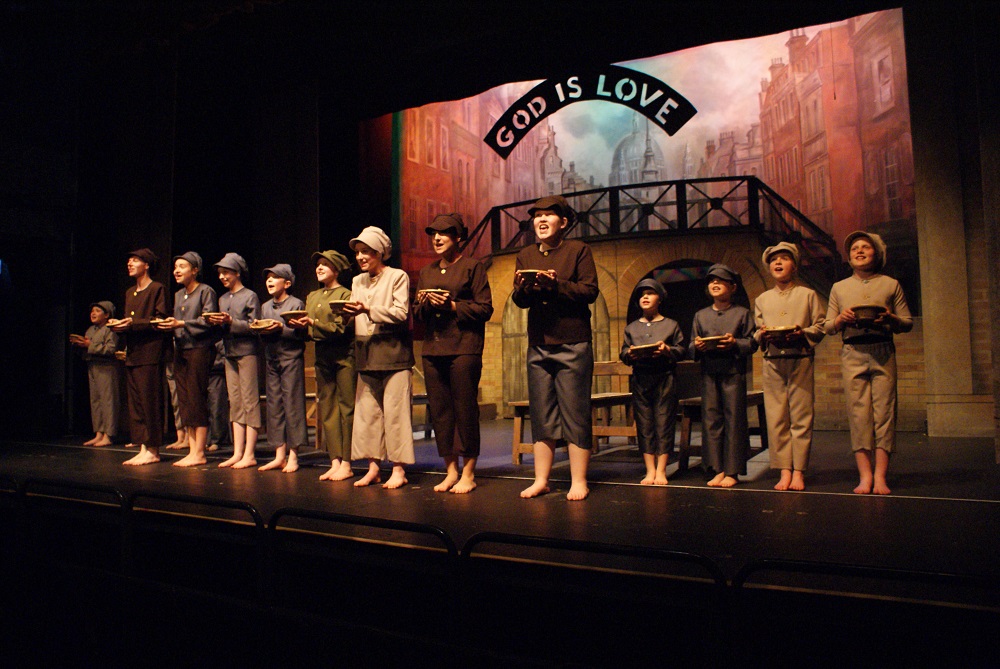 The stage set featured the bridge where Nancy was to later meet her fate, with a stunning London backdrop, which really set the scene. Scene changes appeared a little slow at times as did the lighting, with a slightly wobbly MDF set used to set the scene of the workhouse office and the undertakers home. At times I feared that this was going to fall when cast members went past it but this did not deter from the interpretation of the story. The costumes fitted the Victorian era in most cases, my only grip was how clean and neat the workhouse orphans were! One thing that bugged me more than it should have was how Fagin had a beard in completely different hair colour to the long hair protruding from underneath his hat and the mustache he wore. I am no Historian but I am pretty sure hair dye was not around during the Victorian era!
Another small gripe is how there was no sound when Bill hit Nancy in Act Two or when Nancy met her fate. This just made those parts less believable and unrealistic.
Act Two opened with an excellent rendition of Oom-Pah-Pah and we were introduced to villain Bill Sikes (Daniel Austwick) who was full of malice and induced fear into everyone, even making a child in the audience cry with fear at one point! Daniel's deep and raspy voice made every hair on the back of my neck stand to attention and I certainly was too scared to make eye contact from the front row otherwise I might have been the next "victim" to start crying! The tension between the drinkers in The Three Cripples Inn and devoted Nancy seemed totally real making him a delight to watch. One question on everyone's lips was "Where is Bullseye?!" (The dog), – as he is definitely listed in the programme; and we certainly could not see any explanation as to why this was not the case this evening. I felt slightly disappointed that we did not get the loveable Bullseye performing this evening. I hope that he feels ready to make his stage appearance for the remaining performances.
Rebecca Jelbert gave a wonderful performance as Nancy with outstanding vocals! Most definitely the best solo performance in the production.
The production runs until the 11th June and tickets can be purchased via the theatre website. Overall the performance was a joy to watch and I would love to see future productions from this theatre company, especially if it gives me the opportunity to return to such a gem of a theatre. Huge congratulations to all involved, I feel honoured to have been a part of opening night.
Reviewer: Lottie Davis-Browne
Reviewed: 7th June 2016