Nestled away amongst a housing estate in Castleford, West Yorkshire lays Airedale Academy, a secondary school with adjacent Sixth Form, boasting the latest state of the art 300-seat theatre – The Phoenix Theatre. The Cast – as the performers are referred to both in advertising and in general – have chosen some rather brave musicals to bring to a small West Yorkshire Academy. Most recently having performed West End hit Miss Saigon, their recent offering, Billy Elliot - a musical with a high level of adult language and scenes of violence is another daring and challenging choice.
Having missed out on seeing The Cast perform Miss Saigon, one of my personal West End favourites that I had to wait years to see, having only being of Junior School age when it first hit the West End in 1989 and my parents deeming in unsuitable for such a young enthusiast like myself. It was not until the recent revival that I got to witness the magic for myself and saw how it was most definitely unsuitable for children. The same applies to Billy Elliot having seen the West End production in 2014, I was slightly taken aback by the language used throughout.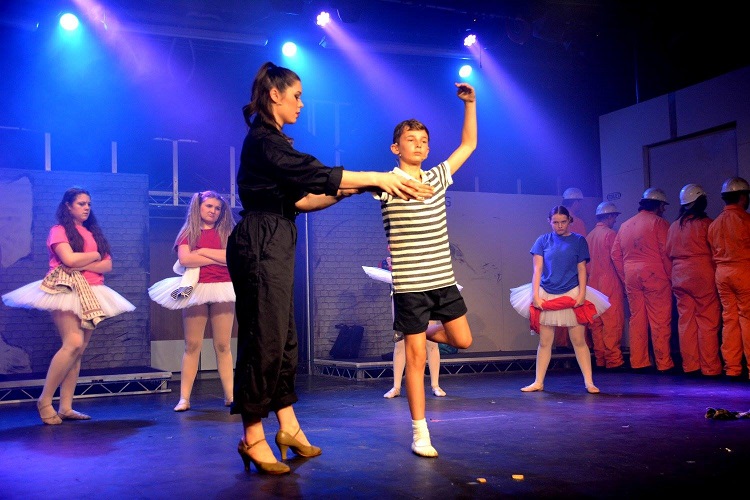 Based on the popular 2000 movie of the same name, Billy Elliot focuses on a young boy from a working class mining family, County Durham. Therefore I was slightly confused by the Cortonwood and Kellingley mining flags on stage prior to the show commencing. Knowing that Kellingley pit, North Yorkshire, recently closed in 2015 leaving hundreds unemployed, it felt a little too close to home. Cortonwood pit, South Yorkshire, just a few miles away from my current address, closed in 1985 and later became a retail development. This suggested that they were going to change the location setting for this performance, meaning the cast did not have to sport a Geordie accent, but this was not the case. This for me just added to the confusion of Yorkshire mining flags and banners being used throughout the performance, however it did not deter from the wonderful performance.
The story is set during the miners' strike of 1984-1985, opening at the start of the strike and ending as the strike also comes to an end. Motherless Billy lives with his dad, brother Tony and Grandma. Both Tony and Billy's dad are miners in the local pit. Billy attends a local boxing class but is drawn in by the ballet class which takes place after the boxing class ends. He soon discovers he has a hidden talent for dance, and with the help of his dance teacher, Mrs. Wilkinson, Billy is able to find his inner passion for dance, albeit in secret at first. When Billy's dad finally discovers that his son has been attending dance classes he is furious and forbids him continuing with lessons. Mrs. Wilkinson soon realises Billy's potential and in secret gives him private dance lessons and encourages him to audition for the Royal Ballet School.
The Cast handled the adult themes with ease, ranging from offensive language to traumatic riot scenes. Other than continuous sound issues, from microphones not picking up at various parts, such as at the audition when the two interviewing Billy (off stage unseen) were inaudible at most parts, as for at the end where the miners return underground in the lift. Feedback from the microphones was also an ongoing issue throughout the performance. The stage set, despite being quite an impressive one in the West End, worked wonderfully on this stage and was replicated as best possible given the space and budget, including the mezzanine level for Billy's bedroom.
The costumes were true to the 1980s, albeit just a tad too much denim in terms of every single cast member was wearing denim or double denim in the opening scenes. Yes denim was big in the 80s, but not every single person wore denim all the time, it would have been lovely to see more 80s slogan t-shirts, or 1980s dresses and shoulder pads and more perms! The cast all spoke with perfect Geordie accents and the acting was of outstanding quality.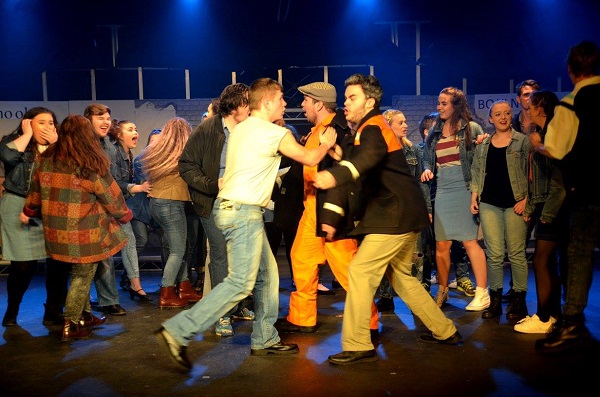 Vocally there were some talented singers, notably Megan Elsegood as dance teacher Mrs. Wilkinson, and Billy's mother, played by Sophie Moss. I was slightly underwhelmed by some of the ballet performances however, especially since the storyline is focused around ballet. Having trained in Classical Ballet myself on and off until my late 20's, I found some of the routines a tad untidy, not always in sync with each other and often rather wooden. However, on the other hand the tap dancing routines were simply spectacular and the dancers were all perfectly in sync during high-energy tap routines. The role of Billy is being shared between Kai Harris and Jayden Harling. Tuesday nights' Billy was played by Kai Harris and from the moment he entered the stage he displayed all the right characteristics and physique of a talented dancer and we certainly was not left feeling disappointed.
However I was slightly underwhelmed by the Dream Ballet, where Billy sees his older self and the pair performed an in-sync duet. Although both performed this well, it just lacked the magic from this highlight of the show. For me, the character that gave the best overall performance was Perry Lowther as M. Braithwaite. His dance routines were spectacular and his character was full of warmth and charm.
The Cast had clearly put their heart and soul into what is a very challenging musical, both physically and mentally, dealing with adult issues and times of hardship based on true events. Although none of the Cast were born at the times of these events, I am sure that their parents or at least Grandparents were, and regardless of whether or not they had family working in the pits in the 1980s, it was an event that was to have a knock on effect to local history for years to come. It was easy to see that a great deal of effort had put into this performance and therefore I found it difficult to rate, having seen so many Amateur and Professional performances both North and South spanning the last four decades. If improvements were made to the sound issues and some of the dance routines polished slightly it would definitely gain a five star rating, however because of these issues I feel it is more of a three to four star quality performance.
Kai Harris shows signs of a very healthy career in theatre, and in dance particular as do various other cast members, and although a difficult musical for a cast of amateur adolescents to perform, I feel the Cast did a wonderful job. Well done to all involved!
Reviewer: Lottie Davis-Browne
Reviewed: 21st June 2016
North West End Rating: ★★★★